I am not having complete success right now with the build considering it's crashing constantly, going as far as crashing right upon spawning sometimes, if I don't press a few buttons for a while and wait it out a little. It doesn't crash as fast that way, and I'm trying to weed out what causes this issue for now, so that I can upload a new version, and ship it with a few more maps.
(Stay tuned for a favourite of mine)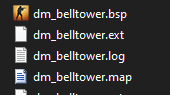 I used to love playing belltower on trilogy cause it seemed such a new map to me!
I had never really played any Mortal Kombat 3 version other than Ultimate MK3 on Sega Genesis, so when I could play Trilogy on PSX I loved when either this stage or the graveyard came up! Also the pit!
For now what crashes is the HW.dll which makes me wonder what kind of problem I may be having with models/sprites. This started happening as soon as I started using SamVanheer's Half Life Updated. I just added the "extra stuff" I had made on the old SDK onto the newer one, fixing stuff here and there.

Have not currently implemented fog yet, or the "higher resolution textures" as I thought they were really.. unnecesary considering I am no artist now and Can't really show it.
People always find ways to make goldsource look good however.
Even normal half-life.
Thanks for keeping up and sorry for this short news style.