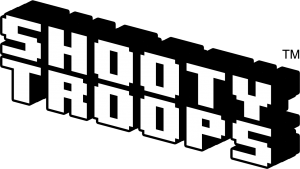 "28 Days Later...." by The Bush Wookie
Launch and July have come and gone and your favorite endless arcade shooter, SHOOTY TROOPS™, has only been getting stronger, faster, and filled with enough content to think you are getting Christmas in July.
I'm going to be honest and say I am not really, REALLY sure where to begin. I mean, sure, there were performance enhancing fixes, some bug fix coding was added, and there were the GUI interface fixes that we wanted in place to give you guys the best game play experience that the law would allow. So go to the bathroom ..... then grab your soda and snacks .... this is going to be a long update. Before we get into the Steak, I want to talk about S-I-Z-Z-L-E.
Diesel Dave has been grinding the look of the game and has come up with what I can only call "Shooty-o-Scope".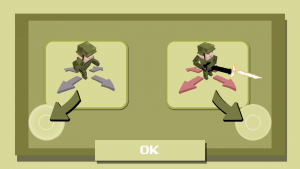 The screens are more crisp. The interfaces are tighter. The resolution and grading is a lot more distinct. And last, the maps are just better to navigate and they have a much better color palette. Let me show you.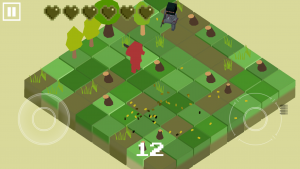 See? I mean that is just a more fun looking game. and the new planes and obstacles add a ton to the run and gun gameplay that we all have grown to love.
And if you saw those hearts at the top, then you probably are wondering if characters suddenly have attributes or something crazy like that .... and they do.
Each character now has their own attributes. Just take good, old reliable Carl ...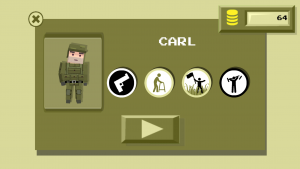 ... and compare him to Bomber Bob.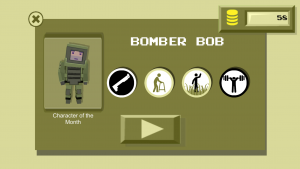 Now we could spoon feed this attribute thing to you, but after many discussions, heartfelt speeches and soul searching, 804 decided the "old school gamer" thing to do would be to let our players learn the play style and the attributes of their favorite old characters .... as well as their new favorite characters.
Yeah, if you didn't get the BOMBER BOB hint, there's a new character ... or two .... or like EIGHT. Hey, you try to count them. I just keep going back to the character screen and finding new guys who cost more than I have in the SHOOTY TROOPS™ Bank.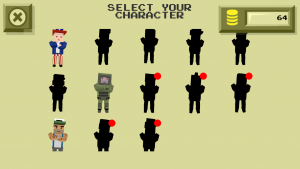 Ramone? Grey? Who are these mysterious new comers to the Shooty Troops ranks? What do there special attributes mean? Is this the place where characters begin to get super powers? Is one of them a traitor?
That might have escalated too quick. You have to forgive me because I love new content. But behind every awesome content update, there is an operational and functional improvement. So for those who thought this update was all sizzle, prepare your knife and fork because ... as promised ... STEAK!!! Rib Eye!!! 24 Ounces!!!!
804 Game Studios is proud to announce SHOOTY TROOPS™ is now ...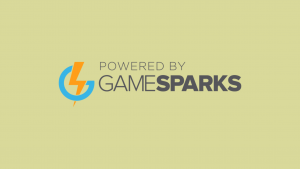 and your rag tag developing team need you to know that this is muy importante. The GameSparks platform is going to assist with the management of our Leaderboards, Achievements, the brand new AIP store, along with other functions so that our Android, iOS and new Amazon users can compete with each other. Before now, you would have had to use a pencil or smoke signals to keep track of those "other users", but now SHOOTY TROOPS™ has obtained the magical ability to cross platform.
And it is a good thing we can cross platform, since downloads have been growing steadily like the rising sound of tribal drums. Thanks to the fans who have been spreading word. The 804 has been working feverishly to make this thumb crunching, pixel pulsing game fest as world friendly as possible. and to that end, our new language options center is as "Fully loaded" as any of our characters favorite fire arms.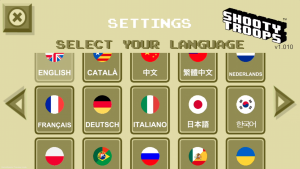 The amount of languages that we have is almost embarrassing, and we can now express our embarrassment in fifteen languages. It's like a .50 caliber Rosetta Stone up in this game. So it doesn't matter who what your friend speaks ... get him SHOOTY TROOPS-ING™.
Making the name of the game into a verb should earn me my own Bush Wookie SHOOTY TROOPER. Must tell Dave..
REMEMBER: RULE 1!!! THE GIFT BOX IS YOUR FRIEND when it comes to your character selection. Whether it is hitting the jackpot and getting the free Character of the Month from the gift box, or simply building your phat stack loot to buy a new one of your choice.
The Bush Wookie leaving … until next time … Keep your inner gamer happy …
Subscribe to the 804 Game Studios™ Development Newsletter or follow us on your social media platform of choice.
SHOOTY TROOPS™: Shootytroops.com
804 Game Studios™804gamestudios.com
804 Game Studios™ on Twitter: Twitter.com
804 Game Studios™ on Facebook: Facebook.com