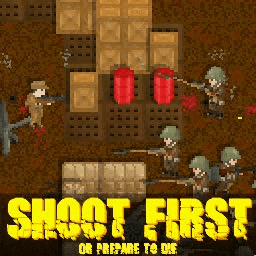 Shoot First, Or Prepare To Die is a dynamic ww2 shooter. Fight and survive battles with your character through varied missions.
Mastery of your weapons and knowing your enemies are key. Only the skilled can survive. And remember to shoot first!
Features:
Play through 2 world war two singleplayer campaigns. The Battles of Khalkhin Gol for the Empire of
Japan. And the invasion of France for Germany. Estimated play time: 15 hours.
Different weapons with different effects: Suppressive fire, piercing rounds, explosions, fire barrages, smokescreens...
Destructible environments.
AI has different and random behavior types to surprise the player.
Each missions can be played using different load-outs to get points used to unlock more load-outs for other missions.
Missions can include convoy defense, base capture, infiltration etc.
The game is easily moddable and custom units, weapons and campaigns can be created. Scripting of missions is Lua powered.
Vote for it on steam greenlight:
Steamcommunity.com