The battles in the Martial Arts World never end. The Blood Battle system of ShiFu will soon be available in Disciple where you can fight for your sect together with all your disciples. Now let's go through the new system features in advance.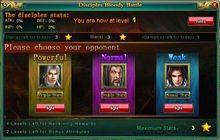 You have three attempts to fight in Blood Battle every day. After you defeat the enemies of different difficulties for each level, you will get corresponding amounts of stars. (The stars you will get = Stars you get in the battle * the corresponding multiplier)
Stars can be of great use. Every time you clear three levels of Blood Battle, you will be able to spend stars for selecting an attribute bonus. You will get Silver rewards every time you clear 5 levels while the remaining stars will be cleared at 00:00 every day.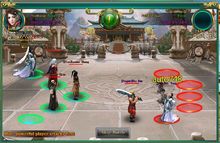 The stars will be calculated when each Blood Battle ends. The players with more stars will be ranked on the ranking list and they will get the corresponding Ingots and Silver. Players can get 10,000,000 Silver at most.
A great amount of Ingots and Silver will be given away every day. Don't miss out!
Learn more about ShiFu: Shifu.37.comShiFu facebook page: Facebook.com
For more free to play browser game news, please pay close attention to : Gameonwebs.blogspot.com