News Update #4
Alpha Video Screening Results
A couple weeks ago, we announced that we would be releasing our first in game video of our Alpha to a small portion of the community. The results of the turn out were great. About 40 - 50 people were in the chat waiting for the video at the right time, and more than 15 - 20 came into the chat throughout the day. Since the announcement, over 200 additional members have joined the Steam group! Expect more future exclusive announcements to made in the Steam group. Thanks to everyone who showed up! We hope you enjoyed the first look at SHIFT.
3 New Videos Coming Soon!
In case you missed the Alpha video screening last week, we have good news for you! Over the next few weeks, we will be publicly releasing 3 new in game videos on ModDB. We have been keeping quiet on our work but to our (pleasant) surprise, the community voted SHIFT into the Top 100! I find it only fitting that we give back something special for your support.
The videos will include the following:
[Jan. 9] Multiplayer Tech Demo
This will be a quick look at online play with No Lag (even up to 180 ping, the game is playable). It will be demonstrating the first build of the multiplayer version of SHIFT.
[Jan. 15] Story Mode - City Racing
This will be a sneak preview of one of the Story mode levels that we will be racing on with AI. There will also include a choreographed scene which introduces one of our very own voice actors!
Early development of the city level
[Jan. 19] Alpha Video Revisited: Quickplay Update
This video will be similar to the Alpha screening, however this time there will be no commentary audio. Also, picking up right where the last Alpha video left off, there will be the addition of the finished HUD, driving of the 240SX, and AI on the Circuit track.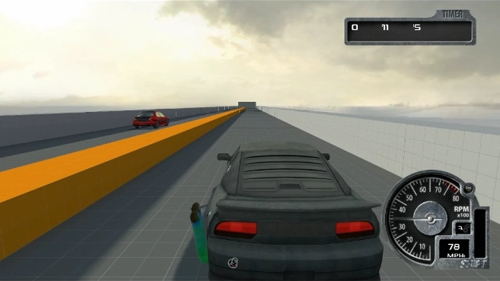 Alpha Video - To be continued?