First of all, let us show you a screenshot from the latest mission: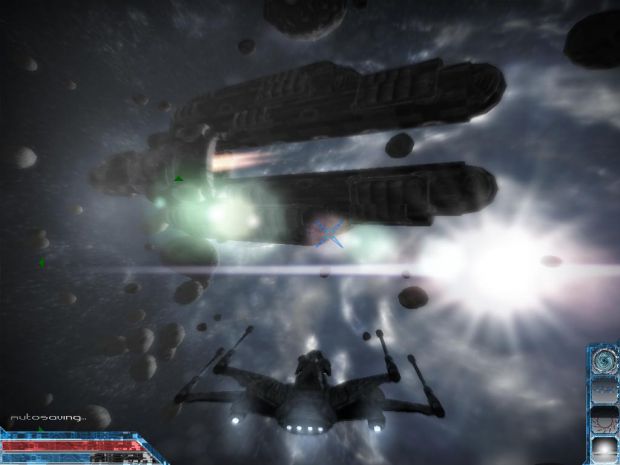 In this mission, your aim is to escort four of these Trader Carriers to the end of the sector, then cover them while they open a gate and warp away. The enemy will try to prevent you from doing so, basically this entire mission is a series of tough and adrenaline pumping battles.
The GUI
The improvements to the GUI might not be that visible at first glance. The only thing you can see on the previous shot is that the top panel was excluded. The truth is: we have completely rewritten the control system of the game, and now it is much easier and more exciting to play than ever. Upon right clicking, you'll see a menu like this: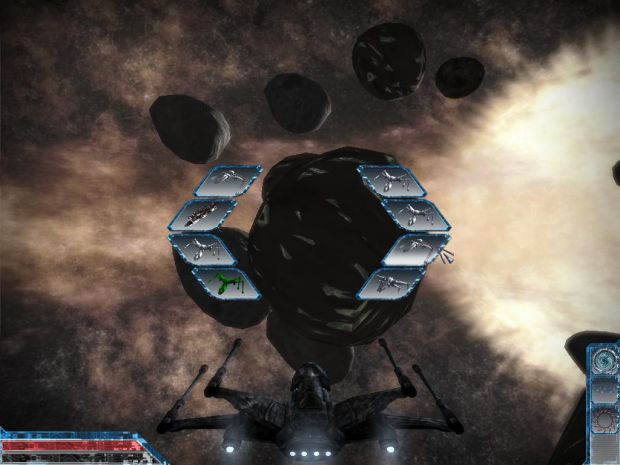 You can freely switch between your ships, while you do that, the game is paused. You can wander around the battlefield switching between ships, and you can decide which ship would suit your purposes best. Once you selected the proper ship, you can right click again, and the game is resumed from exactly where you left off, but now from a different viewpoint. This feature allows you to carry out very complex tactics without having to rely just on your reflexes.
The missions
We had a hard time designing new missions for Shattered Origins, since each and every primary and optional mission has to make sense, and fit the story perfectly. The types of optional missions range from having to find small drones scattered around the sector to hacking the system of a crate left behind by Pirates. Each and every battle offers a new challenge, and allows you to try your latest research or recent purchase.
What will come
We have discussed plenty of topics related to Shattered Origins by now, so for the first time, please tell us what you would like to know better about this game. Are you interested in more music? Would you like to read about the process of modeling / texturing? Any topic that makes sense, and is related to Shattered Origins, we are ready to discuss.
Until then,
Visit our ModDB site with screenshots and descriptions
Sign up for my channel on YouTube to be the first one to see all videos related to Shattered Origins
Visit the official Shattered Origins website