Two bits of news:
1.
A quick update on our first aquatic beasty - the shark.
This is our own take on the poor fishy suspended from a hook at the start of FORT in farcry. This time however, he bites back.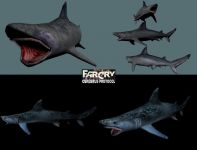 2.
We have also completed an interview with Farcry.ca (farcry canada resources). This includes details of our mods targets, the team, our progress etc. There is also a couple of exclusive images in there :).
You can view the Interview:
Thanks guys.