I am pleased to announce that Shadowcrypt is now available on Steam, get it here!
Shadowcrypt started out as a personal project to tick a box on my childhood wish list, and Steam definitely wasn't part of the agenda. Having taken this very niche game this far along was certainly unexpected! Big thanks to those who have supported the game since its launch, and my humble gratitude to those who took time to let me know how much they enjoyed playing the game.
Current build is now up to version 1.3 and has 20 unlockable achievements, and a time-counter for speedruns. Achievements is implemented locally and is not dependent on Steam. As a staunch believer in what DRM-free games stands for, I had to make sure both versions have feature parity. A couple of players have mentioned about speedrunning which I thought was a great idea and perfecty fits the game's pacing, so a time counter ended up being included. The timer gets paused when the player dies or when the game is being paused. Here is a sneak peek of these new features:
An overall view of your achievements, accesible via the main menu: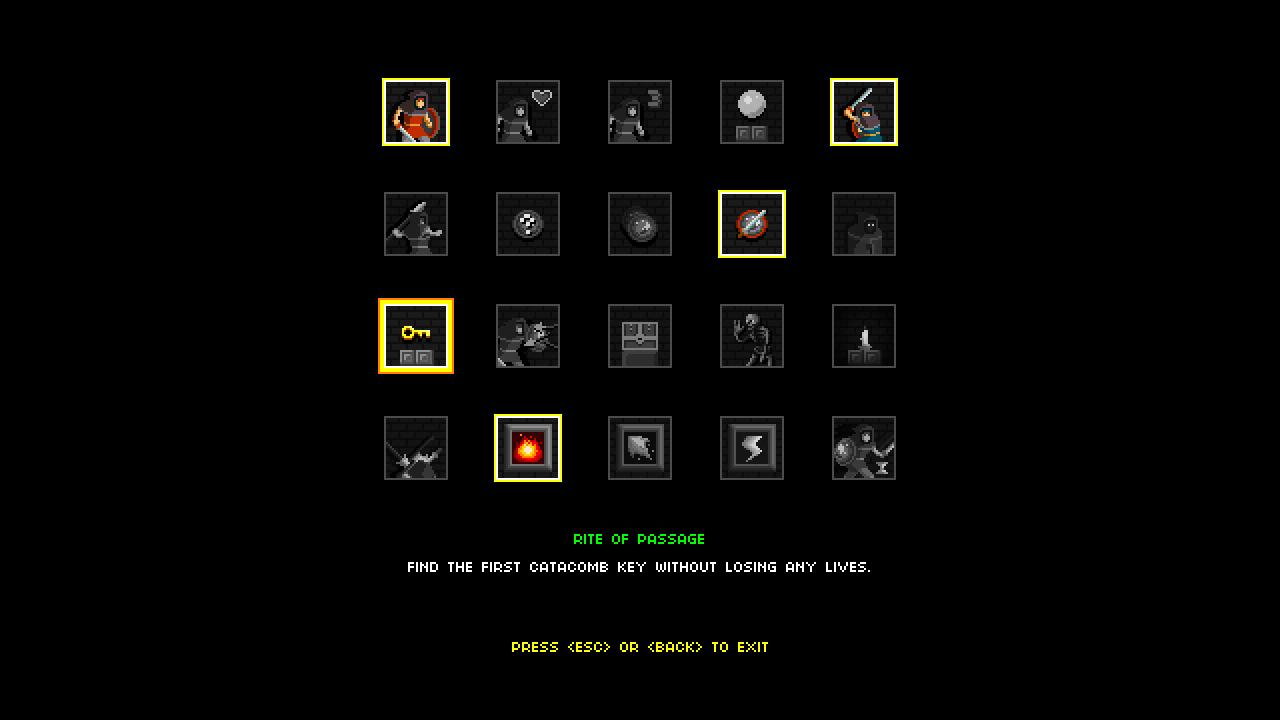 The time-counter display sitting at the top: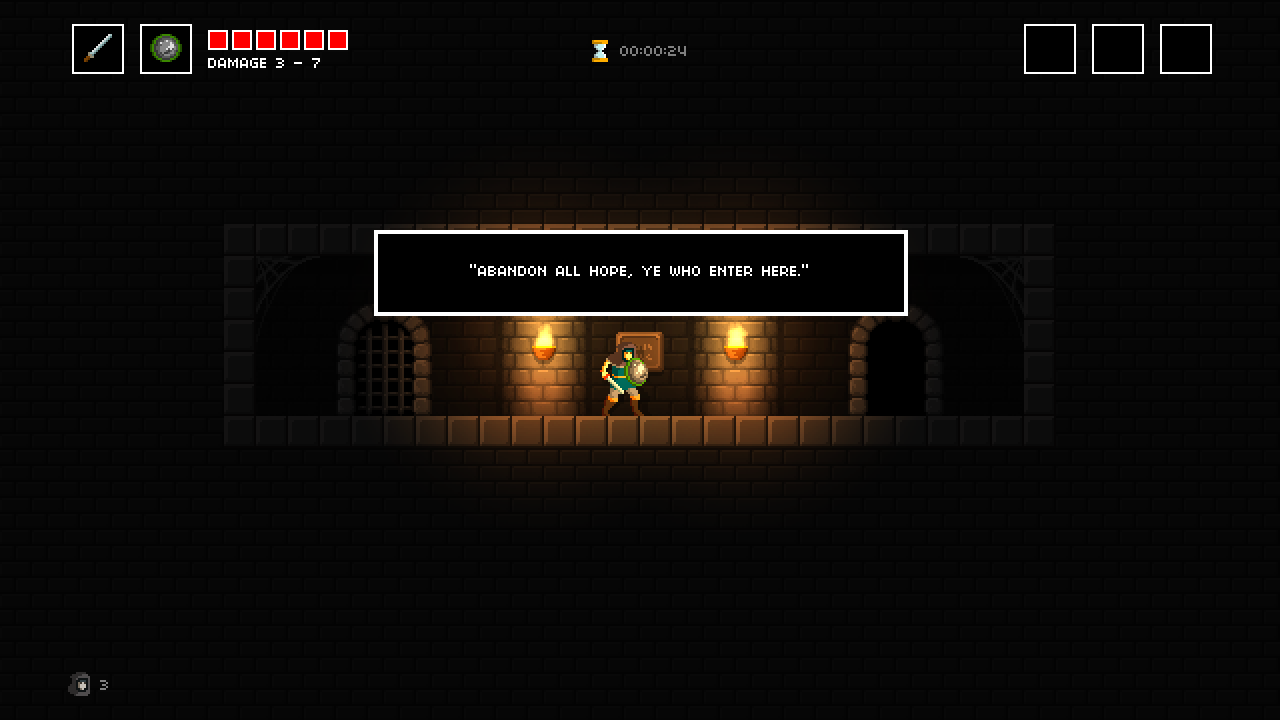 Custom in-game achievement banner, independent from Steam's overlay: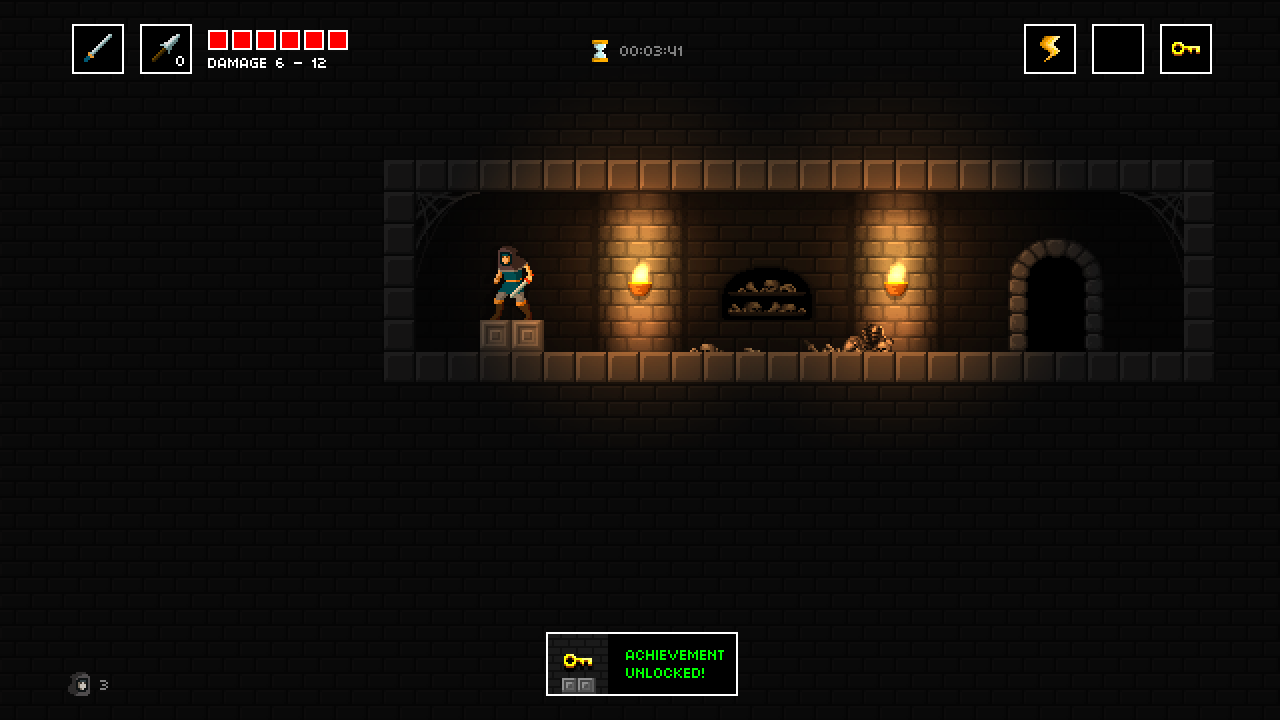 Here is the full list of fixes and changes made since the game's initial release (version 1.01):
Added 20 unlockable achievements, available on both Steam and DRM-free version.
Added a time-counter display for those who enjoy speedruns.
Added customisable controls for keyboard and gamepad.
Defender Shield now stuns more often, making it much more viable to use.
Stun indicator on enemies after being hit by the Defender Shield is now more prominent under various lighting conditions.
Added on-the-fly adjustable brightness up to 4 levels (default, 1x, 2x, and 3x) to cater for a wider variety of monitor types.
Left analog joystick can now control player directions and menu screens.
Input for navigating in-game menus are now standardised. This is to provide a consistent input experience regardless of how the controls are configured by players. Gamepads now uses A or START button for accept, and B or BACK button for cancel. Keyboards now uses ARROW keys for navigation, ENTER key for accept, and ESC key for cancel.
Pressing certain key combinations on the keyboard when moving between room transitions should no longer cause the character to glide.
Adjusted volume of opening/closing portcullis to be consistent from room-to-room.
Some tweaks to images (cleaned up the pixels on doorways, a simpler game loader image, made some changes on the prologue, ending & credits, improved pause screen, ceiling/platform depth shadows, shields dimmed correctly under low-lighting conditions).
Fixed a bug where moving platforms are not paused properly.
Fixed a rare bug where the dead character can still pick up a heart at a certain moment, which can cause the game to get stuck and unable to advance.
Fixed a bug where the character can enter past through a closed portcullis moments after destroying the last enemy in the room.
For those who already bought the game from itch.io, the Humble Store or via Humble Widget, you can claim your Steam key through the aforementioned places. If you can't see any keys, please contact the store's support page. More information about this can be found here.
Thanks everyone!