Hi to everyone,
First and foremost, the whole StargateTC: Source development team wants to wish you a happy new year 2008 (a little late), with everything that usually goes with it, bliss, health and success!
So as to focus on the mod, let's summarize what has been done since the last - and, we admit it, remote - piece of news. First of all, we showed our model of the stargate to you, which comes back today, endowed with its materials, by Axel and Legends.
Then, one of our level designer, Rafik, has started up a replicator-mod map taking place in the Stargate Command, so far, we have a part of the level 28, notably the gate room, the surrounding hallways and the briefing and command rooms (those last two are almost propless).
Finally, a new weapon model has been modelized, UV mapped and textured, respectively by Nexus, Axel and Legends, the M67 hand grenade is through.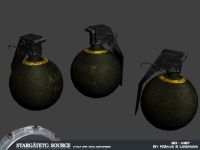 And that will be all for today.
A quick breaking news, it seems that, for an unknown but yet obvious reason, the domain name stargatetcsource.fr was registered and now redirects to our competitor's website. We just want to clear things up, StargateTC: Source has, in spite of this incident that may lead to a misunderstanding, no bond with this other project.
To finish this up, let's keep in mind that we are looking for people able to fulfill the level designer and UV mapper positions.
Hoping you are well.
The StargateTC: Source development team.