September Update:
Welcome to the September update for X32I - Redemption, as always managing a team is a interesting experience however an rewarding one at the same time. This month we have to show you a few assets as well as a concept art for a Terran Chance Fighter called the Scythe produced by JC, a highly talented artist.
Thunderbird WIP:
Original Design: Richard Jefferies
Latest Design: TheMightySpud
Optimisation + Interior Cockpit: Bernhard Raml
The Thunderbird is a prototype ship created by the United Earth Alliance's greatest minds. The ship is the one the player will fly in throughout the game. The Thunderbird is module based and can be customised by its pilots with new parts to further upgrade its potential as a frontline ship.
Wasp WIP:
Model Created by Ben Rymill:
The Wasp is a nimble ship which relies on its high speeds to maximise its role as a scout ship. Though it is only equipped with light weaponry, the Wasp can be a formidable foe if faced in large numbers. This is especially the case if your ship lacks in speed.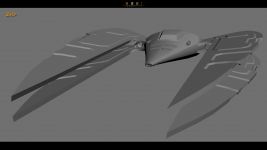 Terran Chance Scythe Concept Art:
Art by: JC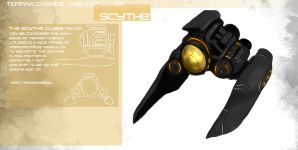 Wasp + Thunderbird Ingame: WIP
This is a very early shot, currently we have new asteroids being produced as I type this. The ones in this shot are rocks from Crysis which we are using as placeholders for the real models. Also, the ships in this shot are using a placeholder texture to test UV maps.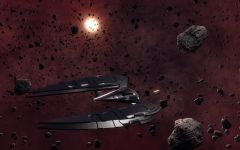 Note:
So that's it for this month. We hope you like what you see and if you want to talk to us directly, the best place to do that is on the official forums located at at X32i.org
Thanks for your support and we hope you continue to follow this MOD.
David Baron - Project Leader