Greetings Pioneers!
This week has been jam-packed full of bug testing, fixing, and setting up the new expanded map in preparation for our next release v0.0.11 (coming ASAP!). There are still quite a few issues for us to get through as there are many new features and assets to test. We want to get it out to you as soon as possible, but preferably with as few game-breaking issues as possible! If you have been keeping up with our previous updates, you might be aware that we've been working on several chunky features.
These are some of the things you can look forward to in the next release:
Expanded level and new Swamp Biome
While we have been working on our much larger 8x8km map in the background, we have also expanded the current map to include a taster of the new swamp biome in addition to replacing all the trees with our new instanced foliage system (this should improve performance).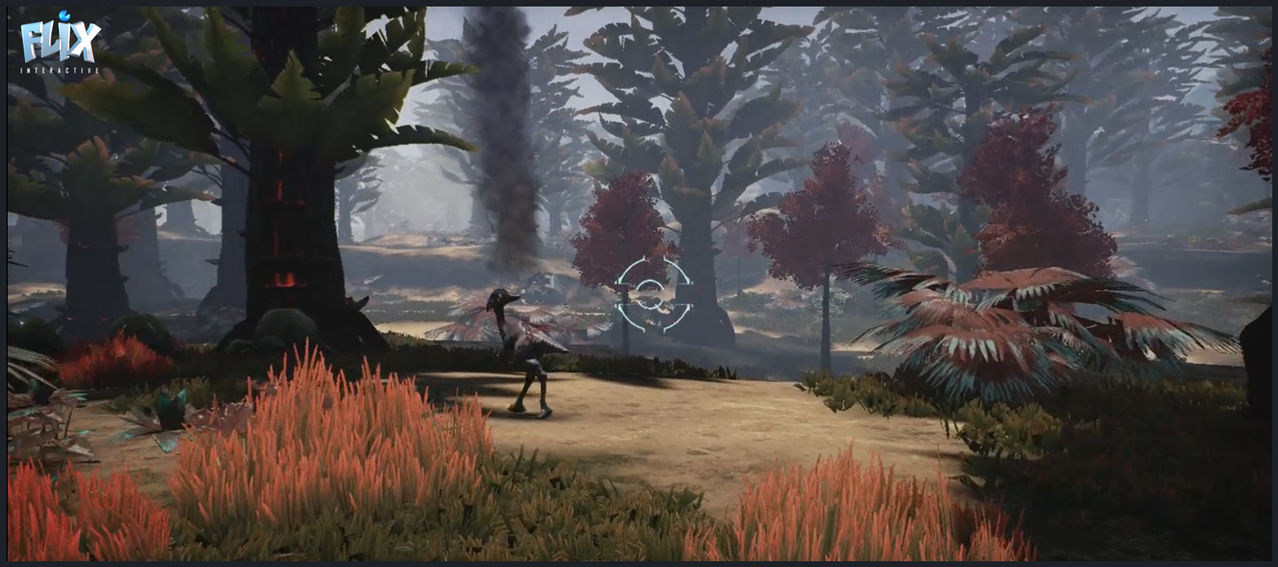 This expanded map is now 150% bigger than the previous map, allowing for more exploration and a variety of new areas you can build your base (head behind you when you start the game).
New Construction System with additional Primitives and Utilities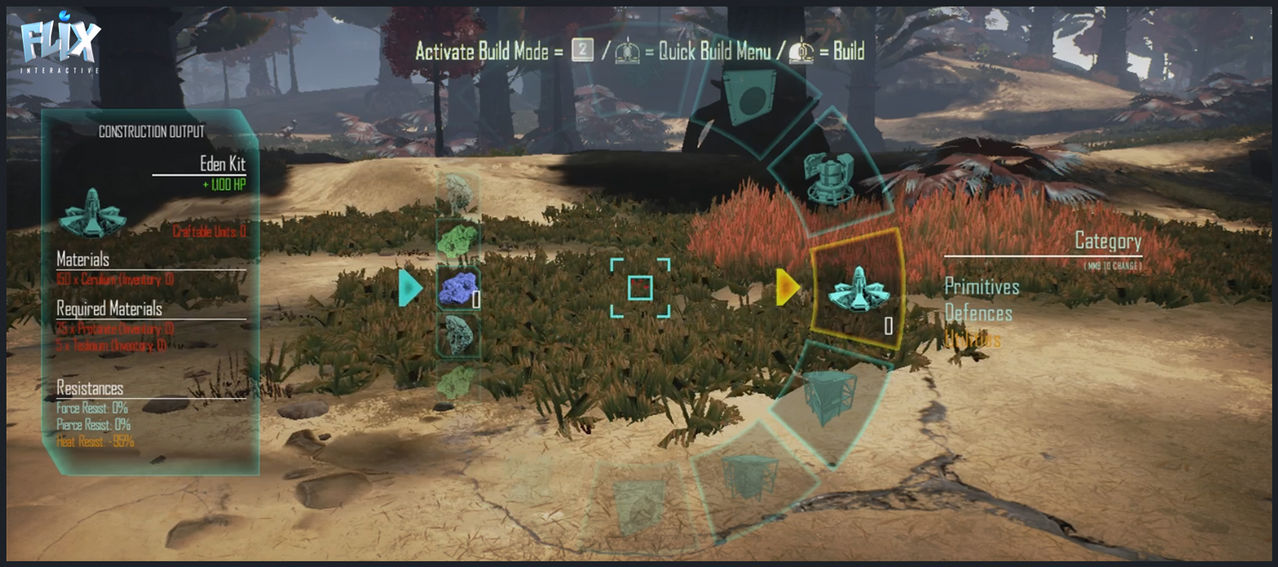 We have completely revamped the construction module to streamline and simplify the building experience, allowing you to create and place items on the fly, without interrupting gameplay. Primitives, utilities and defences are no longer added to your inventory before you place them however consumables, weapons and modules will still need to be constructed via the tab menu.
We have added a number of new primitive blocks including floors, corners, half walls, pillars and windowed walls to enable more variety in base construction. New utilities include the new Power Generator, with a spiffy new UI to manage your Power Network.
This will allow you to increase your power capacity without having to build multiple Eden Kits. Another added useful utility is the Door - which will open just for you. Bring on the awesome bases!
Important! Due to the entirely new build system and level, in v0.0.11 saves from 0.0.10 and below will no longer work! Please create a new game in v0.0.11 once the update is released :)
New Neutral Fauna creature - The Swamp Walker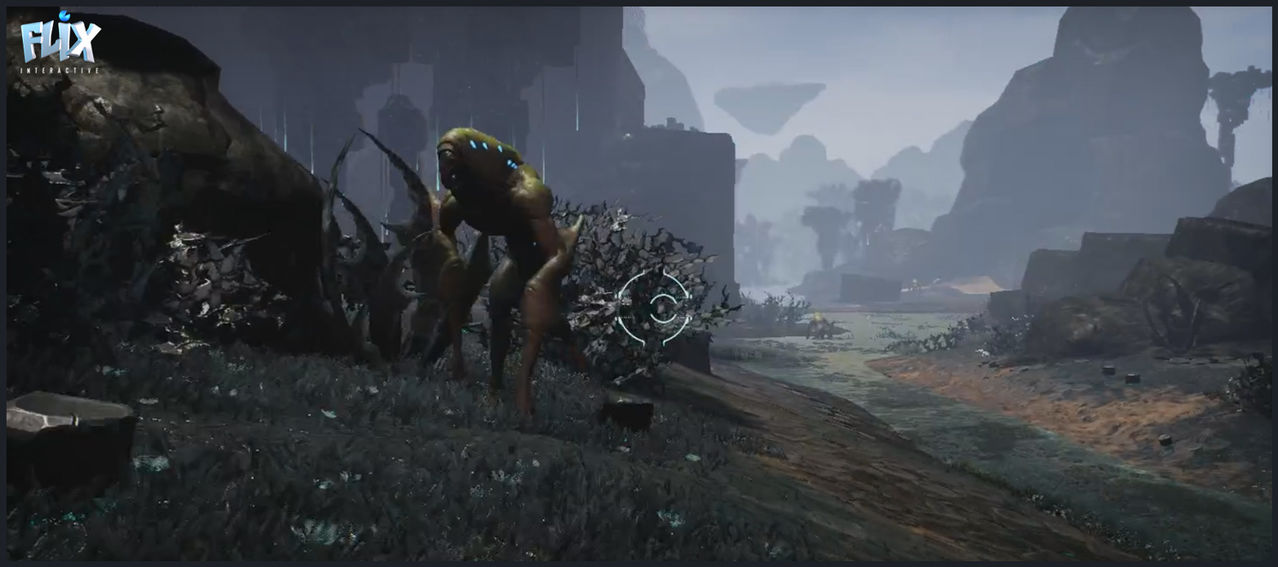 This creepy swamp-dwelling critter is better left alone. Unlike our other neutral creatures so far, the Swamp Walker will become aggressive when approached. His attack is... let's say… different… You might want to keep your distance!
New Enemy Hive defence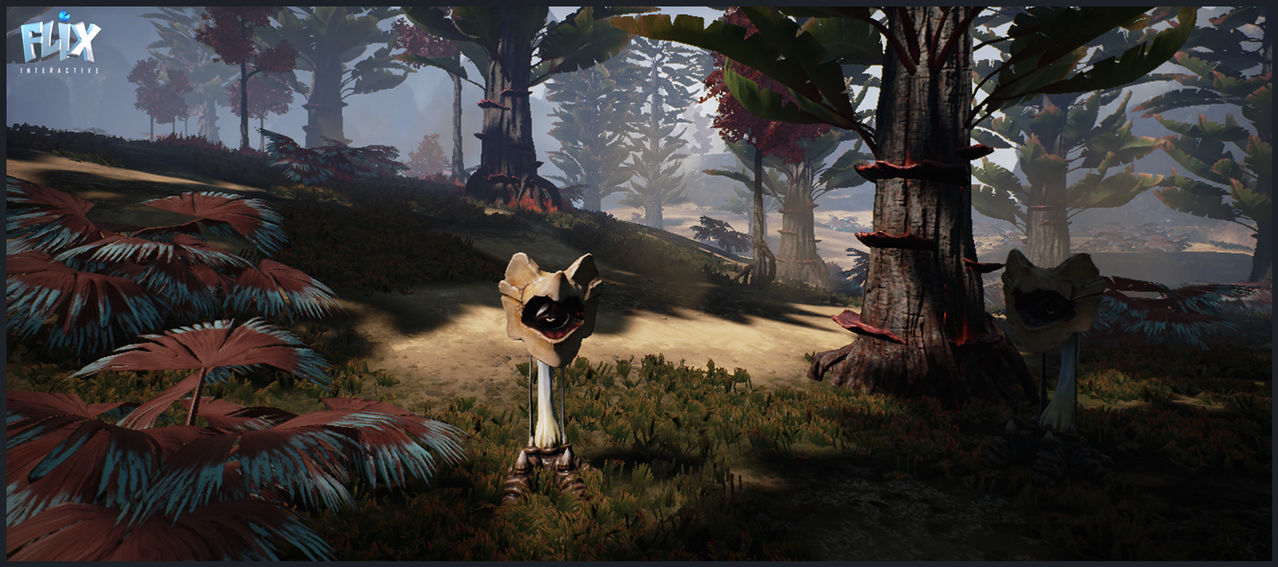 These little acid-shooting pop-up plants will spawn around enemy hives and behave like turrets, making attacking hives that little bit more challenging... Name suggestions needed! Please comment on our steam post.
---
Here's a breakdown of what the team have been working on this week:
Andy - Lead QA
This week my life has been plagued with crashes and failed cooks. Between the crashes and failed cooks I've been testing the new build mechanic and the new save system.
John - Lead Designer
My amazing new nerf gun has arrived this week. Thoroughly enjoyed shooting everyone in the office so far (not really, just Matt- but he asked for it). Otherwise I've been helping the level design team, fixing up errors and placement in the revised map, adding sounds, testing and iterating through gameplay to make sure it works properly with the designs.
Matt - Art Director
Modelling extravaganza! is the only way I can describe this weeks progress. I've been making the new armory utility, sniper rifle, and our first grenade type. All of which will be created at the new Armory. We'll be showing these in game soon, but for now here is a quick preview of the model in progress.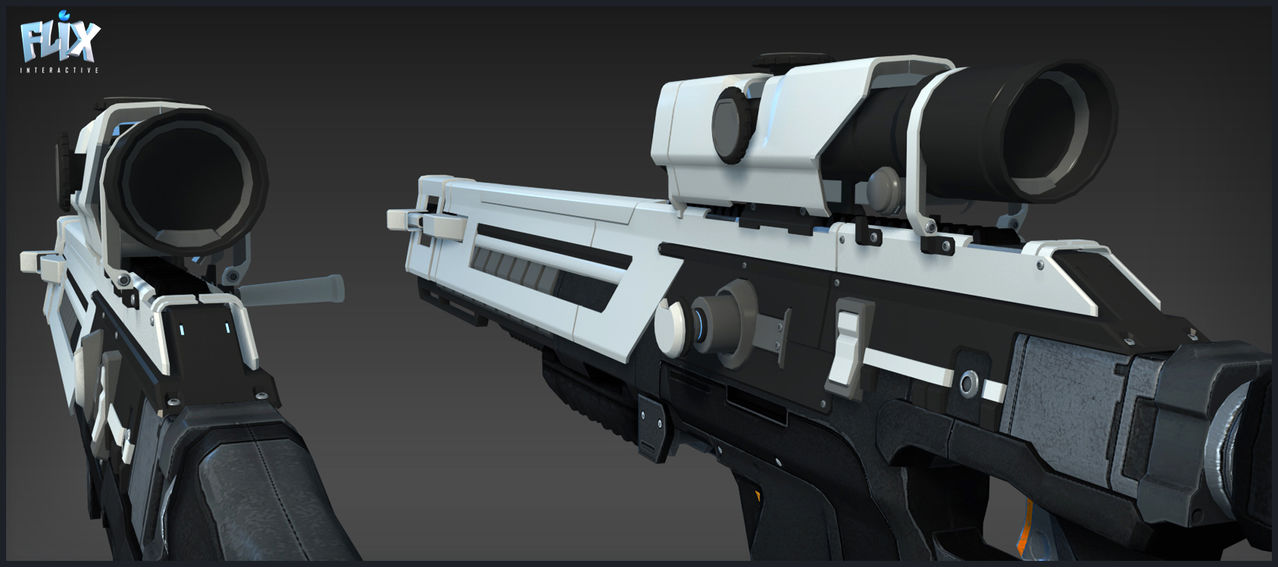 Lee - Technical Director
So this week I have been debugging the Juggernaut, SwampWalker and new Hive defence ready for the new release. I've also managed to get our new perception component working and ready for the next release, which I hope should help with frame rate.
Tristan - Senior Developer
Integrating the new foliage destruction system into AI and Saving of the foliage.
Yves - Senior Developer
This week I have been working on replicating Apex over the network for multiplayer and integrating and reworking our save system into the brand new Build system. I have also been working through bug fixes for the next update.
Carlos - Developer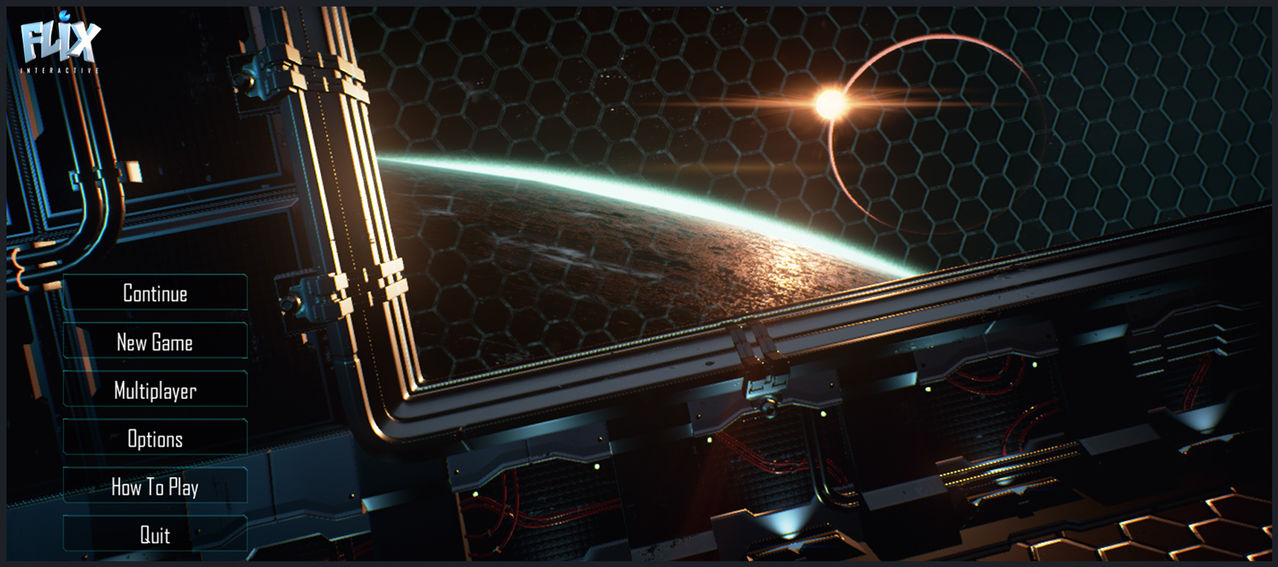 In previous updates I spoke about our new UMG HUD, which allows to retain pixel perfect HUD elements and excludes them from post-processing passes. This I've been working on and finalising some of the new elements of the UI that we've switched over to UMG. Below is a small demonstration of this.
Marcin - Designer
For myself this week has been all about death and destruction. For various technical reasons all to do with the aforementioned revamp of foliage system we had to rethink the way we handled material drops. I was therefore working with our programmers on centralisation and future proofing of that system.
Moreover with the introduction of the Juggernaut into the game, a creature much larger than any other currently in, it was up to me to figure out how it dies. Clearly the simple dematerialise wouldn't do it justice. So what if I told you you could mine it?
Chris - Designer
Along with Joe I finished the first pass placement of the Onyx rocks for the new world. My focus then shifted to our next release and concentrating on several tasks on the expanded version of the current map including swapping out the old foliage and trees for our brand new system and adding the new Swamp Walker in the world and continuing test and tweak settings to ensure the gameplay remains fun.
Joe - Environment
Artist I've completed the initial pass of Onyx rock placement in the new map and moved onto terrain painting, making Pharus 7 more lush and green in preparation for expanding our lovely new jungles! For the upcoming release I've also been helping out with placing new foliage and fixing bugs with our Tree setup.
Lauren - Animator
This week I have been refining and finalising Swamp Walker and Juggernaut animations as well as finishing up more of the 3rd person animations and blending in preparation for multiplayer. I have also begun work on the rig for the new sniper rifle, which should be ready for me to animate next week.
Ricky - Developer
I've split the menus into access points, so now when you visit your Eden Kit and press 'Tab' you will be taken straight to the Eden Kit menu. This is also future proofed ready for new Access Point style structures. User Prompts have been completed in UMG so they look far shinier.
Additionally they now work with whatever keybindings you have changed to. Aside from this I have been bugfixing, cleaning up and finalising UMG switchover and setting up various multiplayer features.
Gav - Concept Artist
This week I've been working with one of our other concept designers Simone on designs for the armoury utility, sniper rifle and micro construction kit. If that sounds vague you'll soon find out what they're all about ;)
---
You can keep up with our progress and latest developments via our Trello boards -Team Flix