Greetings,
I would like to share our progress with you, the wider community, and fellow sci-fi enthusiasts. Like the previous month, I will be sharing a collection of reports from each department.
During the month of August, the INT team has made steady progress as we continue to develop the public beta and other projects for the indie community. For the past several months, I have discussed mostly the apartment level with a collection of screenshots. This month, I'll will be sharing the progress being made on our second level, in addition to some other information.
Devteam
The DEVTEAM, led by Monte, is our primary department that is working on the development of the public beta. They are responsible for coding and art. I will share some models and information about coding in this section.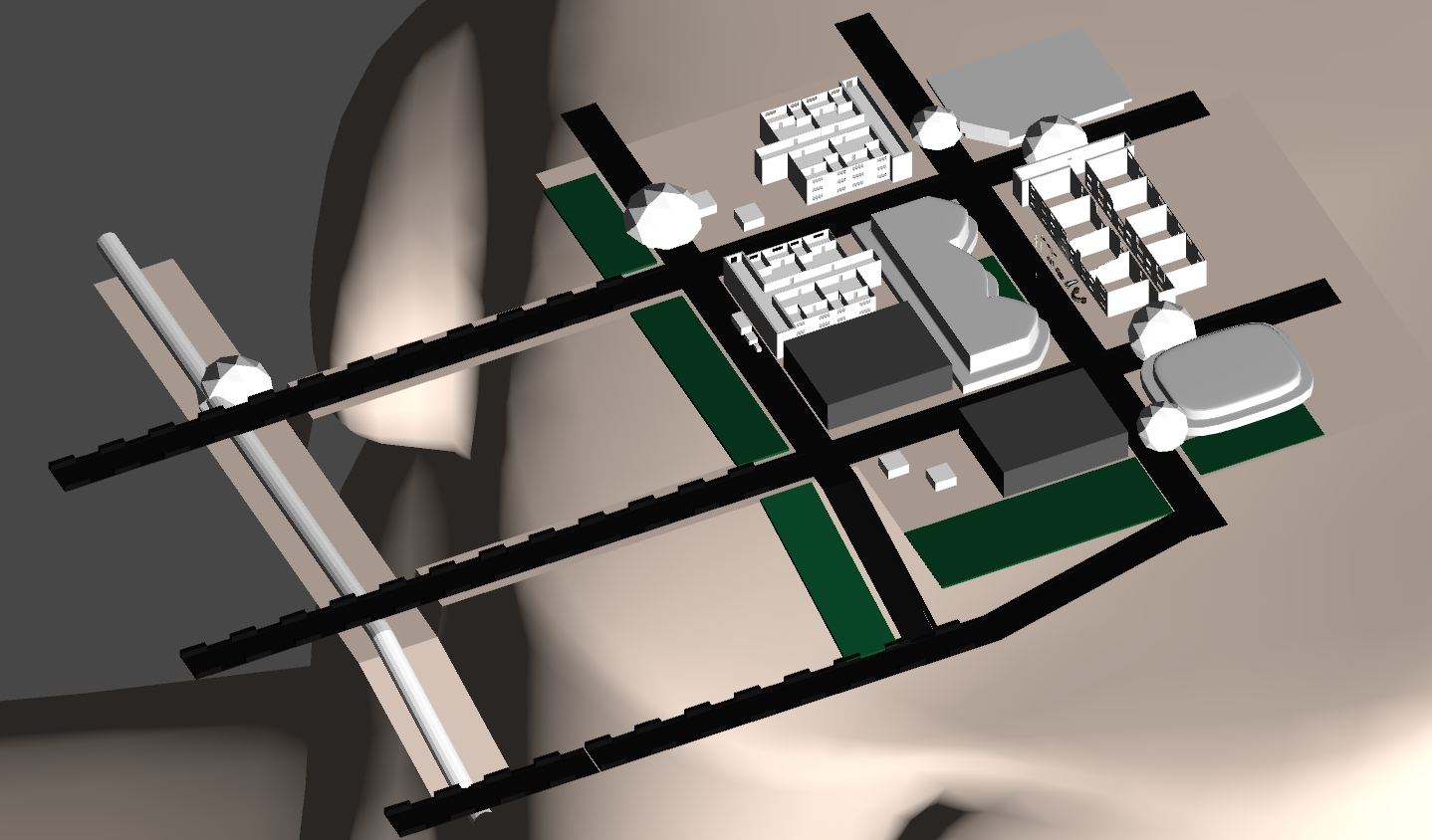 The street level is the second of three levels in the INT public demo. As you can see from this image, we are in the planning and early block out phases. The weapons, vendors, and street objects are in the process of being modeled. The street level itself is much larger than the narrow apartment level. This is a massive outdoors exterior. In this level, you will truly begin to level your character, find weapons, equip armor, and battle enemies.
Destroyed vehicles, damaged buildings, and the sounds of war will confront you on your journey through the street level. This is where the war, which is briefly alluded to in the apartment, will come home for the player. I encourage you all to read about the Interstellar Civil War, which is the driving plot in the game, here: Int-game.net.
Next we will look at some weapons modeled by Matt Parkin. If you are interested in more of his work, please check out his channel: Polygonpilgrimage.com.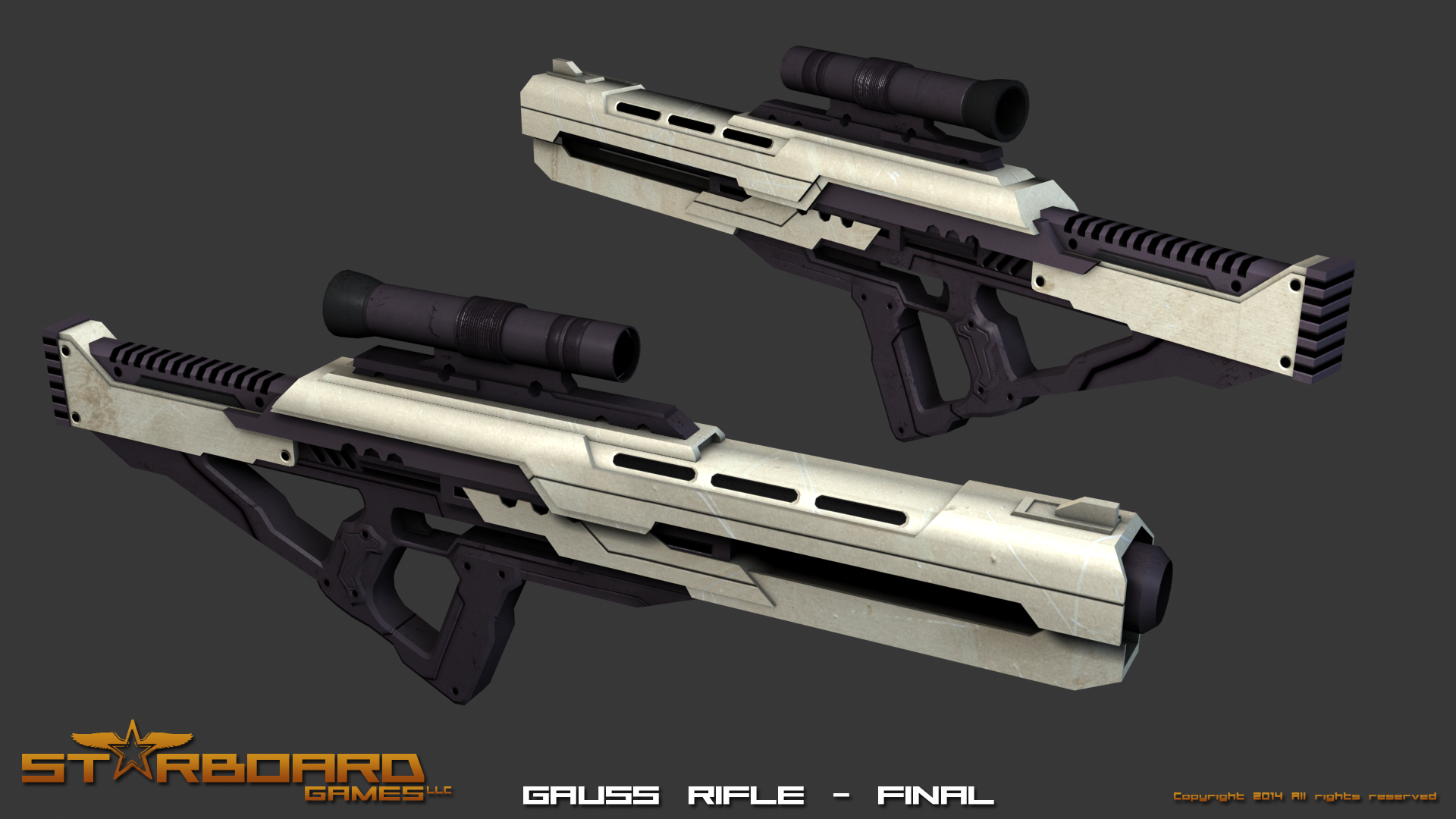 The ARS Gauss Rifle is an early Gauss rifle that you will encounter in- game and on the street level. This gun is made by ARS Weapons and a principal weapon of the UCE faction. It is one of their "trademark" guns, in fact. When you encounter UCE soldiers throughout the game, it is very likely that they will be using an ARS Rifle, unless they are a Fist or Apotheosis variant.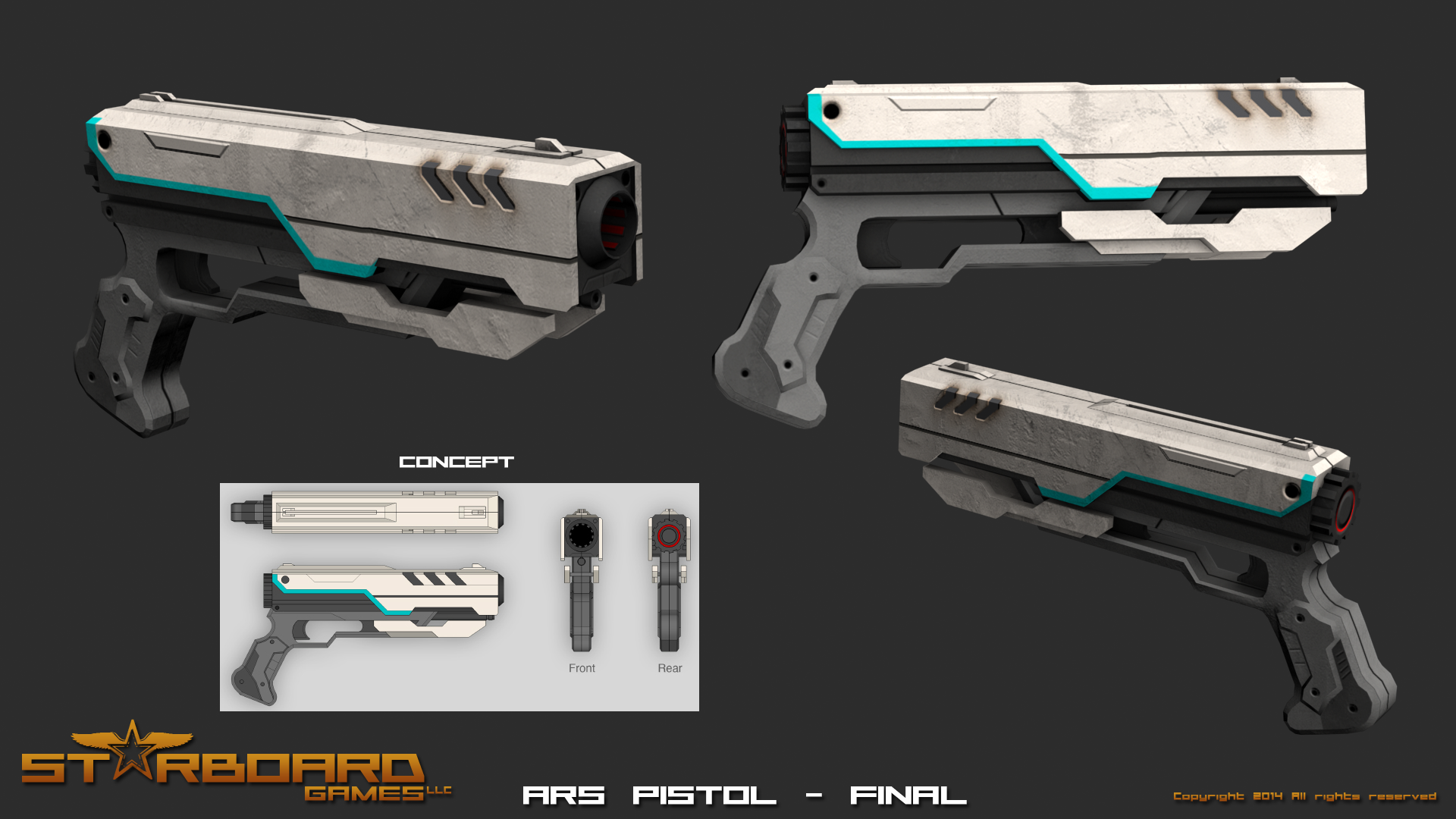 The ARS Pistol, like the ARS Gauss Rifle, is an early Gauss pistol that you will encounter in the game and on the street level. Additionally, like the ARS Gauss Rifle, this weapon is made by ARS Weapons for UCE infantry. While infantry is more likely to use ARS Gauss Rifles, it is very common that you may run across UCE light infantry using ARS Gauss Pistols or other non-aligned factions using them, such as the Prometh Cartel or Bakunin Bratva Cartel.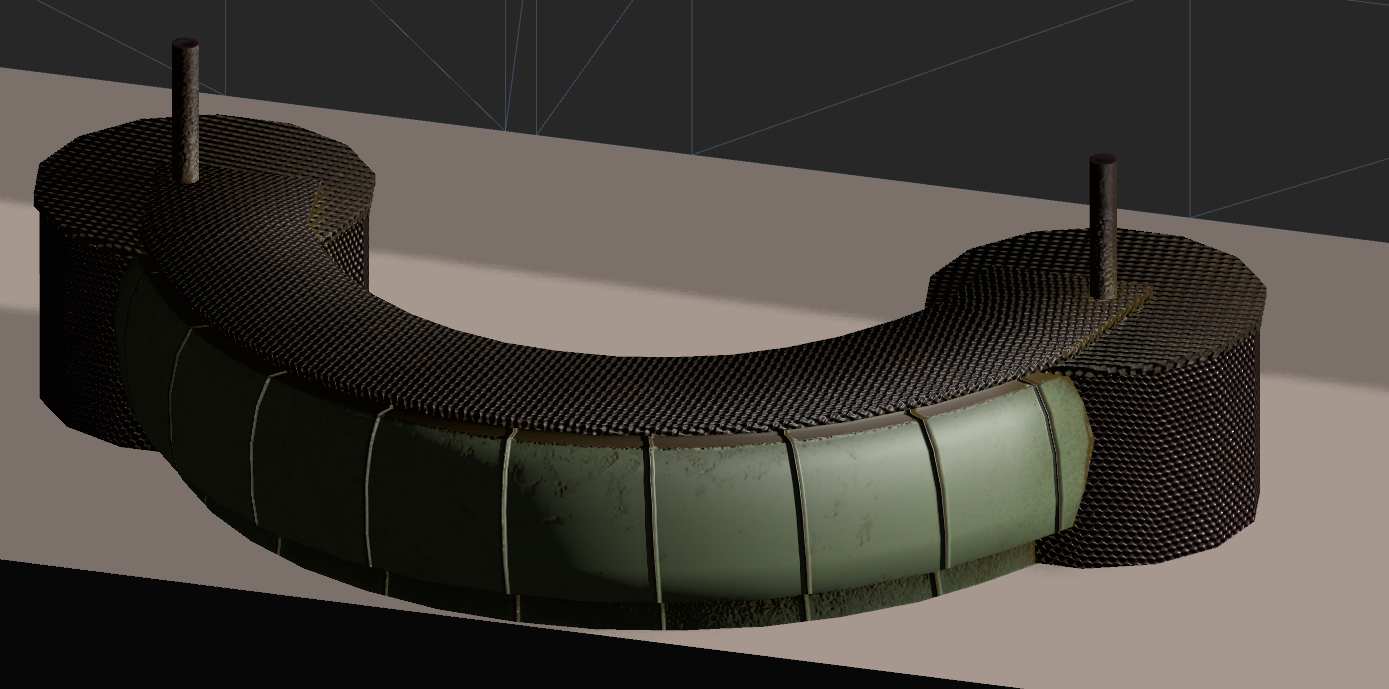 INT will have merchants, which means that a buy and sell system will be in place. To accommodate this feature, outdoor vendors are located in the street level of the game. These areas will feature healing stations, recharge stations, and vendors. The merchants themselves will try to make a buck or two by selling you wares of war. Look forward to seeing vendors such as the one pictured above in the street level.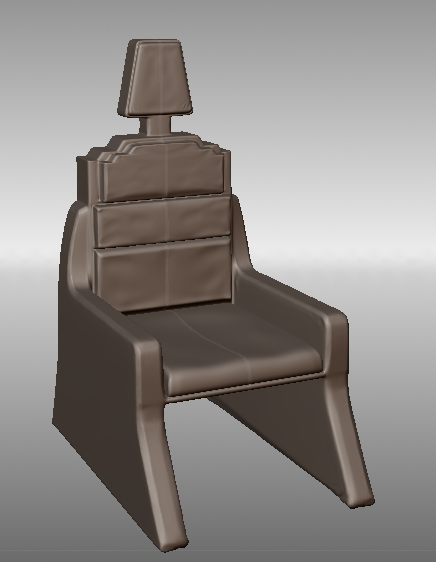 In addition to work being done on the street level, we are beginning the process of creating the character creation menu. This will allow you to customize your character. Sometime during that process, there will be a chair present. This is an early prototype model for the character creation menu.
Coding Update
During the last month, our coders have continued to work on system integration from the GDD. While we do not have a video to show you like last month, I would like to talk for a moment about the coding team. They are making progress on our major systems and it is my hope that we will have something very special to share with you soon.
Writing Update
The writing team has been hard at work. BC and his team have been working on providing the player with interesting dialogue for the street level. Expect to hear and read about the horrors of war on Bastion through the eyes of civilians when you play through the street level. You will find many dialogues discussing current events on the planet. In addition, dialogue work has been done with some of our game companions. There is an update which you can read below which shares a bit of dialogue for the street level through the eyes of a companion.
This month the writing team has been hard at work crafting companion dialogues. We can't share much with you right now, but what we will be showcasing is a snippet from one of our static companions, Miranda Veloren:
"Do you smell that? The smell of death, carnage, and war? This is the world we've been born into pal, this is the world we must keep. To sit there and fight the status quo would be silly--what can one person truly do without an army at his back? What can that same person do then, being a simple citizen in this ferocious galaxy? They survive. That is all any of us humdrum passengers can really do when faced with a churning galaxy. Frankly, that's all I'd want to do."
With so many companions planned for INT, it is certainly arduous for the writing department, however it is a task that we're more than up to. In the coming months we hope to showcase more and more of our characters and truly bring the INT-verse to life with not only companions, but peripheral characters. Our goal here is not to simply tell one story about the "churning galaxy," but rather tell many stories centered on the changing galactic culture. Your character and his/her companions alone will not be another Commander Shepard, gallivanting around saving the entire galaxy from certain doom. Your character will be the one living in this changing universe, rather than forcing it to change. This is the true beauty of our mission. We want to tell a story through the eyes of those who must live through momentous change, and the different perspectives such change creates. We in the writing department (and all other departments I'm sure) look forward to sharing our stories with you and perhaps even throw our own unique take on the sci-fi genre.
That's it for Writing updates this month, but make sure to stay tuned for more developments!
Sound Update
After an extensive search at the beginning of August, we brought Heath Music onto the team to be our primary sound designer and composer for INT. You can hear one of the tracks composed for the trailer, as well as another example of his work, embedded below this paragraph. Heath and his team of musicians have been hard at work to provide the player with the best music possible in order to stimulate your senses and engage you in the world of INT while you play. Check them out!
CreepsMcPasta Recap
In early August we were featured on CreepsMcPasta's YouTube channel. If you haven't visited his channel, then you can here: Youtube.com. After a several month process, Brian, our Creative Development Director, provided CreepsMcPasta with a story titled The Initiation which tells the story of a young UCE cadet as he embarks on a "trust exercise" to prove his courage on the graveyard world of Venus.
The story pulls you back and forth as Cadet Yorrick journeys across Venus. The story focuses on psychological horror, the dangers of colonization, and perhaps holds a supernatural element. It was a great collaboration effort between our Creative Development staff and CreepsMcPasta. We would like to thank everyone involved. Please check it out if you haven't already!
Trailer
After several months of work, we have finished our third trailer. Unlike the previous two trailers, this trailer is a story-based and concept trailer. In our first trailer, we outlined the plot of the game. This trailer finally brings that story home. The trailer was meticulously crafted over the summer by our concept artists, writers, and composers.
You are introduced to the world of Bastion, and you can view the events that unfolded before the start of the game. Then, you follow a linear journey from your apartment building to the final destination: the starport. I hope you enjoy the trailer; please let us know if you did.
Creative Development #1 picture Reyes
This month, I would like to show an image of UCE 2 reporter Shade Reyes. Shade Reyes is a character from our comic line who we will be discussing in more detail over the coming months as they are developed into a personality within the INT game universe. I hope you enjoy this window into our Creative Development team and like what you see. Expect a formal announcement sometime this month regarding our first comic issue.
Miscellanious
I hope that your interest is piqued after this month's update. We have shared with you our third trailer, models from the street level, a block out of the street level, information regarding the comic, and sounds from the game. As we ramp up for our demo release in 2015, expect more updates regarding INT. A great staff has been assembled to bring to you an excellent free demo that we hope you will enjoy, and replay, for your enjoyment.
If you would like to engage with us then I suggest you visit our forum and begin talking to us about the project. We would love to begin sponsoring community engagement events, but we need you to register and begin letting us know how you would like us to hold them first.
Lastly, if you are interested in the development and wish to lend a hand or are interested in our project, then please feel free to PM me or let us know in the comment section here or on our forums.
Thanks again,
Justin
INT Project Lead
---
Facebook.com
Twitter.com
Reddit.com
Indiedb.com
Patreon.com
INT's Steam concept page