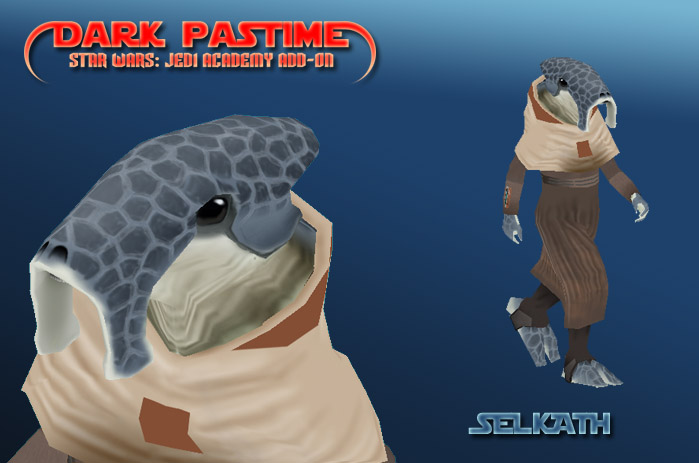 With the latest screens from DP levels, as well as some new pics of SW transport we are proud to present the newest model of Selkath! Selkath are one of the aquatic species, native to the planet of Manaan. These aliens are better known for their first appearance in KOTOR video game, and to some - by their smaller role in Clone Wars Season 3 as well as comics and books.
We already created several new NPCs for our project, completely from scratch. There were many... candidates, that we wished to add, and the Selkath seemed to be fun to see again in SW Galaxy. I read several sources about their life after KOTOR events, though there isn't much information, it's a proven fact, that they remained a very isolate society, trying to avoid Galactic conflicts. Some of the Selkath could still be seen on different worlds around the Galaxy. One such Selkath could be spotted in Holonet news near count Dooku (in the Gree Enclave).
Another - a bounty hunter named Chata Hyoki - tried to attack senator Amidala in 21 BBY during the Clone Wars.Selkath are also some of the new NPCs that will play their part in Dark Pastime modification. I can only slightly reveal, that these aquatic species managed to create a small colony on Anarmar, the planet, that can be seen on our earlier screenshots.Again I would like to thank a member of our team - Olgo. She did a wonderful job creating the model.P.S. Don't forget to check out our other screenshots of aliens and levels alike.