We've been a pair of months without publishing because the lot of work we have being doing, also in the programming level of Ancient Relics, and also making this fantastic and customizable 3d models for our own use and to sell to everyone in need.
In a maneuver to help the funding of GBF: Ancient Relics, we have began to sell useful tools for game developers, and in the way, taking it to the game as a Turn Based Tank strategy minigame.
Right now, our first asset for other game developers, is a 3d model pack of combat vehicles (tanks, combat trucks, APCs...) is available in the Unity Store, but we will make sure we put them in other formats and in other stores.
I have been always a fan of RTS and Turn Based Strategy, and meanwhile GBF:Ancient Relics don't have per se Army-sized battles, (Just Space Combat and Team-ground combat), we will put in to the game a minigame of Turn Based army-size combat, and in the next week we will offer for free a webplayer demo of it, using the 3d models of our pack, called Strategy Pack - Armored Division. You can read the full thread about the Models Pack in Unity forums here and read additional information and buy the asset (for Unity users) here.
Just a few promotional images:
You can watch a big Extended Art Gallery at our blog,
The minigame inside GBF:Ancient Relics:
It will consist on a virtual representation of a series of important battles, where you can choose side (Atlantic Alliance, Russian Consortium or Arabic Union) to help the context of the underneath background story of Galactic Battlefare universe, and in the same time, Give players a lot of replayable fun. This is a Work In progress screenshot of the minigame: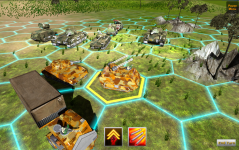 As told you before, you will know about this in future weeks, and you'll have a free demo of the minigame.
In the meantime, any Unity developer who wants to help funding our big-spacey RPG game, or just need a good, big, and plenty of ready-to-use prefabs, 3d Models pack, is invited to come by the Asset Store page and order one of them! Just go here.
As always, thanks a lot to all of you; Making Indie games is impossible without your collaboration!