Hey community,
In our Today's Media Update we want to show you one of our new character models. It is an Insurgent who you will fight against while you are battling the terrorist. The model was done by our Character Modeler Cargo.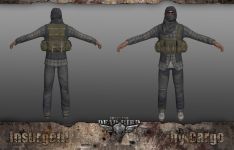 The second thing we want to show you is our brand new main theme. It is called "Tears of the Sun" and was done by our Composer Oganalp Cantan. Oganalp.com
That's all for our today's media Update, merry Christmas to all of you and please vote us for MOTY!
- The DarkDustStudio