Recap
This week I was pretty busy so I didn't get as much done as I was hoping. I did get some pretty big stuff done though.
Up to this point I've been picking colors haphazardly without an overall style guide in mind, so I slowed things down and tried to come up with one. That's what the bottom one is, a paintover of the screenshot on the top.
Though that's not saying that the game might never look like the top again. I want to have weather and such that will affect the way the world looks as you play. So it could transition from the calm seas to a more stormy and foggy version even.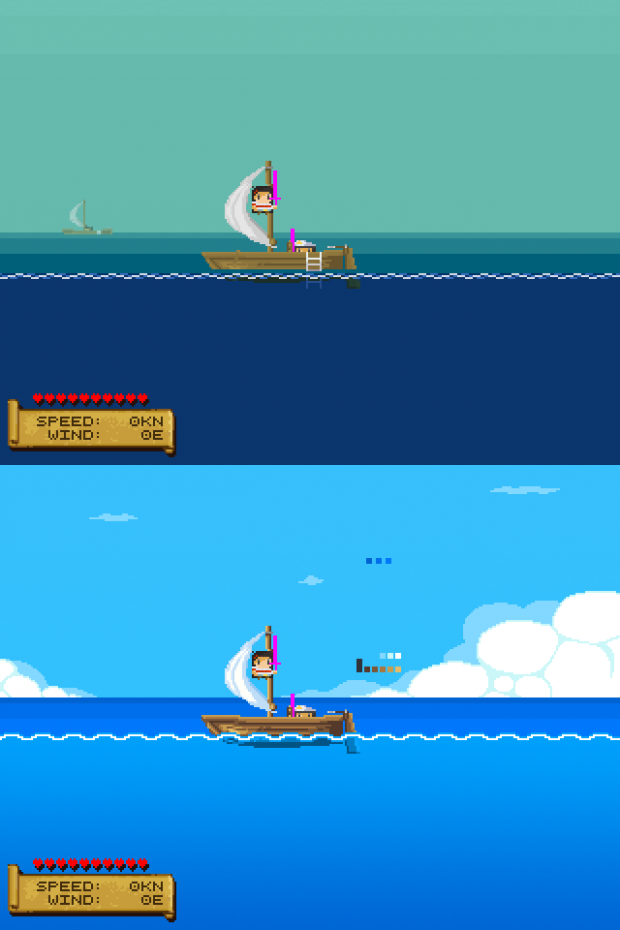 So after doing the mockup I spent awhile redoing some things to match it in the game. So far people's reactions to it have been very positive, and I agree. Looks neat.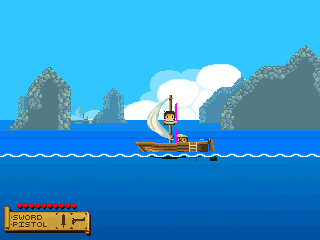 If you look, you can also see another one of the things I was working on in that gif. The speed of your boat is now more accurate to the displayed knots you're travelling. Wind speed and direction also affects how fast you can move. Still need to have the mast be affected by the wind (and the clouds need it too now) but that's not as important as some other things yet.
Looking Ahead
I fixed the few little bugs in the melee that were there from last week and I did a graphical overhaul, so that means now I can get back to doing either offhand pistols or cannons. Which do you all think I should do first?
Play Seafarer
Version 0.2.30.121012 of the game is up now with some of the new things, so feel free to try that out on the site (if you were ever curious what all the numbers mean, it's just the date of the update along with a build number.) Beneath the game you'll see the date the web build of the game was last updated as well as its version number. If you submit a bug report, please include the version number.
Other than that, play away.
PlaySeafarer.com
[Edit]
I keep forgetting to mention this. MrFidelmios has started doing videos every week or so of the latest build for fun. Playing through, talking about what might have been updated, stuff like that. Give it a look.
Week 1
Week 2-3