Recap
More of a "behind the scenes" sort of week with work, but it's all culminating in some neat things.
I added the enemy spawners for new layers, so enemy ships will spawn sometimes as you travel. After that I had the crew for the ships spawn as well. Up to this point hitting enemies wasn't really doing anything, so I also made a quick health system for everybody. To go along with that I also wanted to have stats that affected things like melee damage, your health and so on. So next up was a class select screen.
Right now there are 3 starting classes to choose from: Captain, Pirate, Merchant. Each will have different starting benefits, looks and so on. After I had that done, I made a class and stat system for NPC's as well. From there I made some placeholder sounds for things and played with a few particle effects.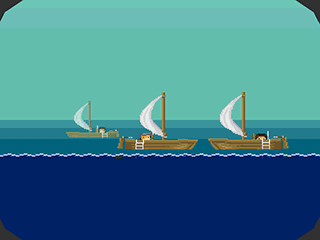 Looking Ahead
This coming week my todo list isn't as large. A few little things to take care of, then I'll be working on features as they arise.
Play Seafarer
In case you don't keep up with these weekly news updates, there is a playable build of the game up online at Playseafarer.com if you want to try the game. Some features are still being worked on or might not be implemented, but please do let me know if you find bugs and so on.
I can't remember if I ever mentioned it before, but I also post small updates on tumblr with gifs and so on. There are some that aren't in the gallery here, so feel free to take a look. Veshchsev.tumblr.com