For those who don't yet know SDBC2: Canned Theft Auto is the sequel to Sex,Drugs and Beer Can, Once called Refilled SDBC2 has gone through a giant change in the past few months and has turned into this as you see it today. CTA is a GTA style mod for source, based in the wacky and disturbing world of SDBC. It will incorperate platformer style elements, new ideas and comedy in to the GTA style game.
CTA Will be mainly single player with a cut down multiplayer, The single player story revolves around MasterMind and his evil ploy to take over the world with the SuperDrug. After SDBC1 BC has been locked up in Albatroz (big jail island). At the start of CTA BC is rescued by an elite resistance group know as "ModDB", based in the ModDB towers they work undercover pretending to be some website company, ModDB allong with BC's (your) help sets out to destroy MasterMind.
We have over 60 concept images in our gallery here on moddb below are just a few, These range from character designs to vehicles, weapons and more.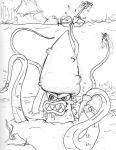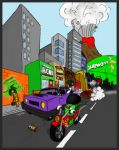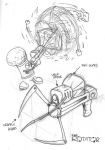 ModDB and The "ModDBers" will feature heavily in CTA and will give out nearly all the missions and tasks they will also be core to the story. Below is a montage of all the moddbers so far , click each character for a bigger image.Also if you like those, I have created a CTA wallpaper Exclusivly for ModDB
1024X768
800X600
On the models front I have created a WIP BC model shown below , as well as the ATM for the banking/money system.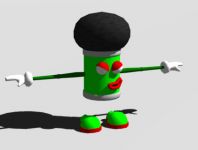 Earlier this week me and 2 other members of stuffTeam did an interview about SDBC2:CTA over at Hl2.jolt.co.uk
hl2.jolt.co.uk wrote:
What are, in your opinion, some of the more interesting features planed for Sex Drugs and Beercan: Canned Theft Auto?

Stuffie: I don't think you can play as a beercan, and kill animals/vegetables in any other mod, using things like weird hoovers and magnet guns. And giant forks and cutlery launchers.Read More.....
For more information and the latest concepts images ideas and stuff , Or to join the mod team checkout out the SDBC2 thread or the StuffBoard
Atm we have a naming competion please read the above thread for details on applying/rewards.