Concept
The game's concept seems quite simple : you control a character (very tight controls, almost no "sliding") who can run, jump or wall jump.
However the scrolling doesn't follow you, it's up to you to stay on-screen !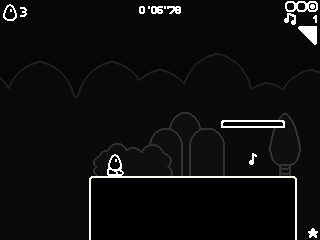 The level 2 begins ! Note the arrow in the top-right corner : it's used to show the scrolling's next direction.
In addition the numerous enemies will not kill you, instead they will push you ! The more you've been already hit by enemies, the farther you'll be knocked off.
Fortunately, if you get hit and sent off the screen, you can activate the Dash mode, which enables you to fly for a very limited time ! Of course, using the Dash requires to collect some "Dash Spheres" in the level.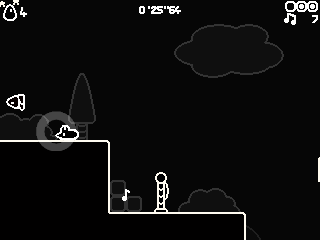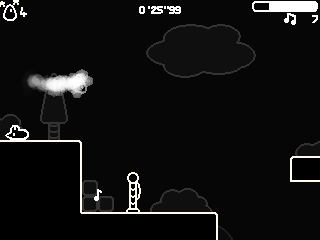 Knocked off? No worries... just press Space to recover !
Inspiration for this game came from the various auto-scrolling stages in 2D platformers, and maybe from Super Smash Bros. too. But in Scrolling Survivor the scrolling may move in all directions, accelerate, or sometime freeze... so this is much more complex !
Graphics
As you can see, the graphics are quite simple, black-and-white sprites.
Actually the important elements (platforms, characters, enemies) are black with a white outline, while the background is drawn with different (fifty?) shades of grey.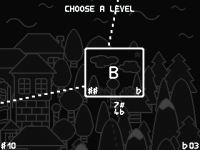 Features
I'm planning to include the following :
15 long and hard stages, and 40+ sub-stages, each one of these will explore a different mechanic,
Complex scoring system and leaderboards, to ensure a great replayability for the 15 main stages,
Replays, achievements, progressive difficulty system so everyone can have fun,
Simple yet original graphics and animation,
Awesome chiptune music !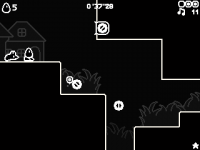 There is a lot more to say about the game mechanics, scoring system and levels : stay tuned !