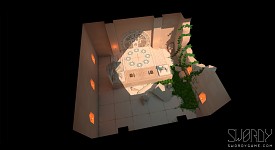 See Swordy's full Reddit Screenshot Saturday 211 post!
We have upgraded to Unity5 – the new lighting (GI) system is awesome! The new physics is a pretty massive performance improvement for us being heavily physics based.
We have switched from FMOD to the Fabric – a bit easier to work with being properly integrated into Unity and having documentation.
Prototyped several new arenas – polished one.
Been setting up a unobtrusive tutorial system, which will hopefully only help out players that it detects are not grasping the controls – needs testing!
Also cleaning things up and getting ready for trying out some gameplay changing features: duel wielding, "grabby hands", projectile weapons, stamina and a "dash" ability.