Do you feel tired? Can not you with so much enemy? Is the horde mode very difficult? Are you feared when a boss approaches?

Don't worry!
Now you can buy our new temporary boosters, which will give you life, bullets and enough energy to spend the battery of the mobile even though it is plugged in and charged.
There are life boosters, power boosters and ammo boosters. But you have to take good advantage of them. Only last 30 minutes
Are you worried about don't being able to don your leopard tights this summer? Quiet! All have 0% fat and are made following the recipe of the grandmother: octogenarian heavy mane, hot beer, chicken heads and guitar night solos.
And say hello to our new enemy: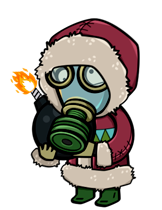 Is fast, deadly, inmune to poison and inmune to freeze. He is lovely, do not you think?