Greetings, my dearest players! For a start, I want to thank you all for reviews and general engagement with the game, it has launched unexpectedly well!
And another thing, we expect you all on game's Discord server!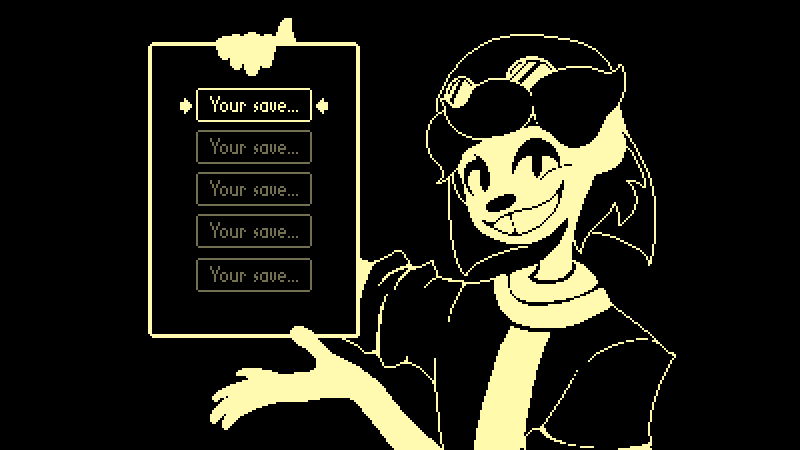 Last weeks I've been working real hard to get this super useful and wanted feature done - 5 whole save slots! (That's not all, of course, but it's the main thing) (And actually there can be an unlimited amount of them, I'm just lazy to make UI for it)

What will change for you?
You can now jump from save to save, save them for later, for one reason or another, and just enjoy how more fluent and cooler it is.
Unfortunately, your current save file, settings and gallery was obliterated. This was a necessary step not to do so in the upcoming full game (better to lose an hour of progress here than many hours playing the full version, right?)
This greatly increases the chances of the save files being compatible with the upcoming full game, so *maybe* you won't even have to replay the intro!
What will change for me?
It'll be easier for me to make this game :)
And now for a detailed list of changes:
Added support for additional Latin characters in the game font
Added setting to turn text hider on and off (if you knew about it at all)
Added confirmation screen before exiting the game or the menu from the gameplay
Added automatic sorting of inventory, when it changes (can no longer be empty slots between items)
Added "Game saved" icon after a save is made (there is also an easter egg there)
Added little animated radio to Tavern
Added new music to Tavern
Added two new tunes for Eliza
Added music when loading from Corsic Room or Castle Reception
Added new portrait for Princess Riley
Changed other portraits of Princess Riley
Changed Princess Riley game sprites and added new one
Changed castle meeting scene
Changed portraits, sprites and scene with the girl from the intro of the game
Changed street at the Roadhouse
Changed some of the game window descriptions (there's a bunch of funny stuff in there, you miss it if you only play fullscreen!)
Fullscreen mode now always fits the game to the height of your screen (pixel perfect graphics fans, I'm sorry, but that's what most people wish)
Darkening in the dialogues has been removed
Titles will now stop when you reach the end
The item you are holding will be removed if it is removed from the inventory while you are holding it
Fixed an issue where same items were added to different slots in your inventory
Fixed problem with softlock in gamepad button settings menu if you only used keyboard
Updated the localization files
That's all folks! See ya' in the future updates!



If any issues come up with this update, I will do my best to fix them asap.