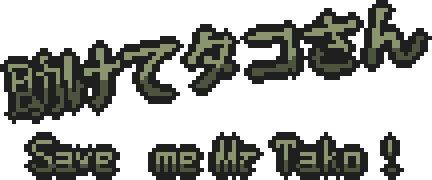 I everybody, one week ago, I released the first free demo of my Game, Tasukete Tako-San : Save me Mr Tako.
I want to thank all people who played it, and who spoke of it around them. I'm really happy you enjoyed the game, and hope it will bring nostalgia to more and more people.

I also want to inform you that I have finished the writing of the story you will play in the Story mode of the game. Hope you will enjoy it. (Some of the main characters are hidden in the demo).
To finish, the game summary now have Game Boy color, as this news !

- Windows:
Indiedb.com

- Mac: Indiedb.com


- Linux: Indiedb.com


Have a nice week end !