Sanctum Demo
We are aware of the fact that you haven't heard from us for a while, but I assure you that we're still here kicking ass. We've finished a Demo of Sanctum including quite massive changes from versions currently available publicly. This Demo is to be released on Steam in the near future, so keep your eyes peeled!
A few of the features to look forward to:
Multiple new enemies with diverse strategies.
Upgradeable defensive structures
Upgradeable hand-held weapons with added features
Along with a huge amount of updates including entirely remade plaza area, greatly improved instructional screens, balancing and just general kick-ass!
We hope to get all your feedback on the Sanctum Demo coming for Steam, your feedback will base much of our future development of Sanctum. We need to know what you like and dislike, what you think we'll focus on and just how fun you think it is!
A new release-trailer will be uploaded in the near future, showing off Sanctum in full glorious action!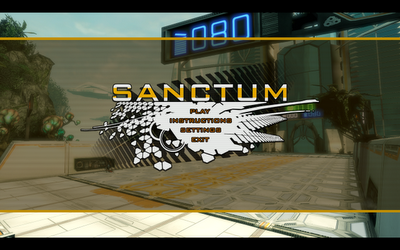 The Main Menu of the Sanctum Demo
.
Coffee Stain Studios
We here at Coffee Stain Studios are in full development and production. We've moved into our new offices and are making sure Coffee Stain Studios is awesome from the ground up. Right now we're focusing on developing two iPhone-games for planned released Q3 2010. First up we have a 2D tower defence game based on Sanctum, this will give some awesome tower defence action to all of you out there with an iPhone. We're also working on a new IP named I <3 Strawberries, which is a casual puzzle platform game for all of you looking for some enjoyable strawberry collecting in a jumpy fashion.
Two new websites are in development and will be finished shortly. This includes a company website with updated information about us and our products, along with linkage with our additional online presence. (Links below) We're also working on an official website for Sanctum, which we think a stand-alone game like Sanctum deserves. We hope you're as thrilled as us about these things!
Some full-fledged action using upgraded towers, slow-fields and even the third level Assault Rifle with the added grenade launcher. Oh yes, it's frickin' sweet!
See More
We've recently extended our online presence by now being available on a variety of places. For interesting continuous updates about various aspects of our development on Sanctum, and our other products here at Coffee Stain Studios, follow us on these sites:
Twitter: Twitter.com
DeviantArt: Coffeestainstudios.deviantart.com
Facebook: Coffee Stain Studios Facebook
Blog: Http://blog.coffeestainstudios.com
Website: *Coming Shortly*
Anti-air action in one of the airborne waves of enemies.