Since last week the studio has been running at maximum pace, working on the upcoming Server Browser that will make entrance in Sanctum very soon. During the beta we realized that a P2P server client solution was simply not good enough as it requires opening ports, which most users can't handle.
The solution from our side is implementing a Server Browser with NAT-traversal. Steam has built in support for this but sadly the UE3 has not officially implemented this support yet. Thanks to great support from Epic we've managed to get a system up and running, and we can soon release it to the public.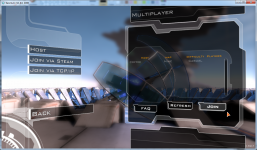 Above is an early _work in progress_ screenshot of the Server Browser. This is not the final appearance. Better design, a lot of filters and some more functionality like sorting will be added. We hope that the addition of this server browser will make your multi-player experience much more pleasant.
We have had requests for some Sanctum Wallpapers, why we did post a few in the images section. Check these beauties out!