So, it has been about a week since our Phase 4 submission for the Make Something Unreal Contest got sent in. And I have to say we're all quite happy about all the things we managed to complete in time. Sanctum is now a highly improved and largely different game due to all the new features we've managed to sort out and implement. Just to name a few:
Entirely new dynamic construction system for the defensive maze. You now get to freely choose the layout of your defense to fit your own play style.
Multiple atmospheric improvements to add to the feel of the game (Birds, dynamic fog, supply spacecraft etc.)
Two entirely new enemies:
1. The vicious runners that come in hordes and run with great speed past the defenses.
2. The flying spore bombs that ignore your entire maze by flying straight across the play field, high above your head.
Two new types of towers:
1. The Tesla tower, zapping the approaching enemies with over nine thousand ampere to bring sure death.
2. The double-twin rocket anti-air turret - delivering pain to the flying enemies high above.
So, after having worked basically day and night for a few week, we decided to take a week off for just taking it easy and pondering about where to take Sanctum from here. And that week ended last Friday when we had a huge meeting about what we'll be doing for the Grand Finals of the Make Something Unreal Contest. Of course we're counting on getting nominated for an entry into the Grand Finals.
So, I can start by saying that there IS a "public" version of Sanctum out now, BUT I would like to take the time and say that if you can wait, then you're better of doing so, for a few more days. We're currently working on a few bugs we didn't manage to squash in time for the competition but will do so retroactively to enhance the player experience. We will be releasing a totally public version that will have these nasty last-second bugs sorted out, offering you gravely improved enjoyment.
Now for some fun stuff: Here are just a few of the things we've decided will be highly prioritized for our mid-November release, conveniently coinciding with the deadline for the Grand Finals.
Co-op: You'll be able to run around with a friend, working together to defend Elysion One.
Upgradable Weapons: There will be multiple upgrades to the hand held weapons, to give you the possibility to increase the slaughter.
Upgradeable Towers: You will no longer have to only build new towers to improve your defense. Towers will have several upgradeable stages of improvements of various kinds.
Two new enemies: Two new enemies, adding to the variation and gameplay of the game. One of which will add a new tactical side to the game.
Massive amounts of polish: Sanctum will get a very long list of graphical improvements that will push it two notches higher on the graphical finish. There will be things from additional and improved Foliage, Building animations, Tracers to complete reworks of the Plaza area, and even a ground-up remake of the sniper rifle.
I'll also have to apologize for not having updated the blog for almost a month, which is not entirely acceptable. This has been due to the amount of dedication that has instead been put into managing priority lists and making sure everything gets done in time for the deadline.
Here are a few screenshots of the most recent version of Sanctum, showing off just a few of the new features and polishing fixes that are in:


The improved and refitted tutorial screens. Containing a full-fledged interactive tutorial, explaining the core features of the game.


Fly-over wide shot of the general playing area.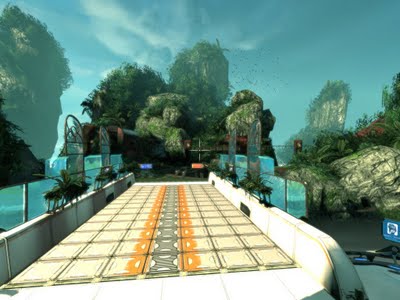 Overview of the bridge area, with the added birds in the background.