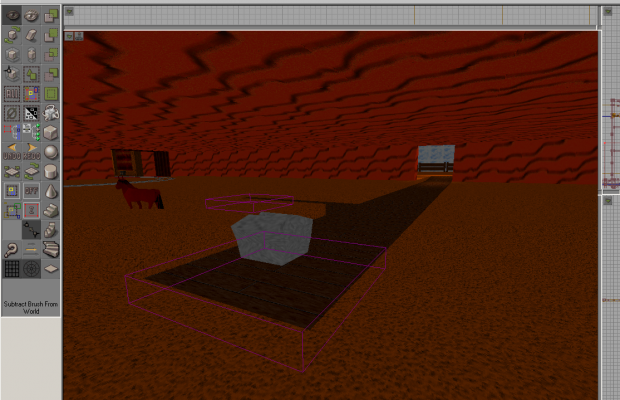 For a story, it's really rather pointless thinking about adding a narrative story in Unreal Gold. Despite the fact that there is some narrative in the original Unreal Gold game, I don't plan to put any voice acting in the mod right now. The story is told thou visual imagery and metaphors and I think it helps tell the story itself.
The above image is a work in progress of a prototype model of the Unreal Engine in a video game form, which is placed on a mover. The task will be to extract the Unreal Engine from the ruins of the mines. How this idea of looking into the Unreal Engine is just told in the Prologue and what better way to represent this idea then putting it in this very mod as a Single player mode.There that and for voting for this mod for being Mod of the Year on moddb.com.
Here are some reasons to vote Salvage Storm to be MOTY and why it means a lot to the mod itself and the first generation Unreal community of the past and today. You're not just voting for one mod, there's alot of reasons to vote for this mod. I believe if this mod has potential to make the full usage of Unreal Gold's and Unreal Engine 1's modding capabilities as the Unreal Engine 1 is over 15 years old.
I believe Salvage Storm shows off that it still has life from the Unreal Engine 1 in making a good game experience. There was also Tactical Ops, which started as an Unreal Tournament mod and it was really popular that it was pushed forward to have a commercial release back in 2002, however what separates Tactical Ops from my mod, is that Tactical Ops is a competitive multilayer experience whereas my mod is a single player only experience.
I believe that a single player mod for the Unreal Engine 1 let alone Unreal Gold has never been done before in the way I'm changing it, which is why Salvage Storm will be the first true single player experience for Unreal Gold, making use of alot of features already presented in Unreal Gold that has never been seen before.
I think there is that untapped potential in Unreal Gold's modding capabilities, which is why I'm demonstrating this as proof that it can be done. This is where one vote means when you nominate Salvage Storm to be a candidate for Mod of the Year. 2014. I also plan to push forward a release date of the Prologue to demonstrate what I've done so far.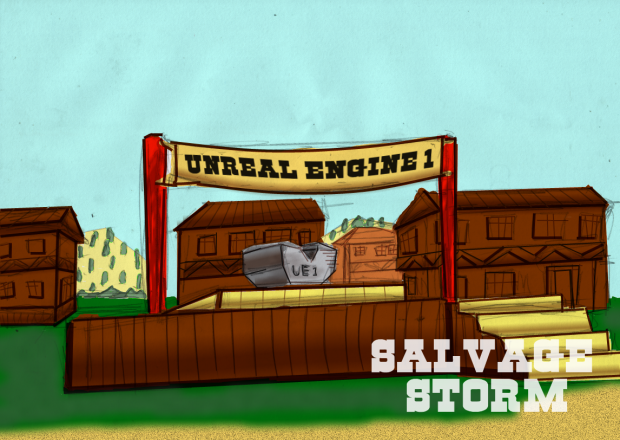 The beginning of Chapter 1 shows off what salvaging an engine from the ruins where was used from previous modders would look like when shown off in a fantasy style game setting. so what better way to represent something already salvaged then putting it in a show fair?

The Prologue release simply means that I can create an additional level by using the tabs that I've already modified and release it as an extra for the sole fun of it, because it can easily be done and presented with what I've already have. Sounds promising maybe and I know that I can manage this for the deadline set for myself. It would most likely end up looking like the above image which I have mashed together to try and make the idea much more easy to explain how big the level would be. Other then that, please stay tuned for more updates and vote for Salvage Storm as an nominate for Moddb's Mod of the Year 2014.