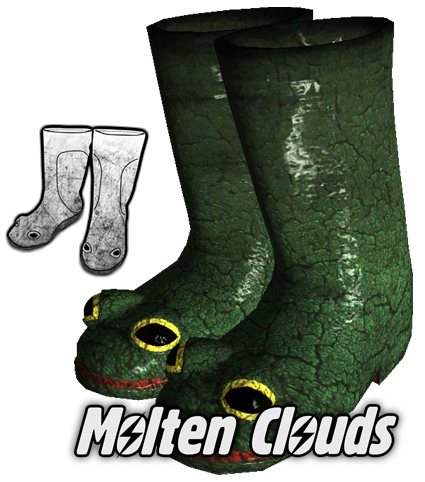 Our holidays last week were quite productive -.. Wait, who are we lying to, it could have been better. In general there is nothing much new but rubber boots implementation done by our only coder, VirusMS. To be more certain it is not just the boots themselves - it is damage incoming to the person standing in those pools of weirdly colored goo. From now on, taking goo baths will damage the brave one (be it player or someone else) and his armor, given he is not some mutated gecko or a bloatfly (who, obviously, flies above the goo). However, wearing those rubber boots will protect you (and then again, anyone else who can wear it) from that negative effect. The resistance to goo effects depends on boots - or, if to be exact, on their condition, which will decay overtime (they take the damage instead of you).
Currently there are two types of rubber boots - the standard ones and unique ones (shown on the picture above), which has no magical conditions and has some difference in its cost, its slightly silly look and slightly better condition. On the picture below you can see the boots' decay stages.
If your boots are not new (as seen on left column on the picture below), it won't protect your armor any more, making it decay as well. Also new boots absorb all of damage, so it is in your best interest to keep your boots new and shiny for the sake of your feet and armor!