C O D I N G
I begin learning Unreal Script (and C++) a few months ago. Before, I was copying codes. Now, I am adapting and understanding them. Opposing Team was a very simple mutator, changing only team characteristics. With the Safari game type, I get deeper in the UnrealScript, using data replication, custom HUD and in-game messages. Doing this, I come closer to the final aim: the Unreal Safari mod.
Safari is the core gameplay of Unreal Safari. Only the weapons and characters are missing. Special maps are currently designed for this game type. In Safari, two things are very important :
- The teams are different : Red Team is strong but slow, Blue Team is fast, jump high but has low HP.
- There is a XP-system implanted. You gain XP points by killing others players. But if you kill a noob, you will gain less points than killing the best player. And be killed by a noob will award you a malus ! So you can lose levels.
This game type will surely evolve when the new weapons will be released. I hope it is fun to play it in Unreal Tournament III.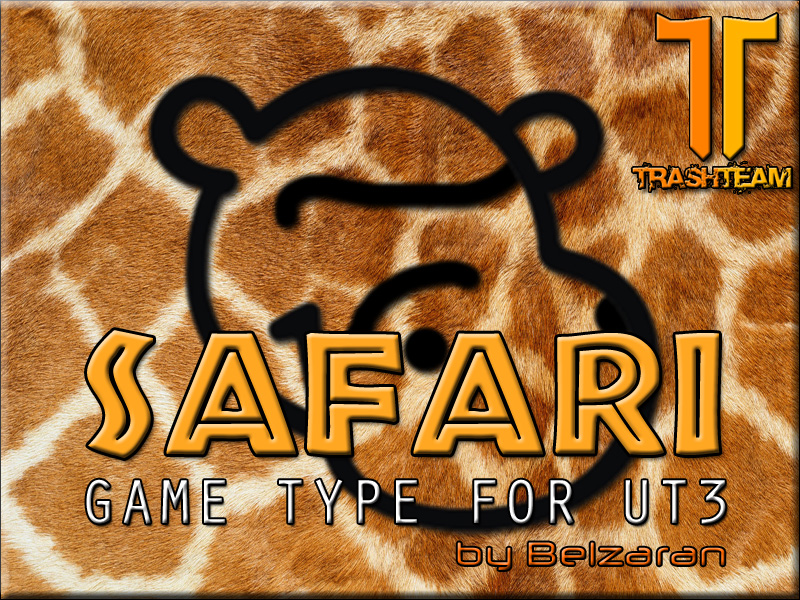 ---
M A P S & L E V E L D E S I G N
With this new game type, I can now make maps especially for the mod. I know what I have to implant to make the mod interesting. I have to make team-deathmatch based maps, to delete all power-ups and to add shortcuts for gazelles that hippos can not reach for example.
The first map I am doing is Gizeh. I can so take some stuffs of WAR-Gizeh such as terrain, lights and sky. I re-model all meshes because of my modelling skill improvement. I make meshes faster and nicer than before, so why not using my new abilities to improve the graphics ?
Unreal Safari has to become very different than Unreal Tournament III. I want to have a more realistic and consistent world than UT3. That's why I add furniture (chairs, tables, shelfs...) in the maps. I am working on physics too. Chairs can be shot, it adds dynamics in the game.
C O N C L U S I O N
I think it is time to animate and code the AK-Banana !