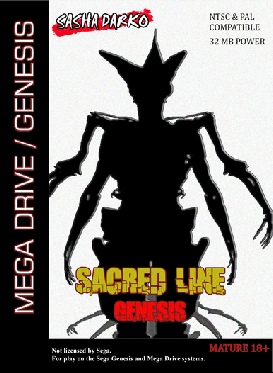 Sacred Line Genesis is a new Adventure / Visual Novel game which was developed exclusively for the Sega Mega Drive / Genesis videogame system.
It's a 16-bit extended version of Sacred Line, which was released on Desura for PC.
Special packs with ROM, manual and everything else are available for purchase on official site.
You can play the game on real hardware via Flashcart or play it via emulator on PC.
It tells the story of Ellen, a private detective, who is trying to survive in Eastern Europe. Lately detective business, which she inherited from her missing sister Sarah, almost ceased its existence and one day before she was going to close her office she got an anonymous call. The unknown asked her to find some hidden forest outpost and told her about its position. That was just the beginning.
The game is free of censorship and recommended for Mature audience only (Blood, Intense Violence, Mature Humor, Minor Sexual Violence Reference, Strong Language, Suggestive Themes, Violent References).
If someone played original Sacred Line and kinda worries about spelling/grammar mistakes, don't worry, it was proofread by three people with a GREAT language knowledge. It's a Visual Novel after all.
Page on IndieDB - Indiedb.com
Official site - Sashadarko.com