Runes of Camelot Review Posted by Tre Lawrence in App Rundown, Games

Feb 27, 2015
Share This
Camelot (of course) is our location and, of course, there ain't no Camelot without Arthur. Amelia and Merlin are out to help the noble monarch save Camelot by thwarting the evil Morgana's plans, and they do this with runes or special potions. To begin the game, one gets to choose a character, and each is said to have a unique storyline.
At its core, Runes of Camelot is a match-3 puzzle game. As such, the idea is to get a line of three or runes of the same colour, horizontally or vertically. Getting three straight (via gesture swipe) dissolves the matched set, and they are replaced by pieces that fall from the top. The pieces are randomized, but any triples created from swaps also dissolve and are replaced. When a set of four pieces are formed, a diamond-looking rune with special powers is formed. These runes can be manipulated to create column shattering reactions that help finish levels. Regular matches yield special powers that are diverse and helpful in time crunches.
There are also a bunch of tricky pieces — blockers — that create havoc, and cannot be swapped. Working around them to drop them is an effective strategy, but easier said than done.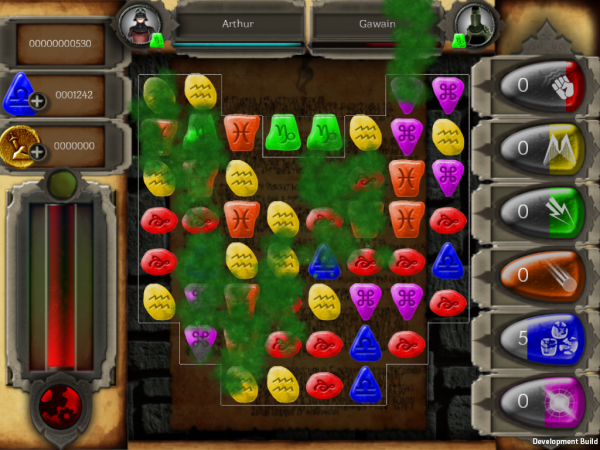 And yes, the game is leveled. Success in one generally unlocks the subsequent one.
One thing that makes the game interesting is that it is more than a set of mini-games; it has few other quick hitters up its sleeve. This definitely helps with regards to monotony, as there are reaction games (tapping ravens) and symbol-matching exercises (mixing potions). I also like the different type of boards, with atypical gimmicks: irregular boards, hidden pieces, aforementioned blocker pieces, boss battles and more. I do believe that this is the one game where paying attention to the tutorial is a good idea.
The graphics are simple but decent, as is the sound.
All in all, I admittedly liked it a bit more than I thought I would. The boss battles are the perfect culminations, and everything ties together quite well.
Runes of Camelot Review Rundown
7.5 - Graphics/Sound - Utilitarian but effective.
8 - Controls - Simple and intuitive... mostly gestures and taps.
8.5 - Gameplay - Basic match-3 plus some fun elements like bosses and mini-games.
8 - Replay Value - Fairly addictive.
8 - Overall - An enjoyable all-rounder.
Paid Version: App available on Google Play Play.google.com
Free version is also available on Google Play Play.google.com