It has been almost 2 years since we released the first version of Run For Cover on Steam. The game received over 23 updates packed with exciting new content since then. We are proud to announce that we added new enemies, abilities, areas, quests, animations and gameplay systems. Let's talk about the Highlights!

The weapon and armor system adds more tactical depth to the game. Weapons and armor feature different perks that keep the hunt for the best equipment challenging. Some perks increase the resistance to fire, some perks increase your ammunition capacity or the damage your weapon can do. The new shooting animations give every weapon a distinctive feeling.

The Rebels are a AI controlled faction in the game. They enter the game at different points of the map and support the player in the fight against the enemy. They help you with soldiers and tanks!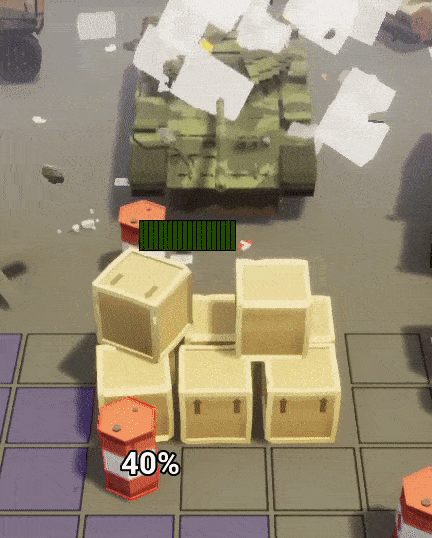 The Factory and City area were reworked and extended. They look really neat! We introduced the first indoor area of the game and added new enemies like the Molotov Man or the Special Forces to them. The Molotov Man doesn't need a shirt to be intimidating. This enemy throws Molotov Cocktails at you to light your surroundings on fire. Burning tiles cause damage to your units and create new tactical challenges.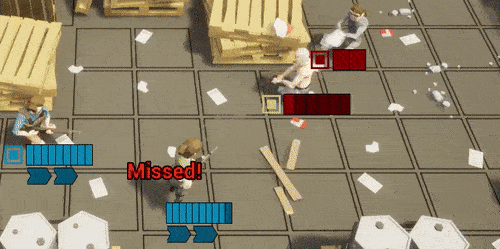 The Military Encampment was added to the forest area and is the highlight of the 3rd quarter of the game. This very challenging section of the map features the new Military Commander that can heal your enemies. The camp is heavily fortified and even protected by nasty Proximity Mines that explode as you walk closer. Watch your step!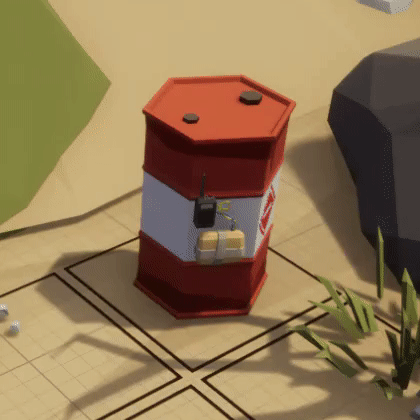 The Mansion was added to the game. This is the final area of the game and the location of Pablo Escobeer and his bodyguards. You have to fight your way through his last stand in order to reach the extraction point.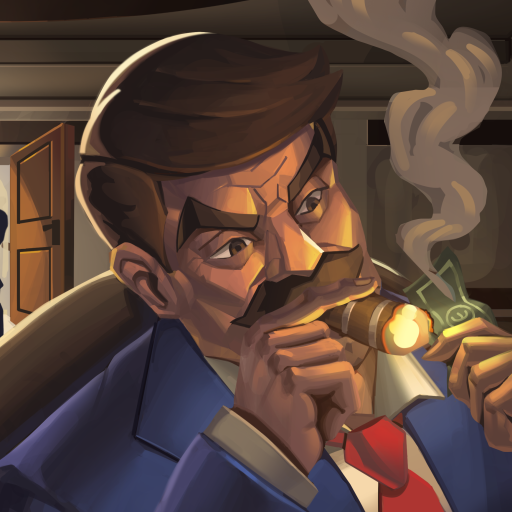 We introduced a new Skill Point System with Individual skill sets. We added new abilities and raised the experience cap to level 11. This will create more interesting choices along the way.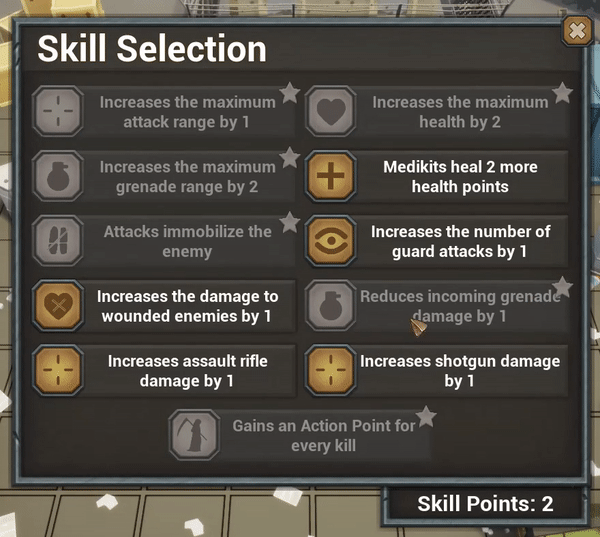 The Customization System allows you to customize the name and the look of your units to your liking. You can chose from different hats, hairstyles, beards, masks and outfits. You can unlock more customization options by progressing though the game.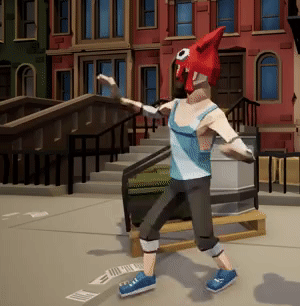 The game doesn't end with killing Pablo. We added Difficulty Scaling and a Challenge Mode to the game. You can keep your equipment and move on to a higher difficulty or try to unlock team perks that will permanently increase the stats of your units. You will need those perks, since enemies are tougher and the environment is more hazardous on higher difficulties.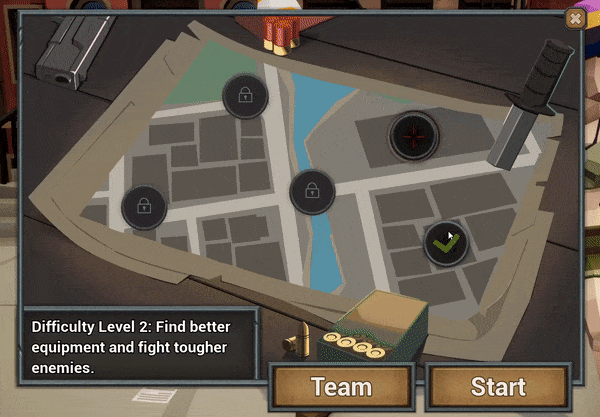 The updated main menu lets you properly customize your experience. You can change the sound mixing, video options, hotkeys, or even the camera or animation speed to your liking.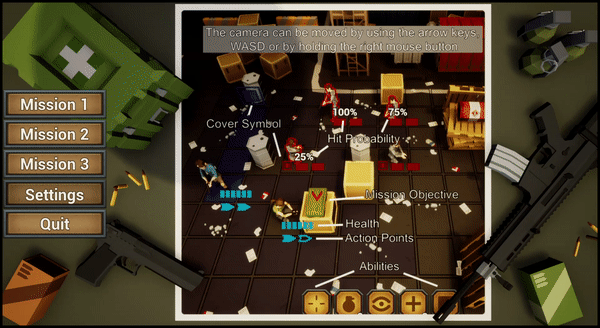 The Full List:
introduced skill point system
added equipment icons to the loot screen
increased level cap to level 11
Level Scaling for Tile Effects
New Armor Perks: Fire Resistance / Healing Boost
Resetting Critical Condition Duration
Added a Victory Screen
Added Voice Over to Pablo
Fixed Helicopter Audio at Evacuation Point
Fixed Evacuation Point
Fixed Tank Assault Animation for higher Animation Speeds
Fixed Grenade / Molotov sound for queued actions
Fixed a bug where it became difficult to leave the tank exactly on the same tile you entered it
Fixed tooltip in the team section of the mission selection
Added Molotov Cocktails that can ignite tiles for multiple turns
New Enemy: Molotov Man, does not wear a shirt
fixed a bug where 'No Action Points' was displayed for critical units
fixed a bug where the space key didn't end the turn of the selected unit
fixed a bug where some sound effects were not properly impacted by volume control
Added Pablo to the Game
Added a helicopter flying over the map
Added selection UI for the tank sections
New Ability: +1 Shotgun Damage
New Ability: +1 Assault Rifle Damage
Added message when player tries to select a unit without AP
Improved tile selection for tiles covered by unit in critical state
Improved unit selection for units close to walls
Fixed tile visibility issues around walls and tanks
Fixed music not playing on initial game start
Fixed blocking issues on the beach
added transition area to leave the beach
added tank assault event
added final area: The Mansion
added new enemy: Bodyguard
implemented evacuation ability
fixed a character portrait issue when continuing the game
fixed issue that allowed the cutscene to be started multiple times
fixed the German translation for the supply chest quest
fixed highlight removal for loot-items
fixed loading / saving issues
unit names are customizable now
added a hotkey R for reloading your units weapon
deactivated the selection marker for tanks
direct interaction without prior selection of interaction ability enabled
new mouse cursors for attack, selection, interaction and waiting added
loot on your movement path is highlighted
added sound variation to the rifle sounds
added a new sound for the pistol
added hit sound variations
fixed muzzle effects for guns
added a new shooting animation for rifles
added a new shooting animation for shotguns
added new bullets and bullet effects
added a face slot for customization
added customization restrictions
added system to unlock customization
added more variations for body and head
added notifications when customizations are unlocked
improved hack the computer quest
added an item pickup sound
fixed scaling and challenge issues
improved camera handling for different aspect ratios
added a selection highlight
added spawn points to the factory area
added proximity mines to the forest area
added a 'hack the computer system' quest
added an experience bar to the character portrait
added an experience message when destroying a truck
added a message when progress and challenges are unlocked
added a new damage effect for bigger wooden pallets
fixed a loot bug
every level uses checkpoints now
added a team screen that becomes available after finishing the story
added a challenge system with 4 challenges for the first stage
new challenge: start without medikits to earn a perk that increases healing
new challenge: start without grenades to earn a perk that increases grenade damage
new challenge: start with increased enemy health to earn a perk that increases health
new challenge: start without checkpoints to earn a perk that increases health
tweaked the look of the character sheet
interacting with a supply chest opens up a loot dialogue
added campaign map with an unlock mechanic
reworked HP/AP display and slightly improved other UI elements
fixed an overlay issue that occurred when pressing escape
fixed an animation issue during the office ambush
level up sound added
added ability sounds
added 5 weapon perks
added weapon scaling for Challenge Maps
added enemy scaling for Challenge Maps
added a character screen that shows your stats
added a new UI element showing the unit that is currently selected
new perk 'Weakpoint': deals extra damage to wounded enemies
new perk 'Grenade Defense': reduces incoming grenade damage by one
new perk 'Last Shot': the last bullet / shell will cause critical damage
new perk 'Grenade Disable': attacks will prevent enemies from using grenades
new perk 'Tough': adds the ability to reduce incoming damage to one
added a new enemy type to the military encampment
enemies use grenades only when wounded, giving the player strategies to prevent damage
fixed an issue with the 'Continue' button being available for Mission 2 and Mission 3
the progress is now stored in story mode via 2 checkpoints
the challenge mode is slightly harder now
character customization is now stored
added spawn animations to the units of the player
added a slider to speed up animations
added more ammunition to the rifle and pistol
shortened some animations
the reload icon is highlighted when the unit is out of ammunition
added an ammunition and reloading system to the game
reworked probability calculations to utilize a distance falloff
added screen shake to explosions in the game
added option to disable screen shake
removed 'High Score' from game screen
added multiple game over effects to the game
added a notification when the end of the game is reached
improved randomization of unit feedback
reworked animation system to prevent glitches
reworked spawn system to support random spawn point selection
deactivated ability selection during movement to prevent glitches
reworked the 'Destroy the Supply Truck' quest
added tutorial hint: show explosion range of barrels
added tutorial hint: show heal range of units
added tutorial hint: show interaction range of objects
added 'Out of Range' message if targeted unit is out of range
added 'General' section to the options menu
added an option to deactivate tutorial hints
The Guard ability received an increased chance to hit units in cover
The Guard ability is shotgun specific now
Added an ability cooldown system that recharges with kills
Added an 'Assault' ability, that temporarily increases movement range
Fixed a shadow issue in the office area
AP display of Rebels was hidden
Added death sounds to killed enemy units
Added a sound when opening a chest
Improved unit selection management
improved lighting
added a 'Police Station' area
added friendly AI rebels that fight with you
added more details to the city biome
fixed a bug where crate destruction sounds would ignore sound settings
fixed a bug where you could shoot a supply stash
added a rusty shotgun and a rusty assault rifle
added a new enemy type that uses stun grenades
added an ambush event to the office area
added German text localization to the game
added settings menu for video, audio and controls
settings can be reached via game menu and main menu
settings are stored and loaded
reset button loads default settings
added an 'End Turn' hotkey
added a notification to highlight customization options
added button sounds
added music to the main menu
office area added
added 'City Hall' area
added 'Military Encampment' area
added crossings for the forest area
fixed issues with the escape button
added a 'Breach the Wall' quest
added a 'Factory Administration' area
added obstacle patterns to give randomized areas a little structure
added a button to get back to the main menu
added capacity notification when entering tank
XP gained by a tank is shared among the units in the vehicle
Factory area improved
Bridge area added
City area improved
Forest area improved
improved main menu
clicking on a character opens up a customization menu
customized characters carry over to the main game
entering a tank automatically selects the tank
tank advance ability is removed when advancing is not possible
fixed the tooltip of the end turn ability of tanks to reflect that no defense buff is applied
reworked guard perk to increase number of attacks while guarding
reworked immobilize perk to grant every attack an immobilize debuff
unlocked abilities are inserted before end turn ability
added a new reaper perk that enables your units to regain AP after killing an enemy
added individual skill sets for each unit
fixed a bug where stunned or dead units remained selected