When ?
September 2016, it was my third participation of a 24h GameJam (BBQ GameJam in Luxembourg).
I searched some game ideas I could make in 24h. Among the concept I put on paper, there was this one, too huge for a gamejam but which hit me in the heart, a game with darkness and spotlight.
I let the idea grow in a corner of my little brain and 2 weeks later I began to write down a synopsys, more concept, some mechanics.
My very first step was to find a way to hide everything except under the light. Here is the first test:

First notes
The game will be a platformer/speedrun and the hero will be a dwarf named Ruggnar who will crawl dungeon, dark places.
The player will see only things around him (lighten by a candle on his helmet).
There will be windows, candles, torches and other light sources which will help the player to see some part of the level.
In every level, there could be some puzzle to find the exit :
Find a key to open a door
Use lever or buttons to some some actions
Throwing a candle to burn some specific area
And complete the level as fast as possible and in collecting every coin.
The candle on the helmet will consume and begin to lose it's brightness. The player will have the possibility to replace it.
He'll find candles on his way to the treasure, and they'll be everything for him:
Light on his helmet
A projectile he can throw to light his path further
His life
How to begin ?
My first step has been to search some placeholders to start and among the sets I've bought, I found Magic Castle from Luis Zuno .
I wanted a dwarf, MY dwarf. So I asked a talented graphist, Florian Hurtaut (who works on Neurovoider, a twin-stick shooter) to work on it. I gave him some direction :
a dwarf (fantasy)
with a candle on his helmet
no weapon, no axe, no pickaxe, nothing in hand
a bag on his back
He should have several stances :
Idle
Walking
Running
Jumping
Climbing ladders
Throwing Candle
An hour or two later, this is what I received :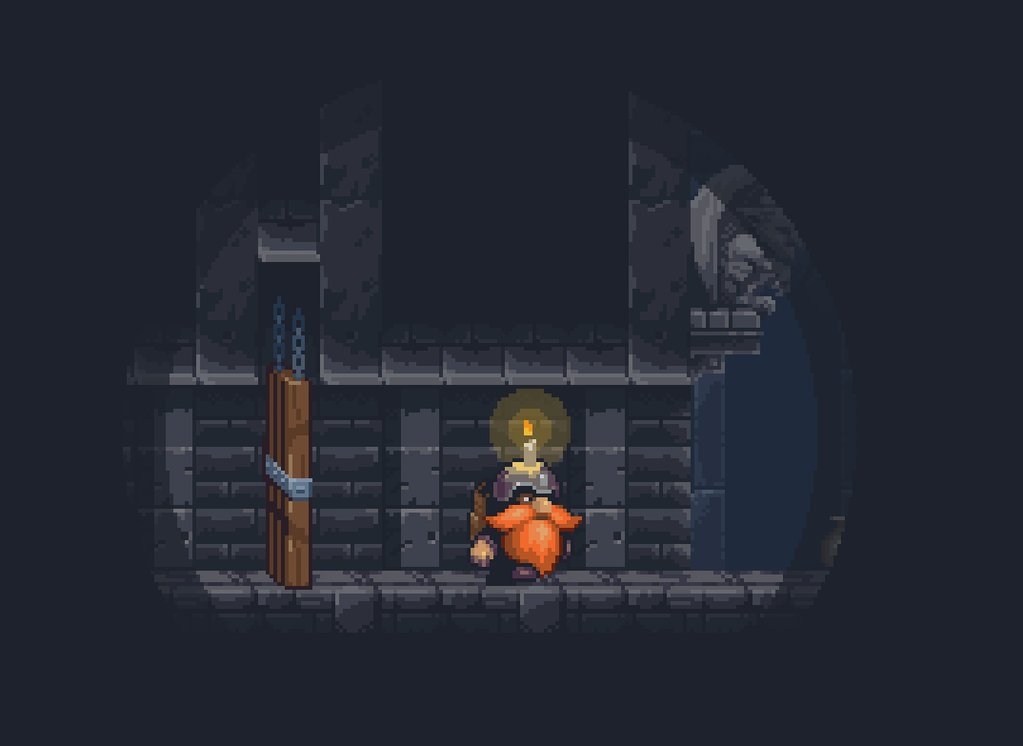 Exactly what was in my mind when I thought about Ruggnar.
On september 21st, the developpement began, and it was the start of Ruggnar's journey.