UPDATE SEVENTEEN - September 4th, 2015
------------------------------------------------------------
Geez, time flies. I thought for sure I posted that last update just a couple weeks ago. Guess not! Fortunately, I've had plenty of time to work on more things, though there isn't a whole lot to show at the moment.
I've gotten some big progress in the story department - I've been writing up a general outline for the "main quest" progression, which will help me plan everything before I go and make it. So far, I've got the entire progression of the player down, with all major goals outlined (though of course you don't HAVE to follow this story - you can always just explore around, performing objectives whenever need be, though some objectives will limit your movement until complete). Writing is one of my favorite passtimes, as you can probably tell from the textwalls I throw at you guys.
Anyway, I figure I'd better get a picture out before someone takes my head off. Sorry that all of these are in Max, I haven't quite prepared any of this for importing to Tres: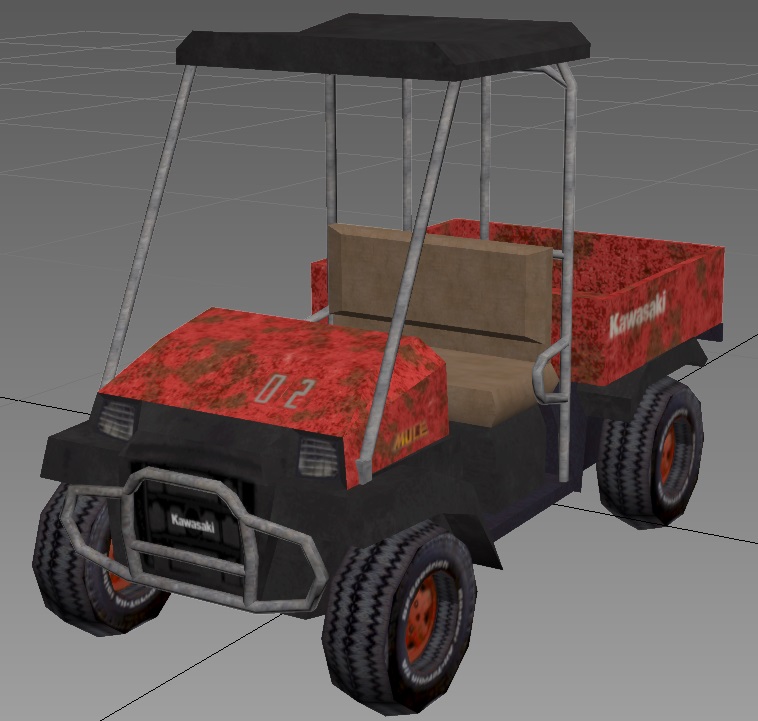 This is one of several new vehicles that will be included in RTJP, all of which will be numbered accordingly, alongside the Ford Explorers and Jeep Wranglers. It's a Kawasaki Mule (can't remember the exact model make) golf cart, which will have been used by InGen construction workers as transport for tools and equipment. These actually existed in the movie, as seen here: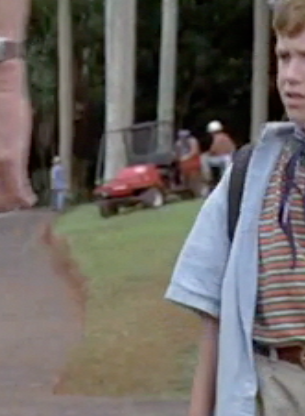 And here's an actual image of one in real life: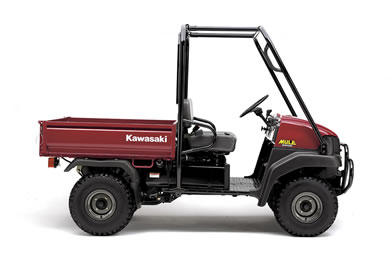 Also appearing in Jurassic Park will be, aside the three aforementioned vehicles; InGen staff and visitor Shuttle Vans (as seen in East Dock, though hopefully with a new model), the Mercedez-Benz Unimog (as seen in The Lost World), and additionally one extra InGen vehicle which won't be revealed quite yet. I even have a document listing all of the vehicles seen in the movie, their condition as of 1993 as well as 2015 (Jurassic World), and all the extra vehicles that will be original to this mod. I kind of wish there were more to show, but all this planning and research is critical to a successful, coherent design in the long run!
However, I think I'm also about ready to begin showing off something else: melee weapons!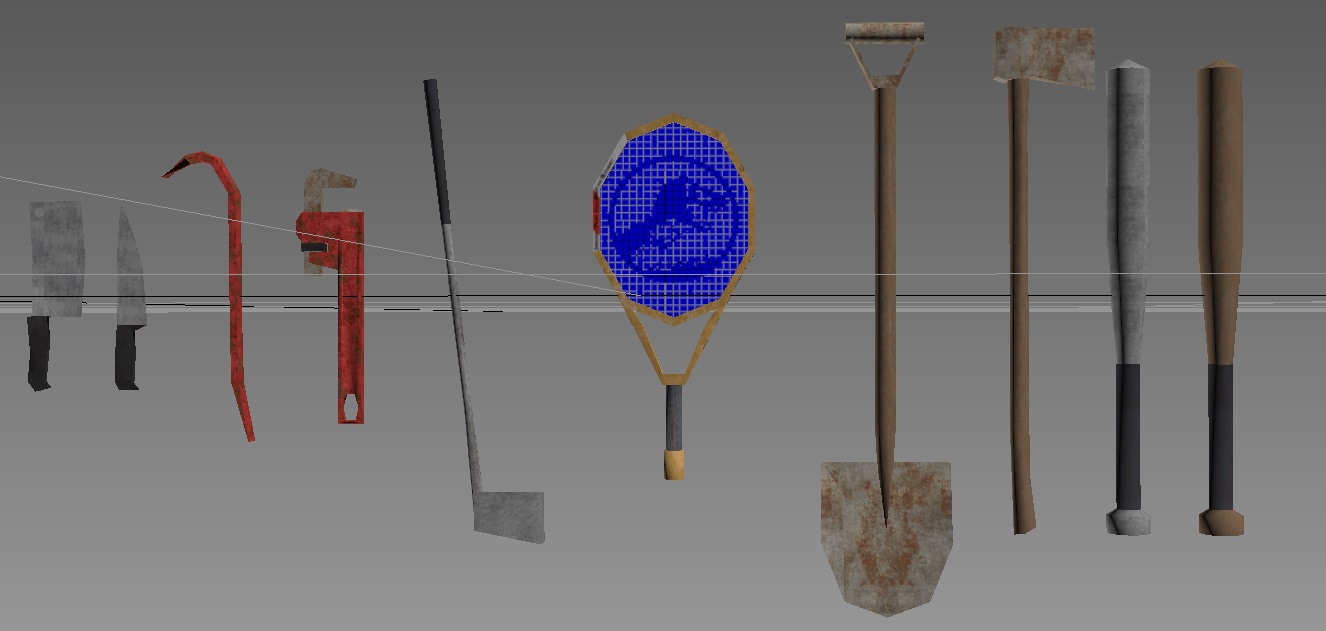 And their broken versions: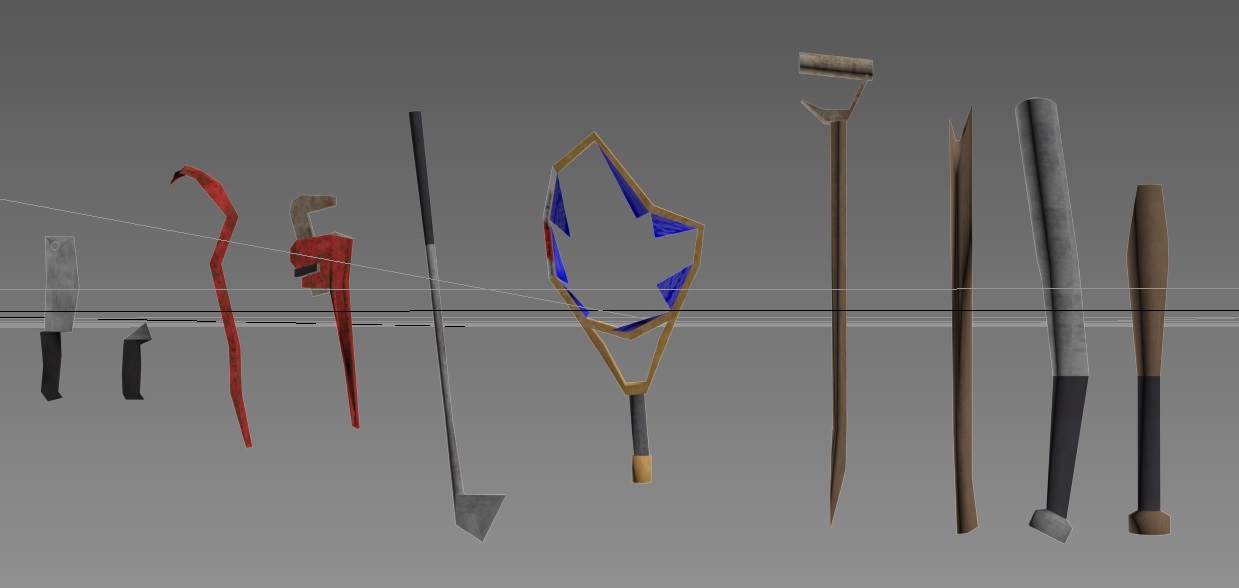 From left to right: meat cleaver, kitchen knife, crowbar, pipewrench, golf club, tennis raquet, shovel, woodaxe, baseball bat (metal and wood).
These are exclusively improvised melee weapons, not quite as strong as "real" weapons like the fireaxe, pickaxe or the combat knife, but they still do a helluva lot of damage when used effectively. One of my major goals in this project is a weapon improvement system with a slight crafting element, so there will also be other versions of those weapons, some of which are reinforced, sharpened, or otherwise improved. Improvised weapons will differ from standard melee weapons in that they can break if used too much, will will be determined by the strength and type of weapon - this can, of course, be circumvented by finding something to reinforce the weapon, making it unbreakable. I really want to downplay the power of guns in Trespasser, as I find them severely overpowered and plentiful. As such, I've made a list tallying all types of gun in the game, as well as the amount that will be placed and the ammo available, which will be updated as I reach a stage where I'm comfortable placing these sort of things. And don't think for a second that guns will eventually replace your melee arsenal - they will be few enough that melee will still be important later in the game.
That about wraps up this update. Just for fun, I'll leave you with a teaser for something else I've been looking into for a long time - I can't promise it will make it into the game, though if it does, it will likely be in such a small quantity that it will be a sort of "panic object", like the rocket launcher I showed a while ago.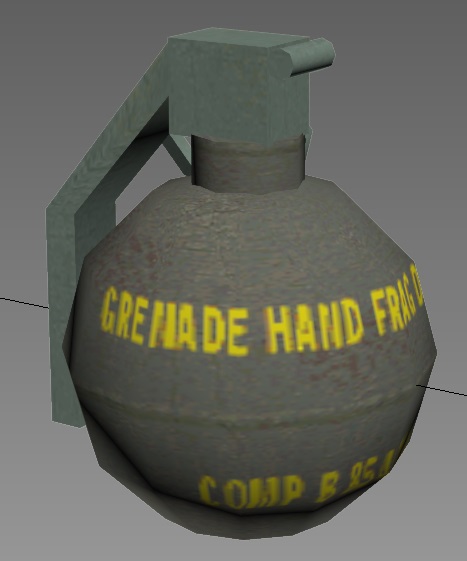 Legendary Glitch of the Week:
When a single, one-instance object starts crashing the game and you panic for roughly three hours before discovering the culprit. Stupid tables.
Annendum for you folks at Moddb: I've updated and improved the main page with a spiffy new look - hopefully it's a bit of an improvement from the shanty work I'd done before.