Hello ROTR fans and followers!

Most of you have noticed that it been a long time since our last update. This unfortunately has mainly been due to some of our team members having to deal with various things in something called "real-life."
Thankfully, most of those things to an extent have been sorted by now, and as some of the more observant fans may have noticed, there has been more activity on our part.
So without further ado, enjoy our latest update!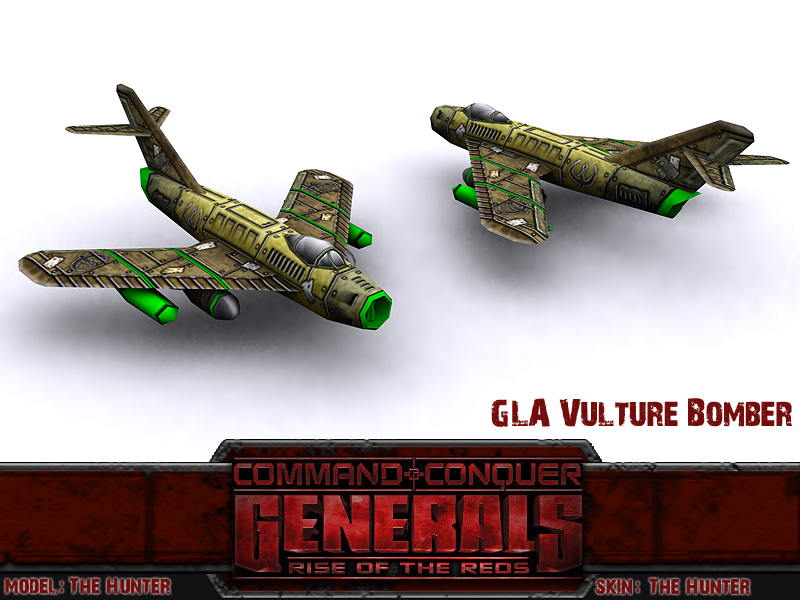 The MiG-15 and MiG-17 were among the most produced combat aircraft in the world since WWII, with over 20,000 air-frames of both types produced by the USSR, China, Poland, and Czechoslovakia. Highly advanced for their time, the MiG-15 and MiG-17 were commonly exported and saw heavy use in the First Korean and Vietnam wars. Some variants stayed in use up until the 2010s with North Korea, Pakistan, and some African nations. With a large number of aircraft scattered around the world it was inevitable that the GLA would manage to acquire some for their own air force. Though immeasurably obsolete as a fighter aircraft, the Vulture (as the GLA refers to it) is employed as a tactical bomber by the terrorist organization. It is almost always seen with 250kg high-explosive bombs and is usually reserved for larger scale combat operations.

And once again, some cool screenshots to show you some of the new stuff:

Here you can see the new Rank 1 power for China called "War Propaganda."
Once obtained, all Chinese vehicles can use the "Propaganda Spotlight" ability. This grants the selected unit constant horde bonus and self-repair for the duration it is active. There is a global cooldown of one minute and thirty seconds for each use, so use it wisely!

I also would like to announce that this upcoming Sunday, we will be doing another official live stream of the internal beta, which we haven't done since April earlier this year.
The stream will as usually be hosted by Hecthor Doomhammer on his channel: Twitch.tv