Rome Returns is an Age of empires 1 replica mod with AoC features, based on yty's abandoned project.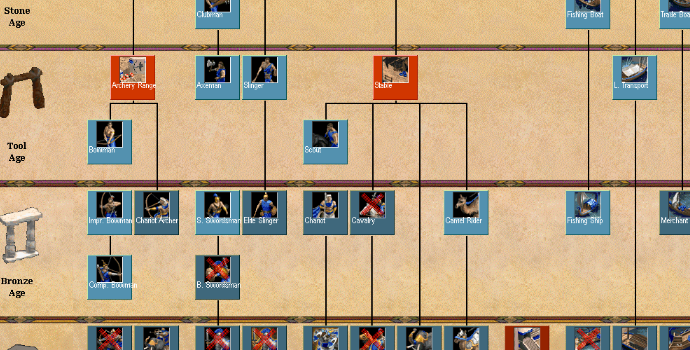 Not just translated it back to English, fixed gamebreaking bugs, tooltips/missing text lines, hotkeys, tech tree, many graphics and icons, but also I added campaigns, working Ai and lot of AoC elements like Trade Cart and unique theme music for civs. You can check full change log here.
HOW TO INSTALL:
1. Download the mod, and unpack it to Age of empires II main folder. Default location: C:\Program Files\Microsoft Games\Age of Empires II\ (the zip file contain all necessary folders)
2. Start the game with your Rome Returns.exe (can be found in Age2_x1\ subdirectory) to play!
About the Campaign
To play the Campaign start the game and click Rome Returns Campaign. You can choose from 11 campaign with total 64 maps, and can use 3+1 difficult settings.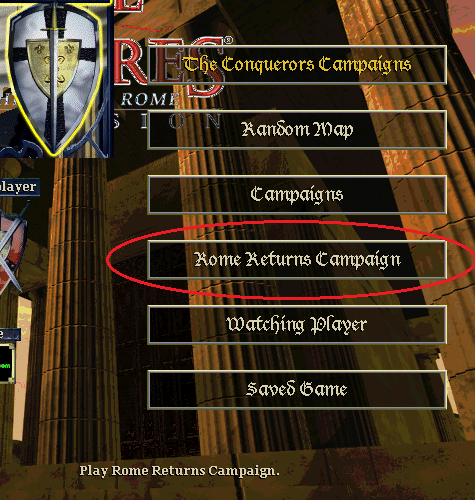 You can also download Campaign as Scenarios from here.

About the Ai
Userpatch is required!
You can choose from two Ai for the mod:
Rome_RM_Ai and Rome_Only_DM (both was made by Tegla)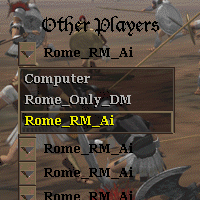 Rome_RM_Ai: Supports most of map and land types. You can also type "14" to give a middle difficult between Hard and Hardest, also Ai follows the "31" signal on minimap.
Rome_Only_DM: This Ai is suggested for good players only. For the biggest challenge use the following settings (2k and above 1v1 ratting is essential):
- Teams: 1vs1
- Civilization : Scythian
- Location: GA
- Size: Tiny (2-player)
- Difficulty: Hardest
- Resources: DM
- Starting Age: Post Iron Age
- Population: 200
- Reveal Map: any
- Victory: Conquest
- All Techs: No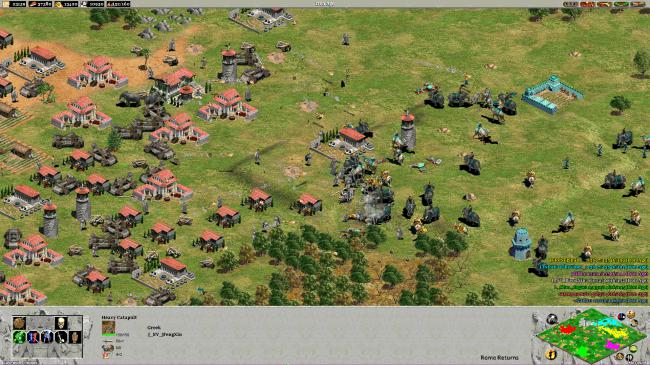 (click on image for full picture)

Special thanks
- yty from www.hawkaoc.net for base mod (and [Falling]_Boulder to link it) - original page
- Keisari Tapsa's and DiGiT's aoe tools
- Bala Arizalu for stand-alone version with Extended Trigger Patch (by Daniel Pereira)
- DiGiT, JustTesting1234 and LOD_mantis for aokTS
- AoE1's UPatch team for fixes and balance ideas
- Tegla for two custom Ai and CheeseOnToast_FE's help with it
- Lloyd Kinsella for Campaign Manager
- Jan dc and Tzontlimixtli for custom Wonders
- todler for new slinger, camel rider and caravan graphics
- AoE1 Wiki helped a lot in tooltip writing
- Justin for AoE-RoR Music and Allied Vision
- Every tester who helps to make this mod more awesome!

Gameplay video by nhoobish and Dan:
Youtube.com

Playing vs DM Ai:
Youtube.com

A streamed match by T-West with commentary:
Youtube.com