Hello Everybody!
Today we will be revealing the remaining levels of the release version of Roll'd. More levels will be added in time, we can spoil that 2 of them should please the bloodborne, diablo and dark souls crowd. The beta will soon be over, thanks to those who participated and for your feedback! We will be putting the game up for Apple review in about two weeks. So if all goes well Roll'd should be available in the last week of May.
But now onto the main game:
The Raw CGA Power level of Roll'd is held in the tone of the color scheme of CGA adapters of the 80's and the abstract ideas that were common back in the day.
It was also supposed to be the starting level/theme, here is an early draft/concept.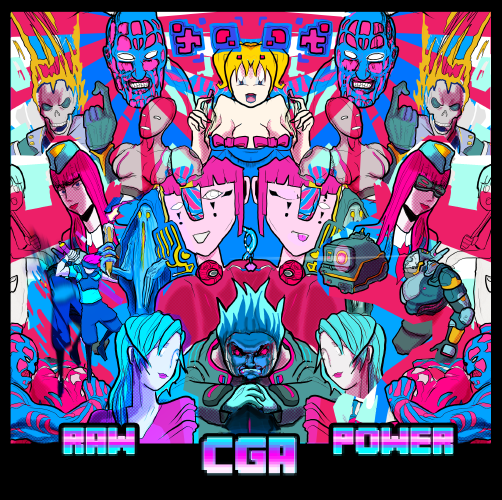 Since Roll'd is supposed to be suitable for all ages it was deemed a bit too bizarre and was toned down for the game. It was also replaced with the Minimalian theme as the starting level which was considered more family-friendly.
The starting level of Roll'd is the most relaxing and neutral both in terms of Audio & Video. Navigate the runner through the treacherous ridgeline, no time to admire the sights with the twisting and turning track constantly trying to catch our hero off guard.
We are also happy to present the first gameplay trailer:
Remember that twist we mentioned? Well, we actually meant that pretty much literally: for you do not control the hero...
...you control the track.
Keep it steady, twist and turn the track accordingly to keep it under the angle limit and save the runner from falling to his doom.
Remember though, the better you play the higher score mulitplier you receive and hence the faster you levelup and unlock the next level.
Run through the varying settings all specifically stylised with references and inspirations ranging from the CGA era, through 8-16bit NES/SNES to the golden ages of the Amiga and more. But at the same time they are all up to date with modern lighting effects, dynamic weather and some other cool visual treats.
Features:
- A unique twist on a classic genre
- 3 selectible control schemes: touch, slide or tilt
- Addictive gameplay
- Leaderboards
- Varying and beautiful graphical settings and animations
- Engaging Original Soundtrack
- Varying weather, atmospheric effects and day cycle
- Rich post effects going hand in hand with the visuals and audio
See you rolling soon!
In case of any questions, comments etc please let us know, we would like to know what everyone thinks.
Thanks for tuning in!