Hello again, so despite being away skiing for 2 weeks during the March Break, I've still been able to make some updates to Robo's World 3. If you saw my profile early this month, you might have seen an animation that I created for a Media Arts project. That's just ONE of the things I was working on the previous month, and a reason why updates were difficult. Still, it turned out well. Onto business!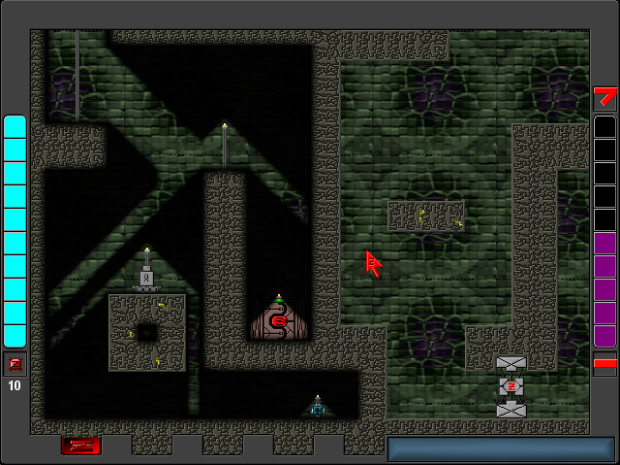 The first of the updates was a new lighting system, which is easiest to see in the screenshot. The darkness isn't complete, but will serve to create some more interesting visuals in the game as well as possible (yet uncreated) game elements.
Just a general note here, feel free to post questions about the game in the comments section below. I will answer the most interesting ones in Robo's Reports, and others via comment replies.
The next major changes to the game were the alterations to the game engine. (Skip to italicized font below to avoid Game Maker jargon).That's an easy thing to say, "the engine has been updated" but so you can appreciate what I mean when I say that, I'll give an example. Last month, I introduced Point Defense Drones. At that time, the way I had built them had made them exclusive to the single player game, which was alright, but I wanted to make them available to use in the game's multiplayer. (You may know the multiplayer of Robo's World 3 as a message that says "Unavailable" but it is starting to come together). So the main problem was that, (Game Maker users may understand this better) I had the defense drones being drawn by a central controller object. That meant two things; one, the depth couldn't be manipulated as freely since the controller object draws all sprites on the same depth. And two, it is simply easier to have one object drawing one player's PDDs and a second drawing the other players. The change in depth is also important for the lighting engine. This wasn't the only change, but it was the easiest to describe.
Skip to here
A new Zarnok message has been intercepted, and I'll give a hint this time! It's contents is NOT an April fools joke!

Well, that about does it for this month's updates, look forward to more next month, and maybe even some user questions if anyone posts them! Thanks for reading,
~Robo.