Hi, Welcome to Robo's Report. This is the first installment in what will be an ongoing monthly progress report. I don't quiet get to work on Robo's World 3 as much as I'd like to, but over the course of a month I make enough significant changes that I felt they should be shown.
First off, Robo's World, and Bluish-Green Productions as a whole has been upgraded from Game Maker 7 to Game Maker 8. The game is now running identically to how it was in the original program, but not before I dealt with some "teething-issues" of Game Maker 8.
As it turns out, Game Maker 7 is incredibly tolerant of ridiculously high numbers. Somewhere in the programming of Robo's World 3 was a line that returned a value of 260 and increased by that every second. Obviously, there was a better way of programming this but since Game Maker 7 gave me no issues with it, I did not reprogram it. Game Maker 8 froze upon running this line. It took a lot of time to find and correct, but on the plus side, now I can use the improved Code Editor of the program as well as the improved Image Editor. Visually, I went through the sprites in the game and changed all the ones that could benefit from a change in alpha value, since it is now supported by Game Maker 8. The visual enhancements are small and subtle but make RW3 look better as a whole.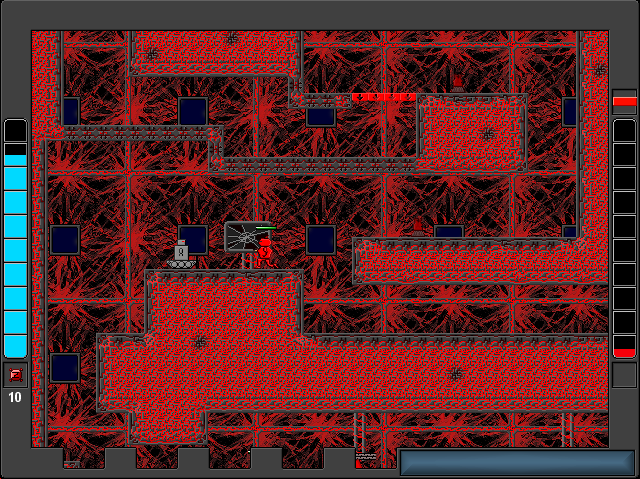 Next up, Robo has a new enemy! The Zarnok Fighter is now in game. This enemy pulls out a laser gun to fire at Robo when he is within range. The Zarnok Fighter will also be able to use different weapons and can also throw grenades at Robo.
An additional note, all Zarnok Workers received an update to the way they "see the world". With a few tweaks in programming, they now only notice Robo is he is standing in front of the enemy in question. Also, due to universal enemy intelligence the distance which Zarnok Workers can "see" Robo now changes based on their intelligence. Don't worry, they can't see through walls, also due to a recent programming update.
Now to the most interesting information, release dates. Yes, Robo's World 3, Zarnok Fortress DEM03 is coming soon, before March Break, that is, any time before March 13th. The newest Demo will Feature all the updates mentioned above, as well as some changes that will be listed in future Robo's Reports. (Look out for the February edition). The Demo will also feature Robo's Ammo Scramble as a playable Minigame. This brings me to my most important point. RW3 DEM03 will be the last major demo for a while. After that point, there will be a long wait until the next demo, but I can say within the same sentence that this is only because I am hoping to put the game through a "visual metamorphosis" as well as make other gameplay changes and updates. Robo's Reports will continue throughout this time, so keep an eye out for the month-by-month update to the game!
Lastly, as I was playing Robo's Ammo Scramble, I got to thinking, "Gee, I really haven't pushed this game's engine to the limit, there is so much more I could do!" And there was. I have had trouble with releasing a game just once before, (Robo's World 2 went through several iterations) but this time, I will be releasing a Special Edition of Robo's Ammo Scramble along with the public release of indiedb.com. I know that's a little un-fair in terms of a release date, but there will be a good reason for this. The Special Edition of Robo's Ammo Scramble will (hopefully) be the first game I ever market. (Don't worry, it will cost very little!) And NO getting Robo's World 3 Demo 3 will NOT give you the same version of Ammo Scramble. (Big surprise) Robo's World 3 will also be sold upon completion, but will feature a demo of the completed game. In this demo, you will be able to play Robo's Ammo Scramble as it appears now and in the paid version you will get the special edition of Robo's Ammo Scramble as a minigame.
That's all for this month's edition of Robo's Report, until next month, goodbye!
EDIT: Sorry, that date (March 13th) really came up fast, believe me, the new content will be worth the wait. I'll see what I can do but please don't expect the DEM0 THAT soon. I'll take a leaf from RA3 Paradox and say, "It'll be done when it's done!"