This is one of our more technical updates for a while, but today Robocraft has evolved substantially with a host of new improvements to matchmaking and balance changes which we hope will make building feel more strategic and battles more varied.
The full patch notes are listed below:
IMPROVEMENTS:
Players in parties now considered when matchmaking (read more)
Parties are marked with a "party icon" in loading and pre-battle screens
Each party has a unique 'party icon' colour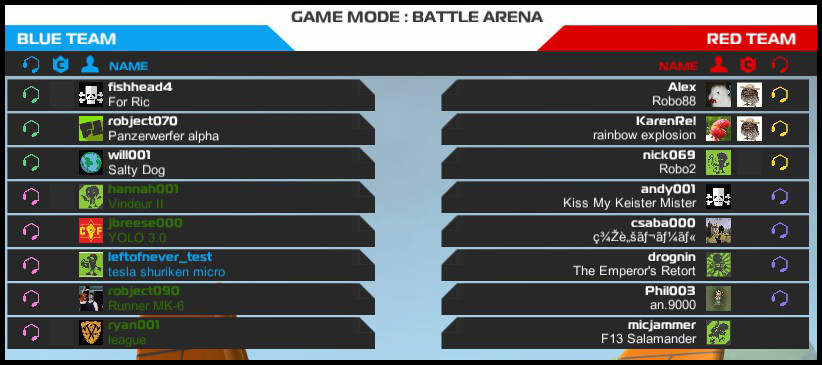 Party players are put before the solo players, on top of team lists
BALANCE CHANGES:
Friction on all cubes reverted to pre-last friction increase. This means friction on all cube types is much lower, which means less 'snagging' and 'flipping' when scraping against the environment
Increased the EMP cooldown time from 25 seconds to 50 seconds
Decreased the EMP stun time from 5.5 seconds to 5.0 seconds
Weapon Energy to CPU curve altered. Energy at 0 CPU changed to 20,000 and reduces by 1 for each CPU between 0-750 CPU range. 750+ has more energy available with 2000 CPU remaining at 10,000. Here is a comparison: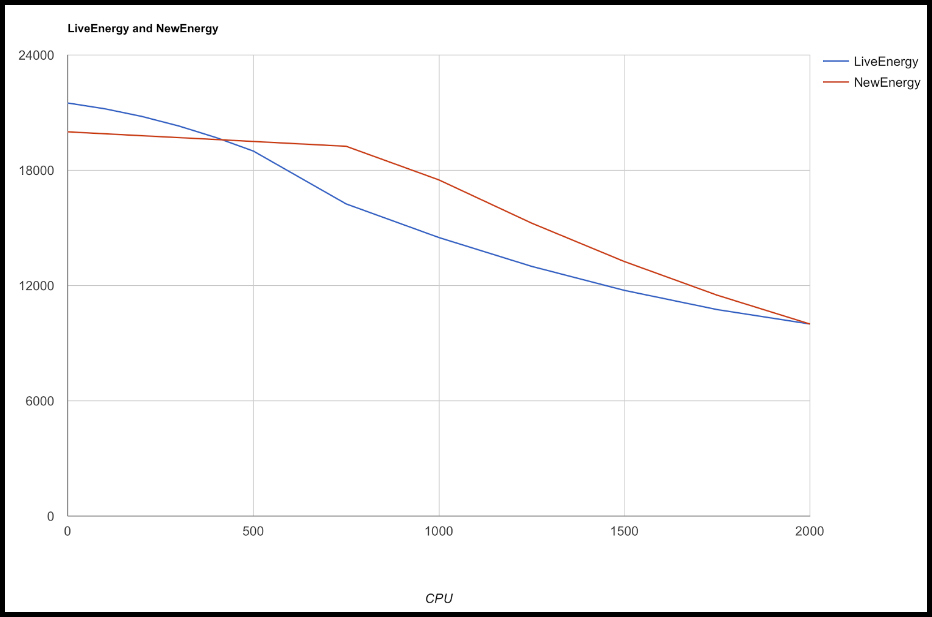 Low and mid-range Lasers have been improved; accuracy, damage, but have slightly increased Energy consumption

Low and mid-range Plasma have been improved; damage, DPS, and damage per Energy consumed have been increased

Towers now have 4 'spines' as opposed to 2
Tower Crystal health has been reduced by 45%
Neutral Tower Crystal health (i.e. at start of battle) is 50% of the Red and Blue crystals
Tesla Ripper and Tesla Nova Energy costs have been increased

Blink Energy cost increased from 5,400 to 6,000
Cloak Energy cost increased from 900 per second to 1,000
Defence Damage Bonus (awarded for damaging an enemy whilst near your base), Protection Assist Bonus (awarded for damaging an enemy that is attacking an Ally), Heal Assist Bonus (awarded for healing an Ally to 100% regardless of how much health they had lost), Scout and Spot bonuses have all been removed from the scoring / XP rewards.*
*Please note that this is a short term change so that the scores at the end of the battle are more representative of what occurs and make more sense. Our long-term plan is to rework the end-game scoring to include 'honoring', 'MVP' and other features like that.
Overall awards have been increased to compensate for the scores that have been removed, with the aim of giving you the same average XP rewards as before
Scout, Spot, Protection, Defence also removed from the Overclocker, so Clock Cycles are only earned for things that you gain score from, mainly to keep score and Clock Cycles consistent
The Tower Protonium Crystal destruction score has been reduced by 30%
Rolled back the 'percent of Robot remaining before death' from 10% to 20%. This was 25% previously and recently changed to 10% but this caused too many undesired results. We will develop a more elegant solution to the problems surrounding this in a future update
Adjusted top speed of Thrusters – with the smallest Thrusters delivering the same 'maneuverability' but a lot less 'escape velocity' (If you want to go fast, you need to use the larger Thrusters)
Top Speed of the largest Thrusters has been increased
Adjusted the health of the smaller Thrusters

Adjustments to the health of Chassis Cubes; essentially making the health have a slightly closer relationship to the mass of the cube. This change affects the 'Corner Slope' the most, with other cubes only marginally affected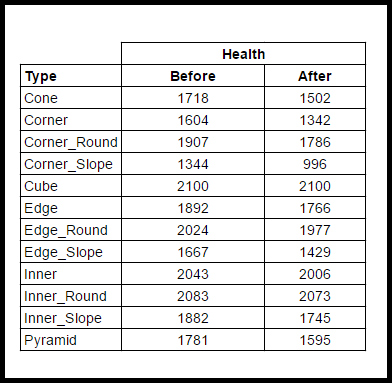 The changes to Thrusters and Cube health above have been designed to affect certain aerial builds that make use of many smaller thrusters as a 'core escape' and lattice networks of 'corner slopes' as a 'cage'. We are very happy for builds like that to exist in the game and are not attempting to remove them from the game and we understand that the engineering of these complex builds is part of the fun of Robocraft. We are just doing some experiments to see if we can get them balanced as we feel that they are a little overpowered at the moment.
OTHER CHANGES:
From tomorrow (1st December), the AbleGamers Bundle will no longer be available in Robocraft. For more details on this bundle and the incredible amount of money raised by the Robocraft community (that's you lot!), please click here.
BUG FIXES:
Fixed an issue that caused the mirror line to disappear
Fixed a bug that prevented the intro video from playing on Mac and Linux OS
Fixed a bug that triggered the party widget hover and click effects when in queue for battle
Blocking a player whilst in battle no longer triggers an error
Fixed an issue with the inventory scrollbar not working with a mouse scrollwheel
Fixed a visual bug that made the party widget disappear if a player opens the loadout (Z) in edit mode
Removed the level-up animation in battle – now shown on End Of Battle summary screen
Fixed a bug which prevented Wings/Rudder from working with Mech/Sprinter Legs correctly
Fixed a visual bug with the 'LEVEL UP CRATE' screen – the top bar now spans the width of the screen
Fixed a bug which made the 'online status' of your friends in the friend list very tiny and almost unreadable
Removed the '?' from the top-left of the CRF as it served no purpose
Fixed an issue which led to the 'online status tag' in a player's friend list being coloured incorrectly when hovered over
Made the hover status on the 'Add Friend' button more visible on the End Of Battle Screen
Fixed a bug that made the 'Add Friend button' appear next to your own name on the End Of Battle screen
Re-positioned the 'X has invited you to join their party' text on the Party Invite notification pop-up
The 'Any Cost' option has been removed from the drop-down in the CRF
Fixed a bug which rewarded a player with the same loot crate contents if they received multiple level-up crates in a single match
Fixed the text colour on the wrong username error message pop-up
Fixed a bug that made the camera point at the ground when entering 'Edit' mode for the first time in a session
We have made further bug fixes, these can be found here: Robocraftgame.com