Hello and welcome back to another update of Forgotten Hope 2. Today, we've got the download links for the bittorrent files for you, as well as the dedicated server files and an advertisement from Battle For Europe: World At War.
First, we have two torrents for you. In order to download these files, you will need to use a bittorrent client. We recommend uTorrent. Many thanks to Flüstertüte for setting up these torrents and for hosting the dedicated serverfiles.
The following files are the client files, which you will need to play Forgotten Hope 2.1. If you already have an unmodified Forgotten Hope 2.0 installation, you can download the patch (380MB). If you haven't got FH2 installed, or if you have modified your installation, you will have to download the full version (1462MB). Both files are protected by a password, which will be released on Friday the 16th at 1800 GMT.
The following files are the dedicated server files, which you will only need if you are planning to host a dedicated server of Forgotten Hope 2.1. Normal players should not need to download these files.
---
Next up, we have another advertisement for a Forgotten Hope 2 community: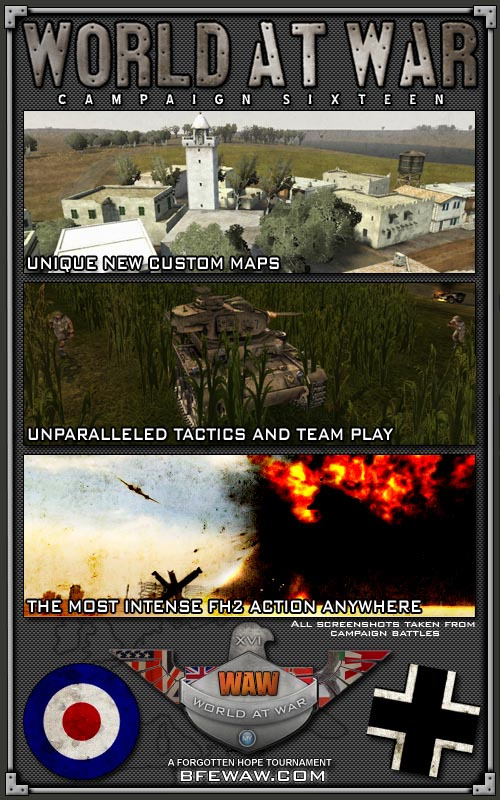 Looking for organized play? Looking for brand-new custom FH2 maps that take you out of the desert sand? Looking for a community of gamers who will challenge and respect you? Look no further than World at War. World at War is kicking off their 16th campaign, and we want YOU to be a part of the number one tournament for Forgotten Hope 2.
The World at War Tournament has been producing the best team play on the Battlefield platform for over five years. Tried and tested in FH2, WaW is starting the second campaign to feature the newest version of Forgotten Hope, with the addition of custom maps made by an experienced map team. In the tournaments sixteenth campaign, the British 52nd "Thundering Tartan's" Division stands up against the German 51stFallschirmjäger-Division "Merkur." Leading each division will be veteran generals each with a command staff hand-picked to be the best of the best.
What can the World at War Tournament offer you?
Massive 12-hour 64-player engagements every Saturday. Battle when you can, leave when you have to. Organized engagements allows you to play the game the way it was meant to be played.
A thriving community of diverse gamers, including players from around the world.
A complete gaming experience. Relive World War II as if you were there. Historical rank structures, accurate badges and medals, and intuitive strategies make the World at War tournament like no other.