Since our STEAM-Release, we have been striving towards a new version of Rival
Species. Tonight I want to show off some of the work, that our team has done for
the upcoming release.
Bloodyharry finished his skin for the Black Templars Thunderhammer by void. And
I think, he did a mighty fine job: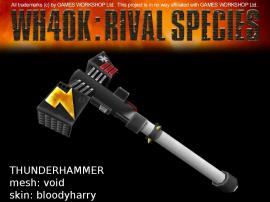 This weapon will be available together with a Stormshield for the Terminator class.
Bahl finished a new model for the Black Templars Terminator class as well. It is
a Powerfist which gets used in combination with the Assaultcannon, Stormbolter
and Heavy Flamer. This revamp has been done by popular demand from the 1st.
Catachan clan. Take a peek at it below: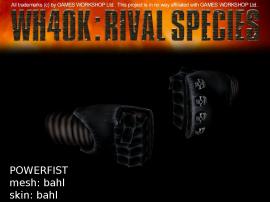 Since the Universe of Warhammer 40,000 is extremely huge, we are also constantly
working on parts of the game-content that will be included in later versions.
One of these parts is a species called the Necrons. These deadly robot warriors
now have a new vehicle at their hands to defeat their enemies.
Bloodyharry finished the Necron Tomb Spider which is a support vehicle, that
will allow them to respawn nearby the battlefield instead of at their base. Fear
the wrath of the Necrons and enjoy the render of this new model: