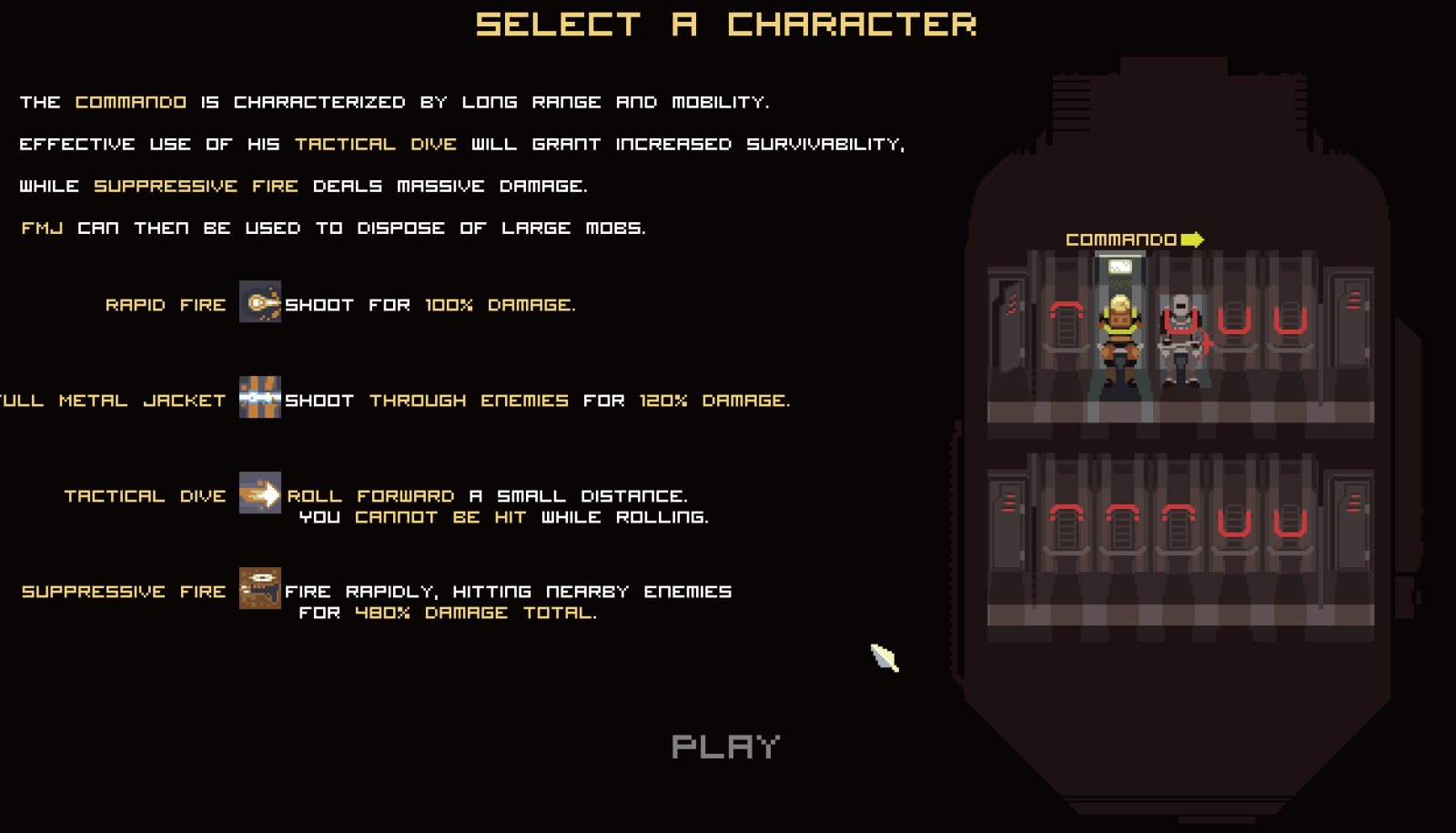 Updated Alpha Version 0.29.0.1 for Risk of Rain, our roguelike-like in the making!

---
New Updates:
Fixed more audio issues
The 2nd and 3rd level should now scale correctly
The Miner's base hp regen is increased
The Miner's base health is increased
The Miner's cooldown on X is reduced by 0.2 seconds
The Miner's X now has a smoother animation
Now displays correct Version numbers
Edited difficulty levels
Shrines now drop only 2 items before exploding
You can no longer pause in the main menu
Updates:
- New character: Miner
- New menu to select characters
- Two new items-Added noises on menu
- Jump animation is now different
- Fixed a variety of problems with ropes
- Fixed a variety of problems with audio
- Time now stops when you die
- Added an arrow above your head, pointing to the teleporter after completion
- Changed monster spawn algorithm. They should now spawn outside of views on occasion
- Changed the first spawn to always be a lemurian
- Changed the spawns so in the first minute, no elites will spawn
- Updated health to show when you are immune to damage
- Dodging a skill with dashes and rolls now shows: DODGED!
- Health shrines no longer always drop an item
- Chests now display their cost
- Magma Worm volume level is now fixed
- Fixed a problem where doodads stacked on the start menu
You can download the latest version at: Mediafire.com or at our download page
Also check out our Tumblr! Riskofrain.tumblr.com
New Gameplay Video: Youtube.com
As always, please remember this is an early build, and all is subject to change. Any and ALL feedback is appreciated!