Good evening comrades, this is Alexyia Maximova from Federation Front News bringing you a special news report. The festivities of Victory Day have ended and I'm sure it has made all of you proud of being part of this great nation...
Just like we defeated a strong adversary through the sweat and blood of the Russian people years ago, we must not relent in our fight against our new enemy. The strong arm of the Russian Federation will not rest until we have liberated Europe once again. We will show them the full might of our armed forces and our enemies will break and scatter before us...

We will show them no mercy. Rest well citizens as the noble and glorious future we are building today is yours. Long live the Federation! Long live Mother Russia!
-----------------------------------
Hello and welcome to yet another update for Rise of the Reds. In this short, but sweet update we'll be showing you some new units for Russia in the next releases. So let's go on and show you then:
First up, the...
TOPOL M1 ICBM LAUNCHER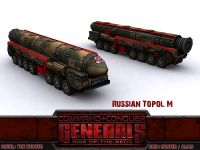 This 2.0-exclusive unit will be available for General Zhukov. As you may imagine it launches multiple independently-targetable re-entry vehicles ('MIRVs') with devastating effect. Mechanically speaking for in-game, this means you have obtained a vehicle that can fire anywhere on the map as long as you have units scouting for you or other reconnaissance assets illuminating the target area and have ample cash to replenish the ICBM after each successive launch. They are slow and lightly armoured, and should be considered a high priority for commander to protect (or destroy, depending on the friendliness of the owner).
And to finish this update off we have a new redesign of the Sentinel:
As some have already found out, the Sentinel is the undisputed heavyweight champion when it comes to firepower on the ground. This tradition continues with the new mark designation of the Sentinel series. The new HT28-03 has everything the '02' model had, but attains a new slick design from its former counterpart and includes the Warden Missile Pods system incorporated into the design due to the high demand. With additional funds and a little patience, the Sentinel continues to be the Federation's #1 'if-it-must-be-destroyed' vehicle of choice.
That's all we have for you today, we hope you've enjoyed it and stay tuned for more updates on the ECA on the way!
This update has been brought to you by Comr4de for SWR Productions and the ROTR Team
Until next time, signing off!
~SWR