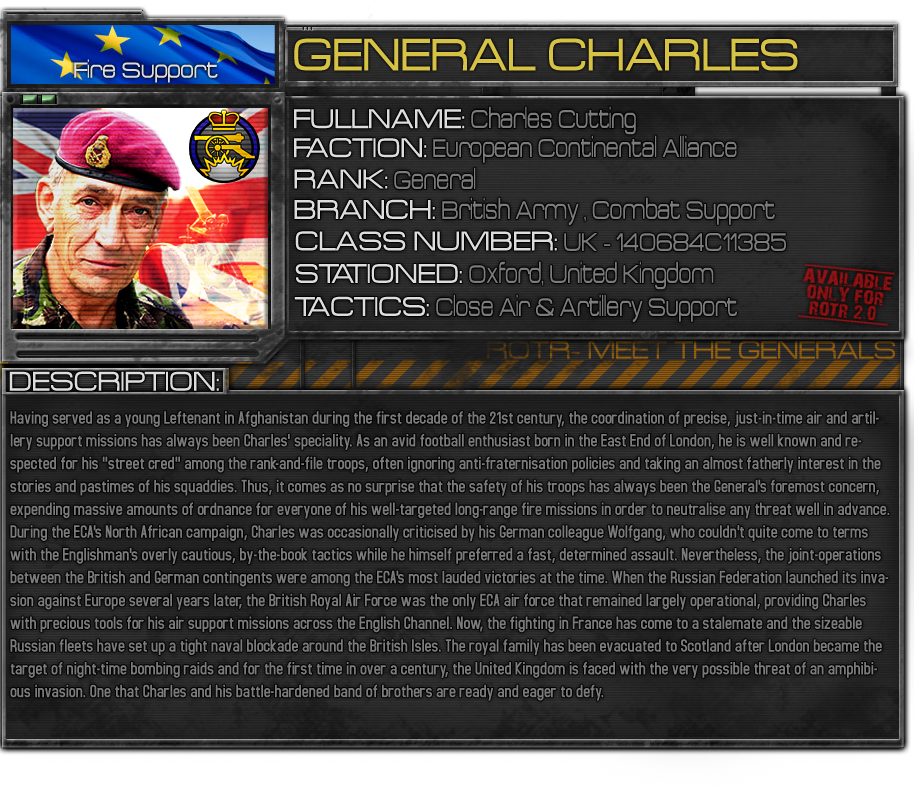 Ramsgate, United Kingdom
8 September 2047, 05:12
A grey morning at the coast of England. A mild fog hung above the Channel while a lone group of four soldiers patrolled the shoreline. "Sarge?", one of them, Private Matthew Baker, asked his superior, Sergeant Shawn Finley. "What's up, Private?", the NCO asked back while taking a bite out of his breakfast sandwich. It was only a few minutes past 5 and his team was among the unlucky few that had been scheduled for patrol duty while the British Army field garrison in the nearby town of Ramsgate was still asleep. "Mind if we stop for a second? I gotta take a piss", Matthew explained, cheeky and boyish as usual. "Uuh, too much information, Matt", complained the team's medic, Private Meryl Mitchell, who had only recently been assigned to the unit and wasn't quite used to the men's casual tone yet. Finley signalled the team to halt while Baker disappeared behind the treeline. "So...", the Sergeant attempted some small-talk with his new squadmate, "What was your motivation to join the Army, Mitchell?" The young woman who was only a mere 17 years old remained pensive for a brief moment, then proceeded to explain: "Well, I've always had a thing for helping people and it's a way to pay my dues to our country. I was planning on serving a few years, then apply for the advanced education programme to study medicine." Her tone got increasingly idealistic as she went on. "I even considered signing up for a tour with the ECA; always wanted to visit the other countries on the continent, see different places..." The Sergeant nodded: "Too bad that's all out of the window now with the war going on there." Meryl agreed: "Yeah...But now I'm here and I gotta do my part!"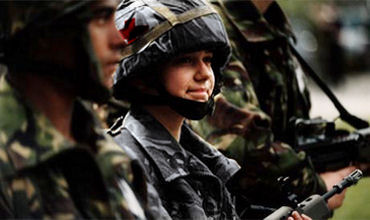 "GUYS!?", Matthew's voice sounded through the bushes. "Come here, you've GOT to see this!" "No, mate, we don't need to see whatever the heck yer doing over there!", Corporal Derek MacLeod, who had been too busy lugging the team's heavy grenade machine gun to take part in philosophical navel-gazing barked back, expecting another one of Baker's 'hilarious' pranks. Nonetheless, the soldiers followed his call, only to find Matthew pointing frantically at the sea: "There, Sarge, y'see those things in the water!?" Finley's face froze up in shock as he peaked through his binoculars, only to recognise the shapes of amphibious landing craft and BMP troop transports slowly emerging from the fog. The team stood above the cliff for several minutes, watching in awe as more and more Russian vessels approached the coast before the Sergeant gave the order to retreat and warn the local garrison. "This is bad...", Derek stated the obvious while the unit sprinted down the coastal road. Suddenly, the quietness of the morning was ruined by the noise of aircraft engines as several squadrons of Russian Il-76 transports, escorted by an armada of Frogfoots and PAK-FAs zoomed across the land. "Oh shite, this is REALLY bad!" Derek repeated, struggling to carry his heavy weapon. After a few minutes of running, the winded soldiers reached their garrison in Ramsgate whose population had already been evacuated in anticipation of this unlikely, but possible worst case scenario that had just become a reality. The British troops swarmed out of their quarters, grabbed their gear and took shelter in prepared defensive positions scattered along the shore, manning countless mortars, howitzers and gun emplacements.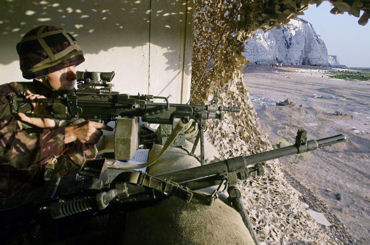 Sergeant Finley and his fireteam holed up on the upper floor of a tavern, with only some 150 metres of open ground between them and the harbour front. As the sun slowly rose in the east, more and more vessels came out of the ghostly mist and somewhere in the far distance, the vague, threatening shapes of Russian warships manoeuvred into position. "Bloody hell, this is it, guys!" Matthew observed, his voice torn between thrilled anticipation and suppressed fear. "Our longest day, our finest hour! We will fight them on the beaches! We will fight them on the landing grounds! We..." "Shut your gob, Private! No time for fancy speeches - Focus!", Finley interrupted his tirade. "This is the moment we've been training for and we need to keep our wits about. Equipment check!" Derek worked the charging handle on his grenade launcher, which was safely mounted on the window ledge: "Ready to give 'em what-for, Sah!" "Rifle zeroed, loaded and ready, Sarge!", reported Matthew while Meryl took inventory of her elaborate collection of bandages, painkillers and surgical tools and recapitulated the standard emergency routines in her mind: "Medical equipment on-hand...God help us." Moments later, the first wave of Russian vessels came ashore and all hell broke loose...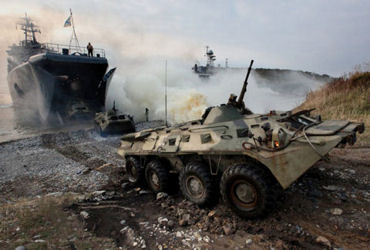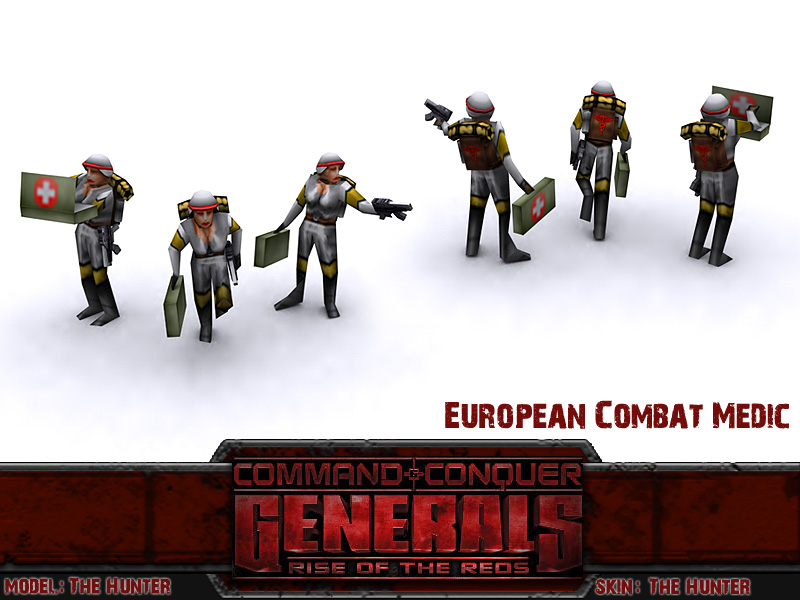 These field physicians possess all the necessary knowledge and equipment to heal European infantry forces out in the field and evacuate wounded comrades. Since their primary job is to provide emergency medical care, Medics are protected by the Geneva Convention and must not be attacked. However, in the light of numerous atrocities reportedly committed by General Aleksandr's barbaric Shock Divisions, many Medics have resorted to arming themselves with old, surplus machine pistols such as the Skorpion vz.61 or the Austrian TMP in order to protect themselves from attacks. This has the unfortunate side effect that the now-armed Medics lose their status as non-combatants and become valid targets, a circumstance that is nevertheless prefered over the possibility of running into a Shock Trooper while unarmed.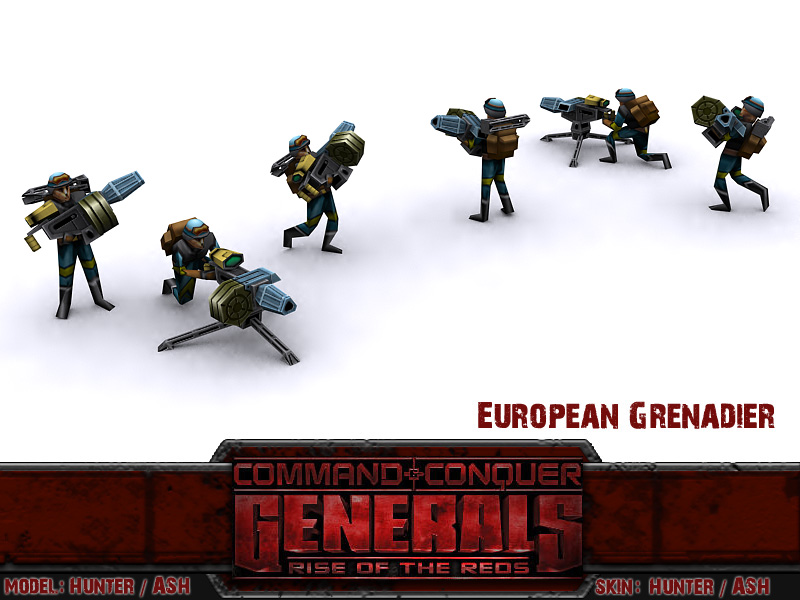 Armed with a fully automatic 40mm grenade machine gun, these heavy weapons specialists can lay down a devastating barrage of suppressive fire, wrecking entire concentrations of light vehicles and infantry within seconds. The cumbersome weapon weights over 30 kilograms and needs to be mounted on a tripod in order to fire, which is why it takes the operator several seconds to set up or displace; an issue that should be considered when choosing a fighting position. Aside from the standard armour-piercing/high-explosive grenades, the weapon can also be loaded with a special rubber-capped anti-personnel round that is designed to bounce and detonate in the air, releasing a vicious hail of shrapnel that shreds even the most heavily entrenched enemies.