Leytenant Darya Morozova
20th Guards Army
"When we went into the Netherlands in August '46; I'd say that was the point where things got really messy for us. The Poles held their ground quite well but they just couldn't stand against the momentum of our initial assault and the Germans put up a decent fight even though we had annihilated the entire Luftwaffe on the ground. But still: We knew that they wouldn't be pushovers so we brought our A-game. The Low Countries were a different story however. General Aleksandr just didn't think of them as a real threat, I mean: About 26.000 ground troops with only a bare-bones tank force against the entirety of our 20th Army? What could possibly go wrong, right? He thought this'd be a cakewalk and even though General Zhukov told him otherwise, he just wouldn't listen. No - It was another one of his 'grandiose strategic gambits'; the kinda bullshit stunts where he'd send us, the rank-and-file Army folks, to get slaughtered and keep the enemy busy long enough for his Shock Divisions to land a critical and hog all the fame for it. In this case, he wanted Zhukov and us to rush through the Be-Ne-Lux countries from the north-east, forcing the ECA to draw troops away from the French/German border so the Shockers could just power through and, as he called it, 'do a victory parade on the Champs-Élysées by Christmas'. Needless to say, that didn't happen. At least not until half a year later with much of Paris bombed to ruins."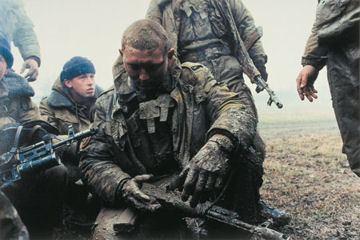 "But yeah, we followed our orders as usual. General Zhukov warned us that the Dutch were crafty fellas and that their top commander, one General Willem van der Meer, was known for his...'pragmatic' approach to combat: He had simply ordered to open the floodgates and let the North Sea roll in, turning the entire countryside into one giant swamp. Cold, greyish brown mud as far as the eye could see. The sight alone gave some of our guys suicidal thoughts after seeing literally nothing else for months. The stuff was everywhere: It was in our boots, our trousers, our jackets, our rifles, our provisions and our vehicles. Cross-country manoeuvres became flat-out impossible. I've seen entire tank platoons go down in the bog and sink before anyone of the poor folks could get out. Our movement was pretty much entirely restricted to the roadways on top of the dykes that were left intact. The mere fact that they -were- still intact should have tipped us off but we still fell for it: There was this one instance near Groningen where our entire vehicle column with over thirty trucks, BMPs and tanks was powering down the road. Suddenly, a massive explosion took out the Sentinel at our front. We jumped off our vehicles and got into position, expecting an ambush, when another vehicle got blown up, followed by several others. As it turned out, the Dutch had left this road perfectly intact for us to use and littered the area with those horrible Mole mines; you see the soil heave up in front of you and BAM! That thing jumps out of the ground and blows a dozen guys apart at the waist. All you could do was hide under something heavy. That's what I did. A few of our folks panicked and ran off into the mud fields, only to get blown up by shrapnel mines. And as if that wasn't enough, the convoy came under fire from a bunch of turrets hidden all over the place. I spent almost half an hour cowering in the mud under the rear of a broken Kodiak until Father Leonid sent a single Mi-26 to pick up what was left of our battalion."
"It took us a total of four months until we had secured our mission objectives and it goes without saying that Aleksandr's 'gambit' didn't work out this time around. Some of our people actually started cheering on the first day they saw snow that year because it meant that the mud would freeze solid, allowing our vehicles to drive over it. But you know what the worst part of this entire thing was? We barely ran into any actual, organised resistance or, for that matter, Dutch people! It seemed as if the entire population had disappeared along with the military. They must have evacuated the whole country before the flood rolled in, leaving us to fight a mud battle against an army of intelligent landmines and robotic turrets. This is the kinda stuff that gives me nightmares ever since..."
This structure is a stationary defence version of a ship turret used on the destroyers of the Royal Netherlands Navy, albeit with an upsized 140mm cannon that excels against tanks. Operated by a highly autonomous fire control computer housed inside the peculiar 'pod' structure, the turret can spot, identify and engage hostile ground vehicles without any human input. The massive cannon is fed by a fully automatic loading system capable of cycling shells at a staggering rate. In addition, the Gun Turret can switch between two types of ammunition: A general purpose anti-tank round and a unique 'Penetrator' round whose core consists of a complex, synthetic material that is harder than diamond, allowing the round to pierce clean through multiple targets along its jet-stabilised flight path and making it more effective against a tighlty packed mass of vehicles.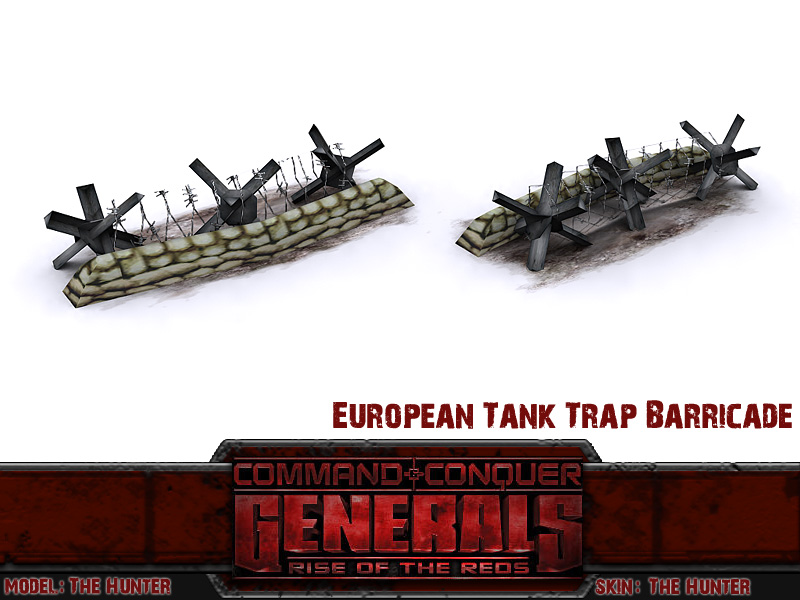 The ability to predict the movement of enemy forces is an essential skill in defensive warfare. Beyond that, the ability to redirect their movement in order to funnel them into pre-determined killzones proves even more advantageous. As such, these seemingly crude obstacles consisting of sandbags, razor wire and Czech hedgehogs can be set up for a variety of practical purposes: In the narrow streets of a city, they can force the attacker to take risky detours or waste precious time on their removal. In open fields, they can easily disrupt the formation of an entire army thus exposing it to a hail of defensive fire. In short, the Tank Trap Barricade allows the European defenders to 'model' a battlefield according to their own plans, thus nullifying any offensive advatange the enemy may have and wrestling the initiative of battle away from him.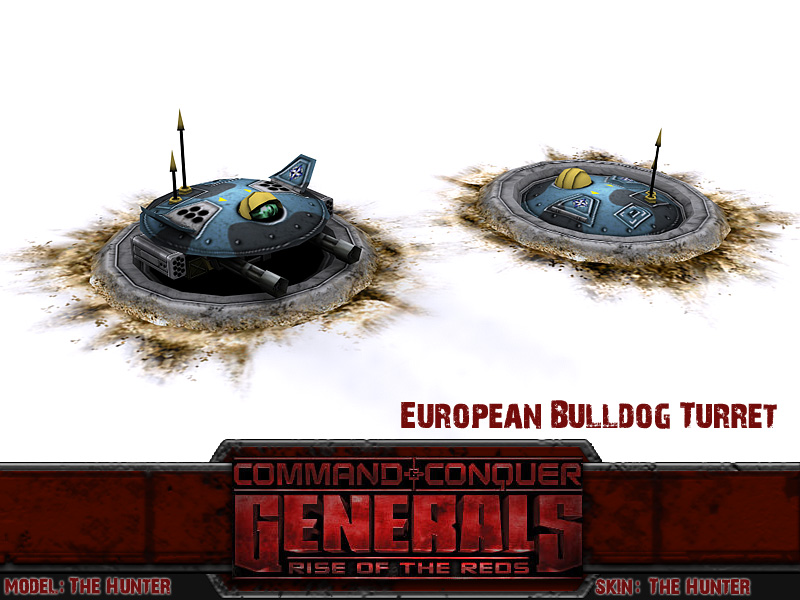 The Bulldog is a fully self-automated defensive emplacement developed and used by the Royal Netherlands Army. Taking inspirations from the hidden fortifications of Switzerland as well as the historical Maginot line of France, these turrets have been placed alongside key strategic locations in many European countries, ready to pop out of the ground and engage hostile invaders upon activation by senior command. Depending on the operational clearance of the commander in charge, the Bulldog can deploy its weapons according to three operational routines: The most basic mode, dubbed 'Argus' after the faithful dog of Odysseus, uses its dual 20mm gatling guns to riddle enemy footsoldiers and light vehicles. The second mode, named after the two-headed dog 'Orthus', adds a set of shaped-charge rocket launchers for use against armoured targets. Finally, the third and most powerful mode, named 'Cerberus' after the three-headed canine guardian of the underworld, uses both previous weapons in addition to a set of vertically launched surface-to-air missiles. This allows the Bulldog Turret to defeat a variety of threats and it can also be ordered to retract into its underground shelter to repair and conceal itself after an attack, making it useful as an ambush weapon by itself or as a component of a defensive line.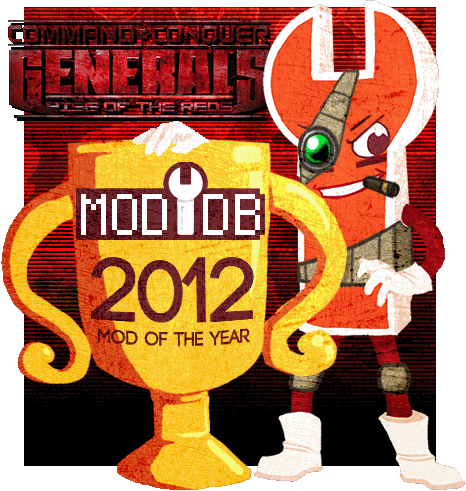 As an additional bonus in the light of the current ModDB 'Mod of the Year' vote, we are proud to present you this awesome trailer that'll give you an exclusive glimpse of some new ECA content.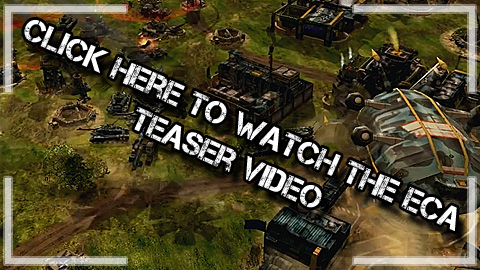 And last but not least, here's two new, faction-themed wallpapers for your desktop:


ECA Wallpaper 1280x1024, 1920x1080
Russia Wallpaper 1280x1024, 1920x1080