Germany, October 2047
Russian High Command HQ, Berlin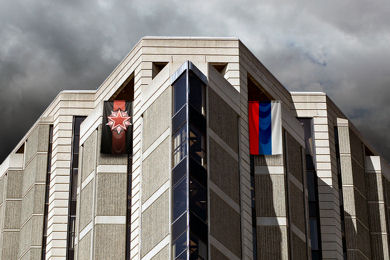 The distinct stomping sound of his heavy combat boots preceded the arrival of the recently promoted Colonel Yakov Pushkin long before he stepped through the door of room 101, the personal office of his commander-in-chief, General Aleksandr. Pushkin exemplified every virtue that the First Shock Division, iron fist of Russia's Advanced Weapons Research & Development Corps, strived for: Strong as a brown bear, tough as steel and a heart that was as cold as the desolate vastness of Siberia, where chosen men like him fought their way through snow, mud and blood in order to achieve the very pinnacle of human warrior evolution in service of their great leader.
As he entered the office with an unsuspecting document folder under his arm, he was greeted by the usual sight around this time of the day: Behind the heavy oak-wood desk stood General Aleksandr, facing the large bullet-proof window and observing the troops as they exercised outside. Prior to the invasion, the cold concrete marching square used to be a large public lawn where couples used to sit in the sun and school children learned about the nearby Reichstag and the German Federal Chancellery, both of which were now dwarfed by the menacing concrete fortress that was the Russian High Command headquarters. Despite the best efforts of the Federation's PR-strategists, the Berlin population defiantly perceived it as a disgusting, festering cancer in the very heart of their proud city, an unfortunate fact that Aleksandr was all too well aware of.
Another fact that he was even more aware of was his reputation among the troops. Many rumours surrounded the man who hid his face behind the dehumanising shapes of a gasmask whenever he appeared in public. Some believed that his face was deformed; charred beyond recognition in a freak accident involving his exotic Tesla technologies or ravaged by some particularly vicious bio-chemical agent during the great GLA insurrection in Africa. As the General's most trusted aide, Colonel Pushkin was among the few who knew that the truth behind the legend was a lot more mundane, even banal: Unlike the stern, grandfatherly appearance of General Zhukov or the strong, vigourous likeness of General Orlov, Aleksandr's facial features were round and inoffensive, standing in stark contrast with his square-rimmed, slightly tinted glasses which cast a soft shadow on his brown, deep-set eyes. His skin was of pale complexion and reddened quickly when the General strayed from his calm demeanour for extended periods of time while his receding dark blond hair was arranged in a strict flat-top cut that added sharpness to his otherwise unimpressive face.
"Comrade General, Sir!" Pushkin began while he snapped into attention. "At ease, Yakov", the General replied calmly as he turned around and sat down in the dark red leather chair, his delicate, spidery fingers clasped in front of his short chin. "So, have you investigated the cause of that obnoxious racket out there?" Pushkin took a breath, then mustered his response: "A flash mob of protesters, Sir. Right outside, down the street in Potsdam Square. We're counting a few hundred of them. They demand immediate peace talks and an end to our rationing of food and electricity. The men tell me that they are non-violent, but their tone is getting a bit aggressive. There may be partisans among their ranks."
"Potsdam Square, huh?", Aleksandr repeated with an air of audible disgust and slight surprise. "That's practically right at our door step." The surprise gave way to angry frustration as he went on: "The scum is getting more and more audacious every day, isn't it!? First the guerillas and now this? We might have a full-blown uprising on our hands if this continues." "It appears so, comrade General", answered Pushkin, stating the obvious. Russia's costly victory over the Netherlands, the drawn out siege of Paris and the utter failure of the amphibious invasion of England had proven to be a great morale boost for the battered Europeans and their stubborn defence of France delayed the Russian advance. As the dry summer of 2047 gave way to a rainy autumn, the conflict soon degenerated into a vicious tug-of-war with short, spiteful reciprocal attacks against contested factories, power plants and supply depots alongside a 1000 kilometre frontline. Meanwhile, the populations of the occupied territories started to engage in large-scale demonstrations and strikes while providing the organised resistance movements with plenty of underhanded support, threatening the supply lines for the decisive offensive that Aleksandr had envisioned for the next spring.
"Anyway", said the General as he switched back into his calm tone. Pushkin had gotten used to the extreme mood swings of his superior long ago. "That folder you got there, is that the information I requested?"
"Yes, comrade General", Pushkin replied and handed over the brown-coloured dossier. "It took us a while to skim though the enemy's military archives, but luckily the fools were unable to burn this one quickly enough when we took the city".
"He's winning the hearts and minds of the locals", Pushkin noted. "He can have their worthless hearts and minds for all I care as long as we have them by the throat", Aleksandr replied as he kept scanning the service records and personal documents of his adversary. "A wife and a daughter. How despicably saccharine", he remarked, then put down the dossier and broke into a triumphant burst of smug laughter. "You see, Yakov, that is the undeniable advantage of our noble brotherhood: We don't fall for such petty human romanticisms that make us weak. Find the family!"
"Yes Sir, it will be done, comrade General", the Colonel confirmed zealously. "Anything else?"
"The protesters", Aleksandr replied absent-mindedly as his attention had already shifted back to the blueprints of his current engineering project. "Deal with them...Let the men blow off some steam."
"Of course, Sir", Pushkin answered in the most inappropriately matter-of-fact fashion and hurried out of the door to dispatch the Shock Troopers: "For victory, comrade General!"
"For victory."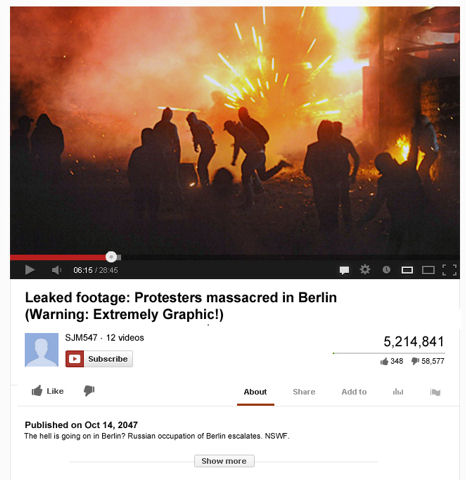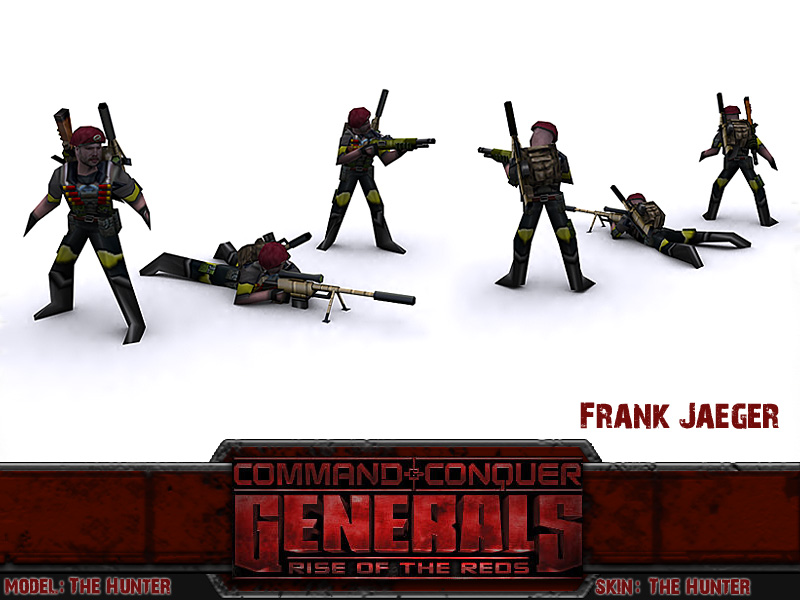 According to the most recent Russian GRU intelligence estimates, Hauptmann Frank Jaeger is the key mastermind behind all major resistance operations in and around Berlin. His charismatic leadership and cunning efficiency have turned him into a heroic figure among the local populace and his daring attacks in such close proximity to General Aleksandr's personal headquarters serve to erode the authority of the Russian occupation force with every passing day. In combat, the former paratrooper is both a fearsome hunter and a stealthy operative. His weapons of choice are a powerful 12 gauge pump action shotgun to go loud and a suppressed sniper rifle for the more discreet intervention and his technical skills allow him to perform a variety of actions upon infiltrating an enemy base. These include cutting power lines, stealing enemy supplies and disrupting communications. Thanks to his mastery of wilderness survival and navigation, Jaeger can perform all of these tasks while remaining fully concealed, forcing the increasingly paranoid commanders of the local Russian installations to equip even their lowliest sentries with infrared goggles.