Germany, April 2045
Von Kuerten Residence, Ulm
Wolfgang-Maximilian von Kuerten sat in the dark-green wing chair of his classically furnished living room, waiting patiently while listening to the perfect tact of the old wooden pendulum clock. He had received the life-changing letter about an hour ago and the core of the message was still resounding in his mind: "In the light of the deteriorating diplomatic situation and alarming intelligence reports of a massive Russian military build-up in Kaliningrad, the Inspector-General of the Federal Defence Force has cleared you of all charges, revoked your suspension and initiated your immediate return to service to defend the Fatherland in the event of an all-out escalation". It seemed as if high command had finally seen the error of its decision after von Kuerten's thwarted attempt to relief the beleaguered Russian forces in Africa.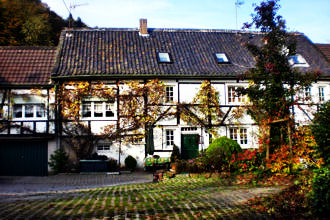 The sound of the door bell was the cue for Wolfgang, now a General once again, to rise from his seat. He threw one final, pensive look at the portrait of his late wife Corinna, who had perished in the GLA insurrection, before heading downstairs to the front door. He was greeted by the sight of a familiar and noticeably nervous woman who wore the same stone-grey Bundeswehr officer uniform as he did. "Well, well, well...if that isn't Hauptmann Voss of all people. You're quite possibly the last person I would have expected them to send to pick me up". He could tell by the perpetual frown on her face that the encounter was very uncomfortable to her. "Good morning, Herr General. I do have to correct you however; it's Major Voss now. Could we just...skip this part and get on the way? The troops are already waiting for you."
The two remained silent during the 80 kilometre drive to Sigmaringen where Wolfgang's 10th Panzerdivision, commonly known as the 'Lions Division', was eagerly expecting his return. Despite the brewing crisis in eastern Europe, the traffic on the German motor ways was as busy as on every other day, but Major Voss put her military skills in 'evasive driving' to good use. "Look, Sir. I...", she stammered after a while. "I was just following orders from high command. I had to!" The General next to her let out a growl of contempt. "You pointed a gun at my face and detained me, Voss. We -had- to support the Russians that day, no matter what those complacent desk-jockeys insisted on. It would have been a necessary gesture of support but instead, we blew the opportunity and let these people get slaughtered like animals. If it had been for that one bit of foresight and solidarity, we could have avoided this entire escalation, joined forces with the Russians and finally eradicated the GLA for good." Wolfgang had already stated his case several times: During the trial, in the book that he wrote in his three years of forced retirement and on countless political talk shows. "But hey, at least you got yourself a nice little promotion out of this, 'Major' Voss. And I'm sure you would have also 'just followed orders' back during the Bavarian crisis. Truly a 'comforting' thought..."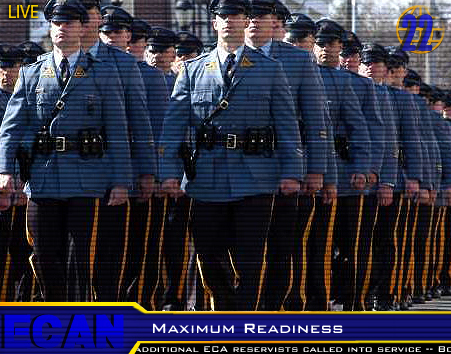 The Major's retroactive comeuppance finally came to a close when the vehicle drove into the parade square of the Stauffenberg barracks, the 10th Panzers' staff headquarters near the southern town Sigmaringen, where an entire brigade worth of crack troops, all ready to man their vehicles and mobilise at a moment's notice, awaited the return of their famous, newly redeemed commander. Upon exiting the car and leaving Voss behind to wrestle with her conscience, Wolfgang was immediately greeted by Brigadegeneral Osman Atalay, who first rendered a sharp salute, then shook his hand with the familiarity of an old friend: "It's great to have you back, Herr General. I've called the troops for a final inspection...We are prepared to set off at your command!"
Wolfgang nodded his approval and stepped forth, quietly walking past the rows upon rows of four-man tank crews standing at attention in front of their mighty Leopard tanks before he raised his voice: "Kameraden! It is an unparalleled honour for me to be back in command of this excellent unit. Ever since our lauded victories in North Africa, the Lions Division has been the pride of the Bundeswehr. In addition to that, it is now the first and foremost line of defence for our people as well as our fellow European allies. You've always known me as a man of few, but straightforward words and I'm going to be honest with you. Within the next hour, we will mobilise and head to Bialystok, where we will join our brave Polish brothers and support them in their preparation of a primary defence in order to deter any hostile aggressions from Moscow. This is serious and I'm not going to sugar-coat anything. We are looking at the very possible prospect of a full-on war between the nations of Europe and the Russian Federation. As ever so often, the politicians have failed and it will soon be up to us to make up for their failures in blood. Most of us still remember the horrors of '28, but make no mistake: Unlike the wretched scum that is the GLA, the Russians are merely our adversaries, not our enemies. They're an honourable people who have been misguided by their own leader; down a path of imperialist aggression just like ourselves during the darker periods of our own history. Thus, I ask you: Are you ready to fight with gallantry and respect for both your comrades and your adversaries? Are you ready to suffer through hardships and pain? And God forbid, are you ready to make the ultimate sacrifice in the line of duty?"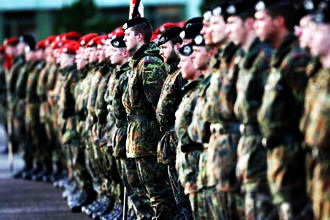 The entire brigade replied in unison: "Jawohl, Herr General!"
"Then let us move out and do what needs to be done, with bravery in our hearts and our marching song on our lips: Let us man our vehicles and sing the Panzerlied!"
"Whether storm or snow, whether the sun smiles upon us.
The days blazing hot, or the nights as cold as ice.
There's dust on our faces, but joy is on our minds - yes, our minds.
Our Panzer's charging forward through the raging of the storm!"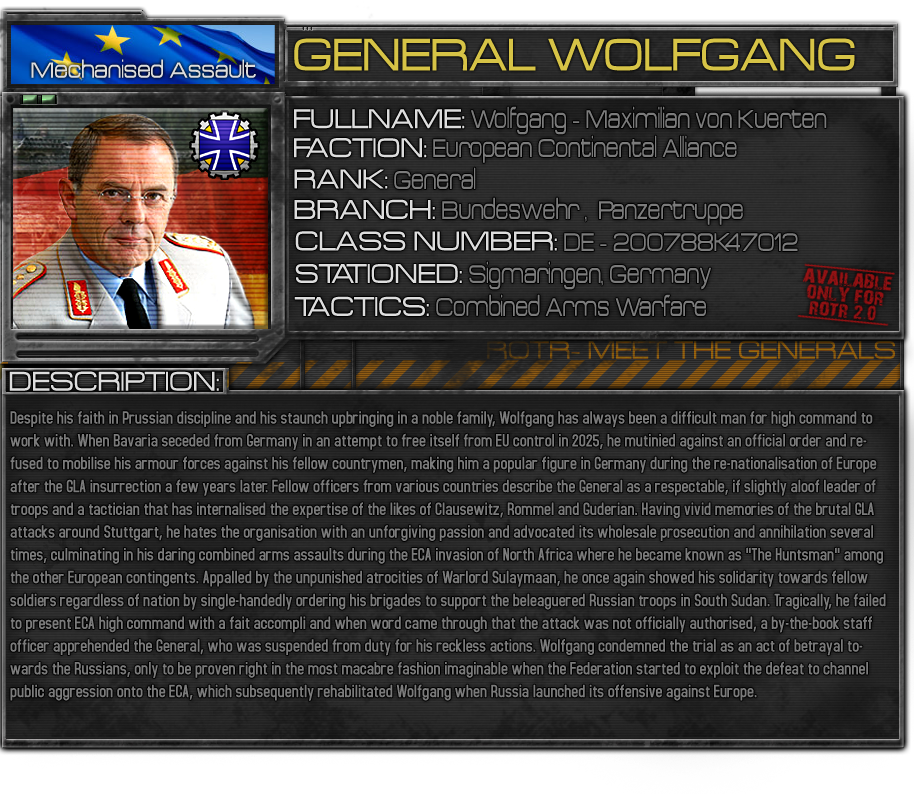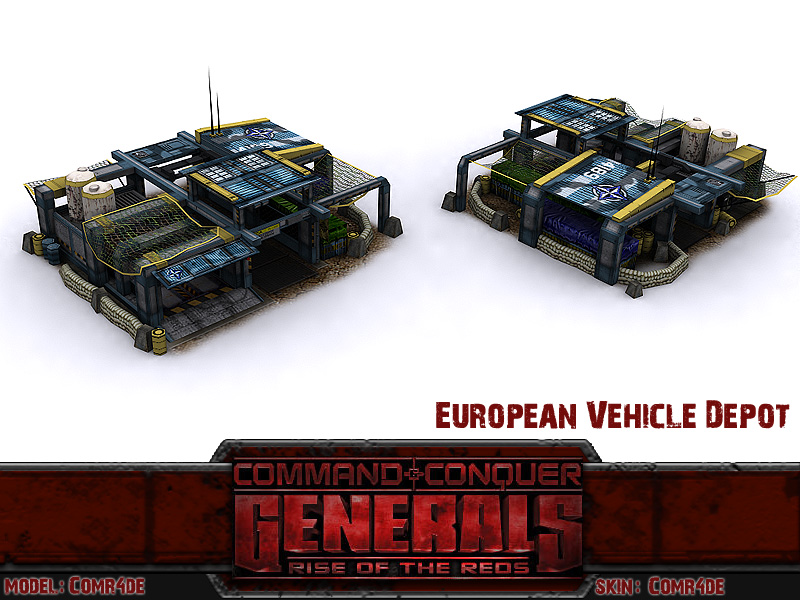 Rather unsuspicious on the outside, the true potential of the European Vehicle Depot lies underground, where the vital machinery is well-protected from the brutal shelling that devastates the surface. Once a vehicle is fully assembled, it will be brought up by a heavy-duty cargo elevator. The upper structure also houses a fully automated repair bay that gets even the most heavily beat-up vehicle back into action. Unfortunately, the Russian invasion has led to a very unstable supply situation in many sectors, making it difficult to provide the necessary spare parts. As a result, European vehicles require more time to be assembled than their foreign counterparts. Do not throw them away carelessly, as you'll never know whether the replacements will arrive in time.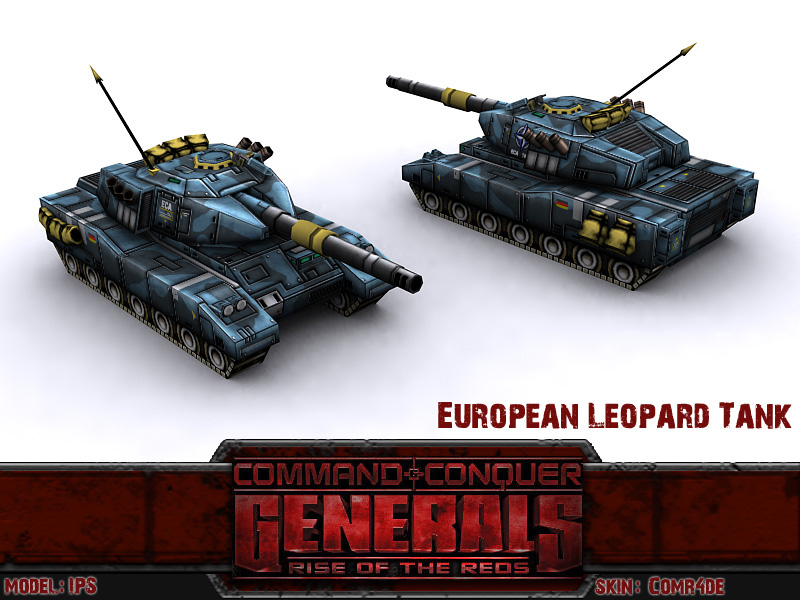 While the official armed forces of most European countries still operate a lot of their own domestically produced weapons and vehicles, the European Continental Army placed its faith in the latest generation of German armour engineering. Despite the shared name, the new Leopard 3 continues the tradition of its previous iterations from the 1960s and 80s and bears very few similarities with its famous predecessors. One of the core principles of the ECA was its strict decision to limit its offensive deployability to Europe's immediate sphere of influence - which at the same time was conveniently extended to include the strategically important region of North Africa. As such, the task force's tank divisions were organised and equipped under a classic defensive mindset reminiscent of the Cold War with the new Leopard being the most iconic product of this shift in priorities: Wrapped in several layers of highly advanced armour, the tank mounts a powerful 125mm smoothbore cannon that makes it ideal for duel situations against other tanks, especially thanks to its superior range - a trait that is shared by many ECA vehicles and can be further improved via the installation of a new gun that allows the use of a more efficient gas-based propellant. This emphasis on anti-tank capabilities does not mean that the Leopard falls short in urban combat where infantry is regarded as a greater threat though: As with many other ECA vehicles, the machine gun mounted next to the top hatch can be manned and the main cannon is compatible with a feared anti-personnel canister round dubbed the 'Shredder' by ECA tank crews. In addition, both the Leopard and the Gepard Flakpanzer are equipped with automatic close area defence systems that unleash a deadly hail of shrapnel towards enemy assailants that get too close for comfort.

SWR team, signing out