Hello and welcome to our second portion of the Race to 1.5. In the following updates we will be showing you the newest in model updates and redesigns in all the factions in ROTR, all to be included in the 1.5 version. So without further ado, lets move on to the updates shall we?
Russian Barracks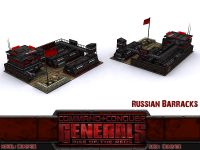 This is the new standard barracks used by the Federation armed forces all over the globe. Not only it can be constructed in a short time, it has more than acceptable living conditions for the troops that live inside its walls. There is also an easy to access recruitment station normally open for 24 hours a day accepting anyone bold enough to make a difference. New recruits are hastily introduced to basic training through high definition video and are given a weapon and uniform. Given the extremely low life expectancy of conscripts in the frontline, it is unknown what makes them so eager to fight.
Russian Tu-160 'Blackjack'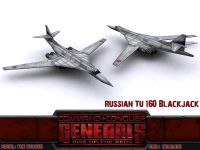 This bomber means bad news to the enemies of the Federation. Estimated to be numbered in the thousands, these birds of steel can carry the most devastating of payloads across extreme distances. What made them iconic in the war was their 'Father of All Bombs' bombing runs. A single Blackjack would fly over enemy occupations and drop a massively powerful explosive many times larger than the 'Mother of All Bombs' western counterpart and usually manage to return to base in one piece. Russian officers are quoted saying that everything caught in the blast simply 'evaporates'.
That's all we have for you today, we'll see you tomorrow for our Chinese update :)
~SWR Productions