Hello and welcome to another ROTR Media update. We wont be having a lore update today since we've had a good few pieces to work from as you will see in just a bit. Our development is in full gear and we're really cranking out some content for ya. In fact we're going into remodeling some of the Chinese/US/GLA/Russian unit's and structures to increase the level of detail to compare to the current quality we have going for the ECA. You'll find more renders on those soon.
But for now let's go on to todays show shall we?
First up,
The Mi-26 Halo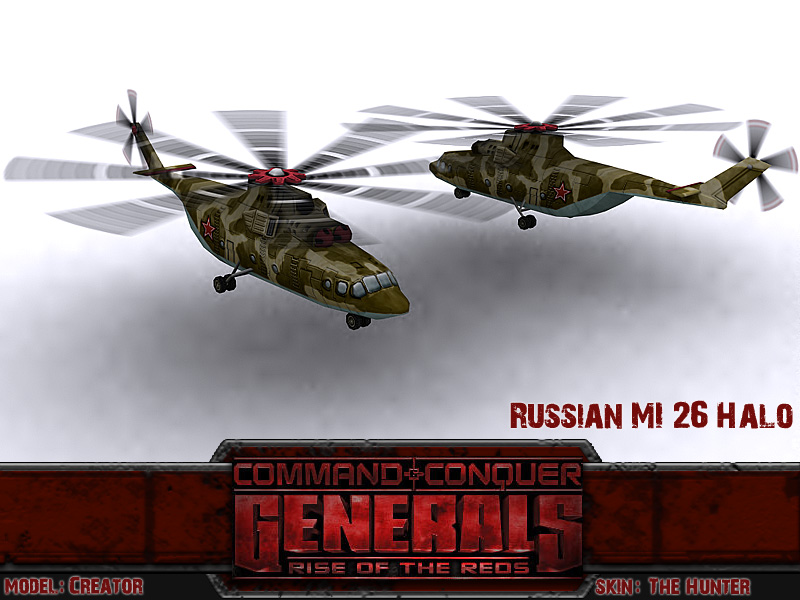 The Russian Halo is the biggest and most powerful helicopter ever to have gone into production. This heavy lift aircraft has served Russia for over three decades so well that the Federation doesn't seem concerned in replacing it. It is capable of transporting a large number of infantry and is capable of airlifting even some tanks. This mostly recent variant dubbed as MI-26P by the remnants of NATO has a myriad of improvements including a new powerplant increasing overall performance.
The Halo not only stands in a class of its own but is also reliable and is capable of outperforming its lesser western counterparts. Exports for either military or civilian use are sold very selectively to the world and the secondary users of the Halo are only the New South American Union and some nations of the African Union.
This new vehicle will be used for General powers and will now carry your daring Conscripts into battle instead of paradropping from the Russian Cargo plane.
VDV RPG Trooper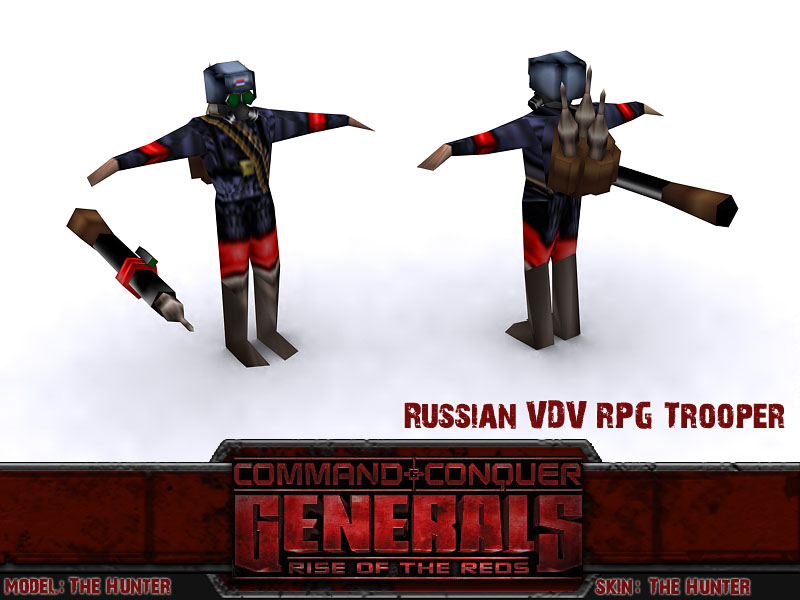 The VDV RPG troopers are Russia's airborne anti-armor elite. They are a rare sight as they work behind enemy lines, targeting enemy tank columns in very small teams of usually no more than 4 men covertly. These men carry a new RPG model that is used exclusively by them and is rumored to be a new design that the Federation isn't willing to mass produce for conscript use just yet. Their specialized role makes them very vulnerable however, which is why in major battles they are deployed as part of a company together with standard VDV soldiers and BMD-3s for protection. These men combined can be quite a threat, striking without warning and are known to neutralize enemy bases in minutes.
Now available from your VDV Paradrop. These unit's tear up armor and will sufficiently boost the effectiveness of this General Power. Attack these units with discretion as they're not to be fooled around with. They cannot fire at air units.
That's all we have for our update this time, but stay tuned as we reveal more updated goodies for the other factions and more ECA content soon. That's not all we have however, we've also had the time to go ahead and update our storyline a bit so go check it out on our website!

That's all we have for you today, we hope you've enjoyed it as well as our unveil on the Jagdmammut earlier today. For those who are interested Ash has started work on a small surprise for your wallpaper soon and may be involved with the Jagdmammut. Stay tuned for more
- SWR team
BONUS GET!
Jadgmammut Wallpaper!
In both Standard and Widescreen resolutions.